Popular Tokyo amusement park Yomiuriland fills year-round with crowds flocking to have fun with their
summer water park
,
winter holiday lights
, and
cherry trees
that make the park a Tokyo springtime destination. But Yomiuriland's mission is to become a "Super Amusement Park," so with their 70th anniversary celebrations coming to a close, 2020 brought new innovation to the park.
The attractions at Hana-Biyori are a little different from your standard amusement park rollercoasters and Ferris wheels, but that doesn't make the area any less fun. Spectacularly flashy digital art shows take advantage of projection mapping technology to create new spaces, and flowers of all shapes, sizes, and colors decorate Hana-Biyori inside and out.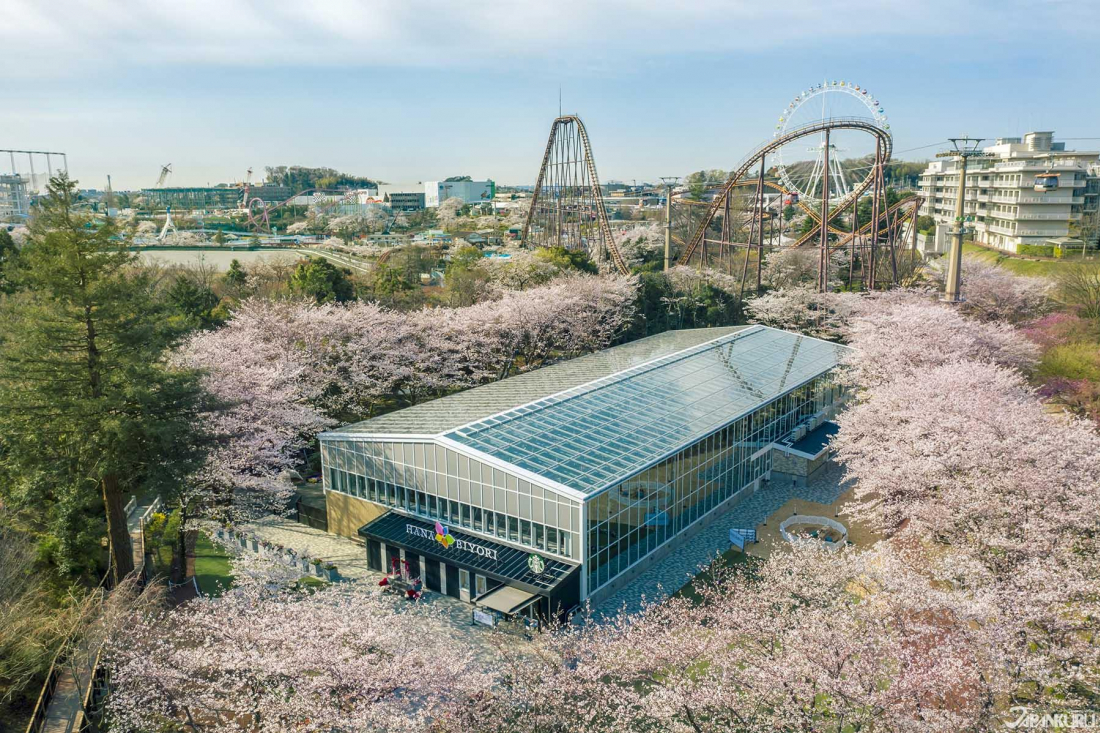 Many of the highlights of Hana-Biyori are inside the large greenhouse-style building, but before even stepping inside visitors are surrounded by blossoms. Of course, the
facility has different flowers blooming year-round, but a springtime trip will mean pink cherry blossoms in every direction, and a rainbow of colorful blooms in the soil below. The water that keeps this garden alive and flows through the ponds and streams comes from the surrounding Tama Hills, and the park operators are clearly conscientious about maintaining this local resource as it cycles through Hana-Biyori.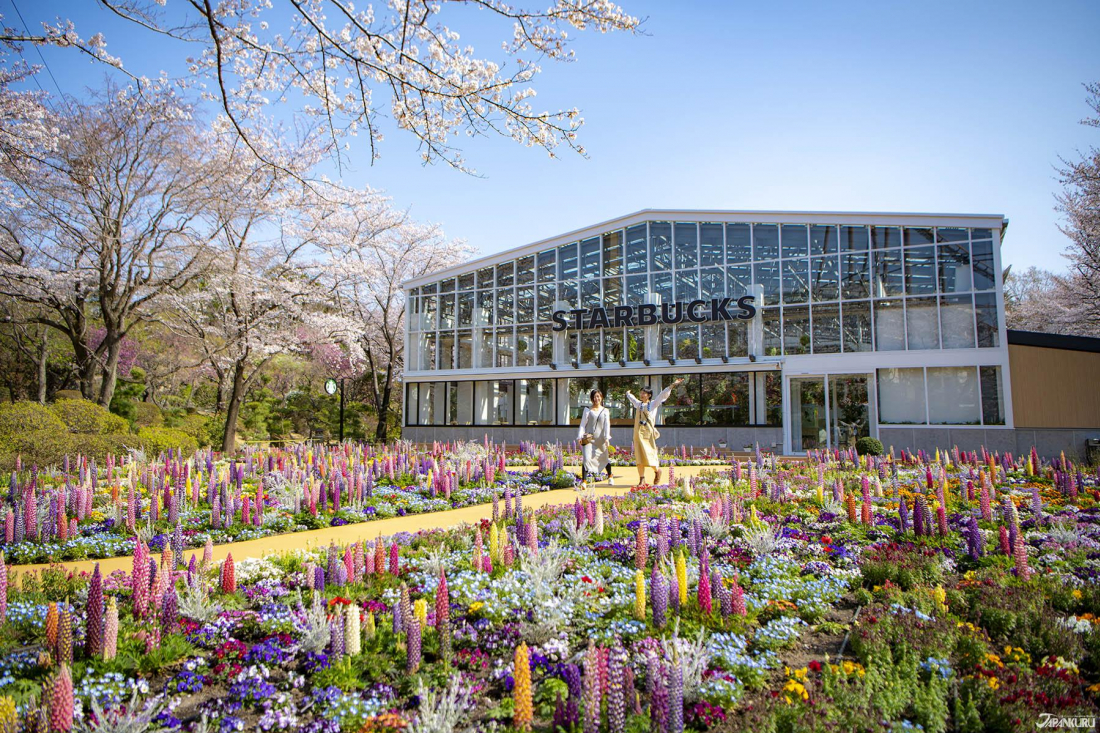 The view from below the trees shows off the vibrant colors of the plants blooming in the gardens next to Hana-Biyori Hall, especially with the sun shining on them and sprays of cherry blossoms swaying in the wind off in the background. Join the Japankuru team as we explore some of the best parts of the Hana-Biyori gardens and the indoor highlights!
Hana-Biyori
4015-1 Yanokuchi, Inagi, Tokyo
Hours: 9:30 - 17:00
(Hours subject to change, check here for details and closure dates.)
Access: Free Shuttle Bus from Keio Yomiuri-land Station
Admission: Adults 1,200 yen / Children 600 yen
(Discounted Hana-Biyori tickets available with the purchase of a Yomiuriland Amusement Park ticket.)
Official Website (en)
② A Digital Art Show Combining Real Flowers and Projection Mapping Technology
If you're exploring the Hana-Biyori Hall and you see a screen start to cover the glass ceiling and block out the sunlight, don't worry, that just means a Hana-Biyori projection mapping show is about to begin! A curtain lowers in the middle of the hall, creating an enclosed show space with a three-sided projection screen 60m (almost 200ft) long. With the lights dimmed, the projection mapping begins, creating an immersive world of flowers making full use of the screens, the floor, the floral chandelier, and the flower structures dotting the new "stage."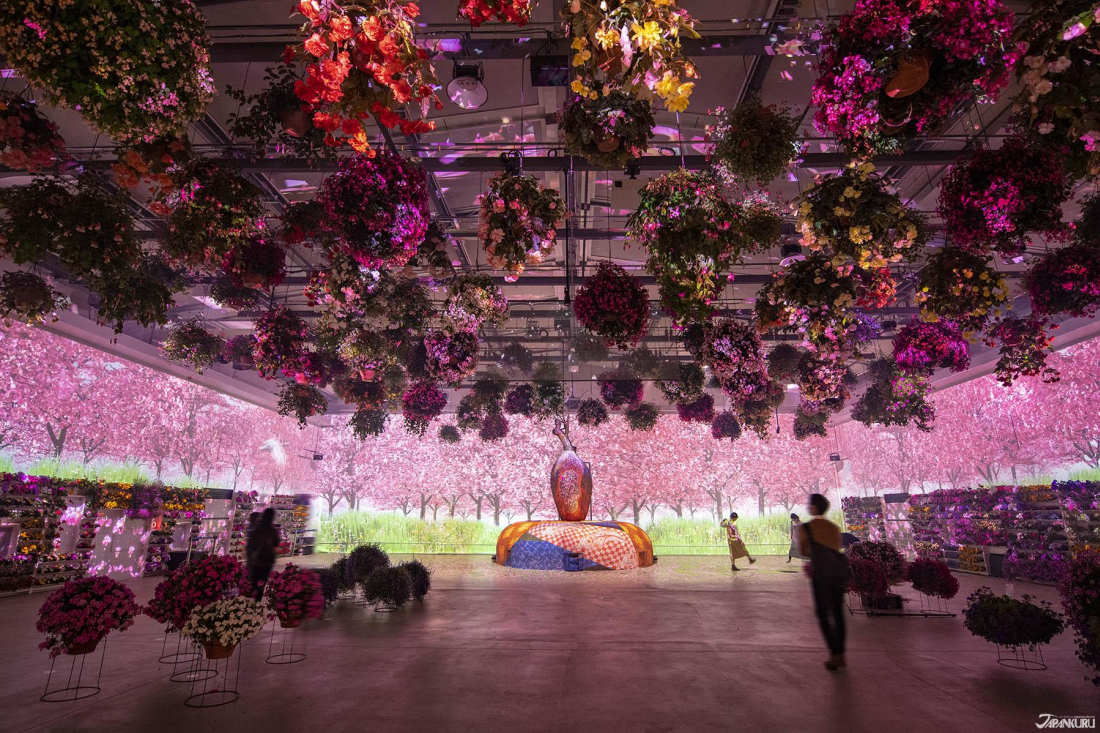 Together, the 20 high-brightness projectors and immersive 14.2 surround sound audio really turn the hall into a world of flowers for the 10-minute show. Branching out from a real 400-year-old palo borracho tree that lives in the center of the hall, a symbol of Hana-Biyori at the center of the show, flowers shoot across the walls and dance along the floors as you watch.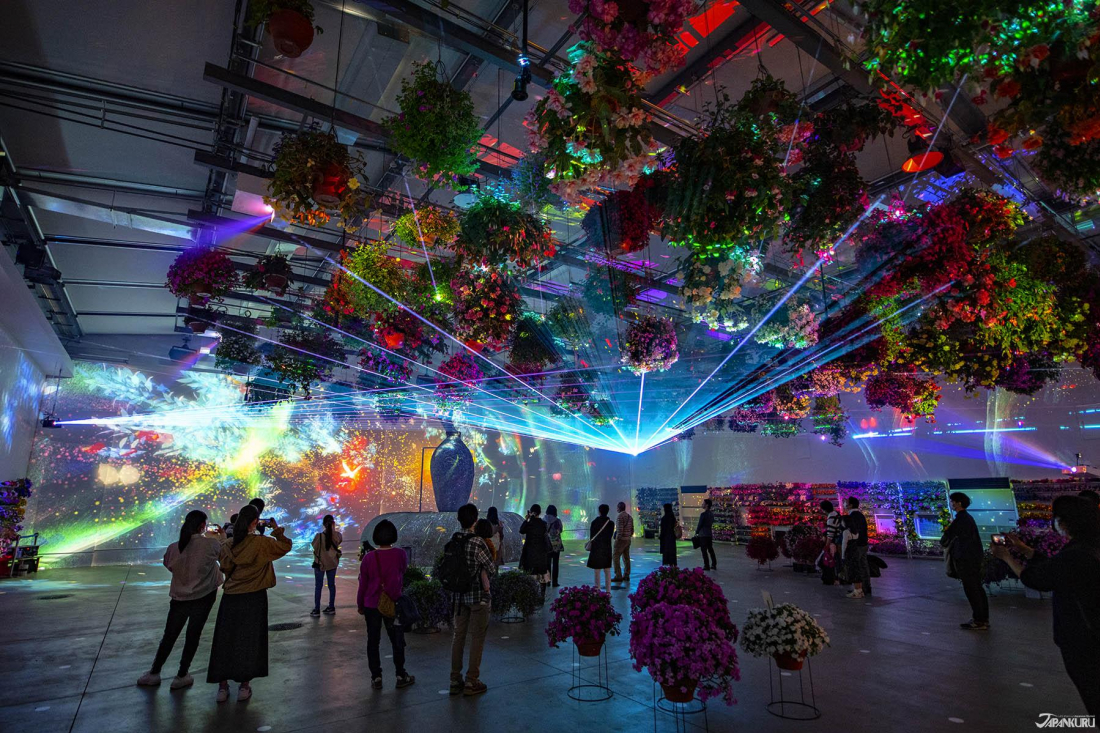 To ensure a spectacular finale every time, the show has a unique multi-ending approach. During each showing, the ending is chosen by analyzing the audience's emotions as they watch! Every member of the audience can influence the show and participate just a little, just by observing.
The show happens four times a day every weekday, and six times a day on weekends and holidays, and show times change from season to season. No additional tickets are necessary—you can just check the day's schedule and make your way to Hana-Biyori Hall before the show begins.
Digital Art Show

Weekday Schedule: 10:30, 12:30, 14:30, 16:30, 18:00*, 19:30*
Weekend Schedule: 10:00, 11:00, 13:00, 14:00, 15:00, 16:00, 17:30*, 18:30*, 19:30*
*Nighttime shows only from March 27th to April 5th.
③ Japan's First Botanical Garden Starbucks
Before its opening, Hana-Biyori
drew a lot of attention
thanks to the plan to include a Starbucks coffee shop inside the flower-focused facility. Japan is already known for being the home of some of the world's most amazing Starbucks locations, including the "
Reserve Roastery
" in Nakameguro, Tokyo, one with impressive Kengo Kuma architecture next to
Dazaifu Tenmangu Shrine
in Fukuoka, and one built inside a traditional Kyoto building near
Kiyomizudera Temple
. Now that it's open for business, the Hana-Biyori Starbucks is clearly joining the ranks as one of Japan's most visually appealing and fun-to-visit locations.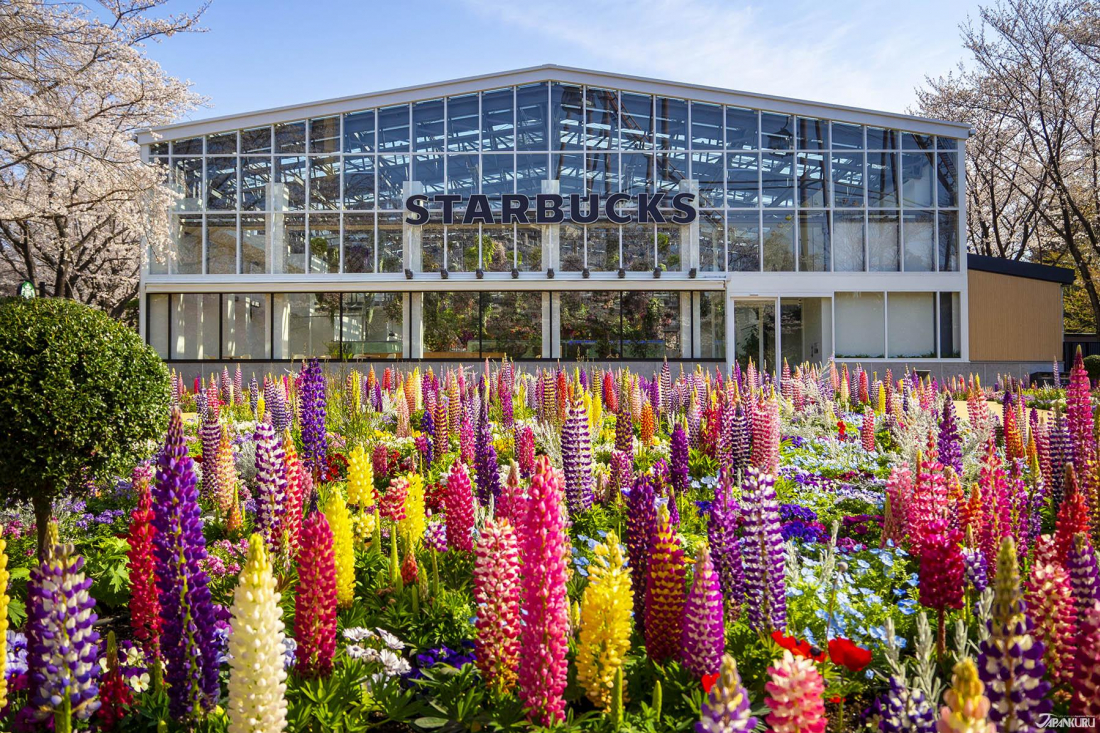 The Starbucks takes up a large chunk of Hana-Biyori Hall, facing the glass wall on one end of the building. A portion of the seating is handmade by local artisans, using timber from typhoon-damaged trees once growing on Yomiuriland facilities. Each chair and table was made as a unique piece, taking into account the natural shapes of the wood and utilizing them to create furniture that's both attractive and functional. Take a seat in one of the handmade chairs and you can look out onto a colorful garden area full of flowers so colorful they're almost neon.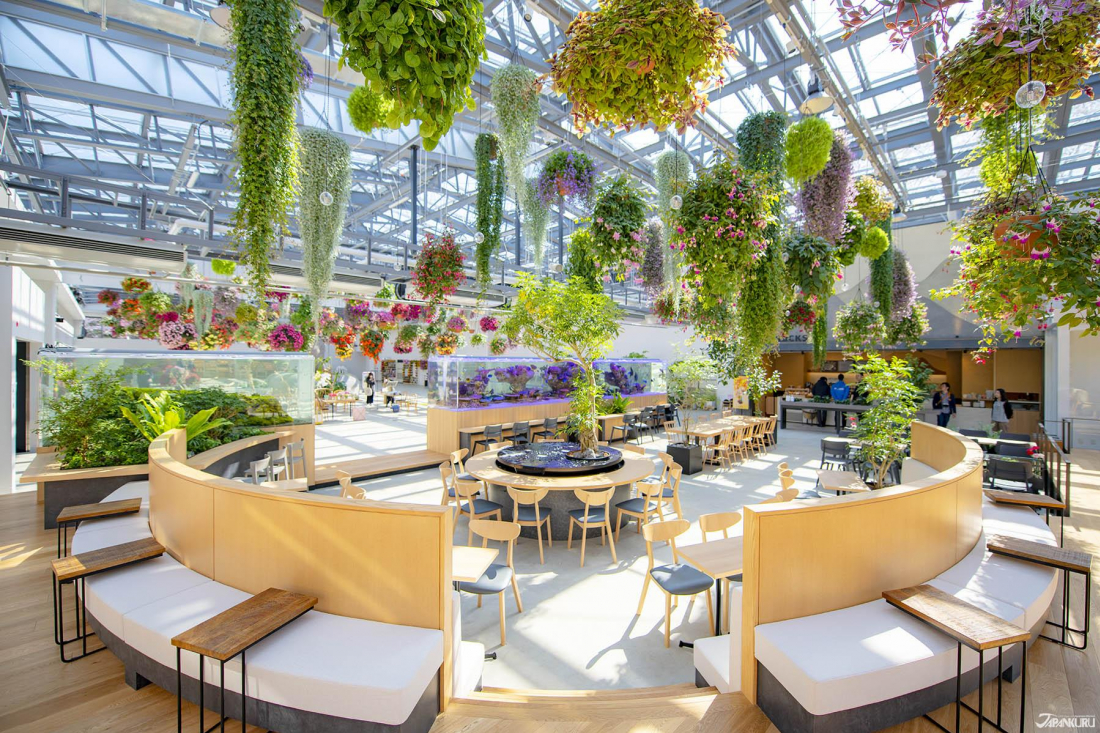 With the wooden furniture, the flowers outside and inside, and the airy spaces, it's certainly a beautiful coffee shop. When we visited, we were tempted to order second and third rounds of coffee, just so we could spend the day admiring the flowers with the dappled sun filtering in.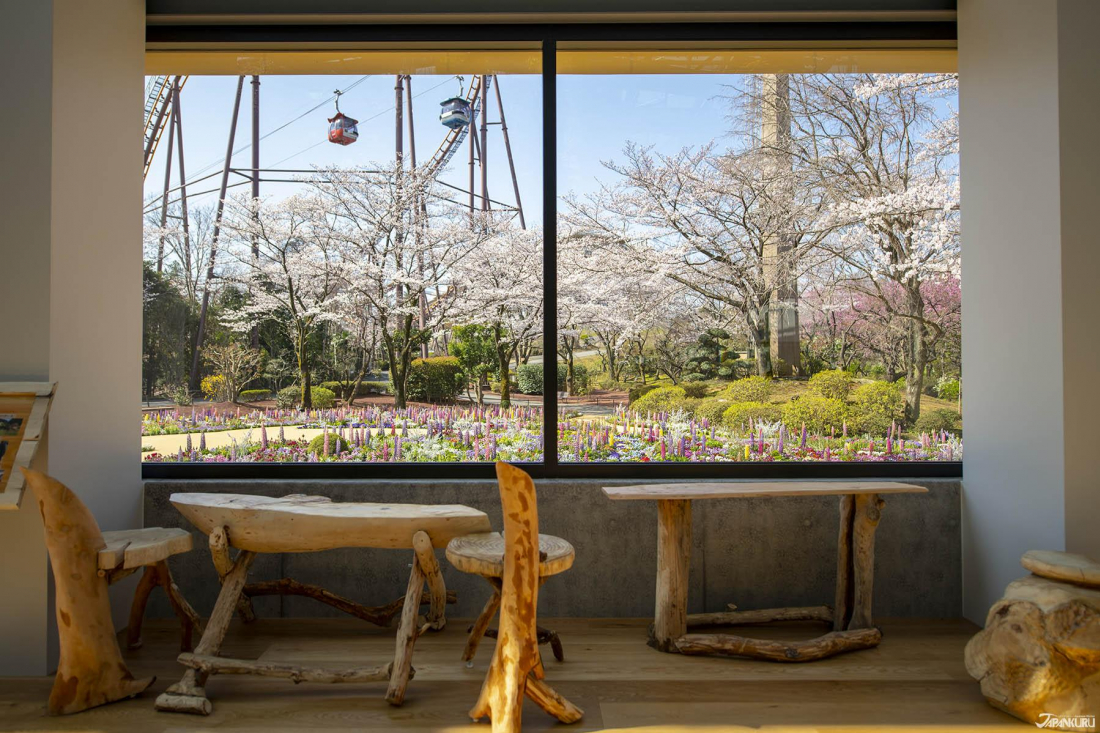 ④ Otter Feeding Experiences
The palo borracho tree is a symbol of Hana-Biyori, and the theme of the whole area is the flowers, but if you're looking for a Hana-Biyori mascot, it has to be the facility's adorable Asian small-clawed otters. Tucked away in one side of Hana-Biyori Hall is an otter enclosure, where you can look into the windows throughout the day and see the little family of four, frolicking in and out of the water.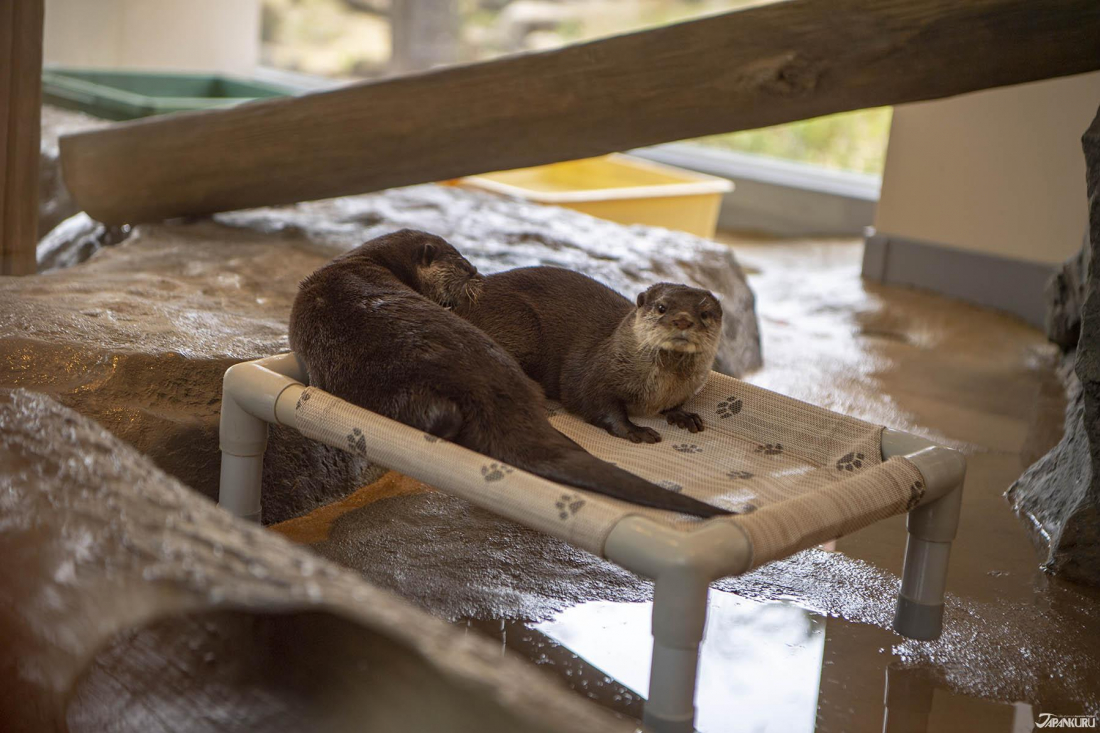 Even better, Hana-Biyori is planning daily opportunities for visitors to interact with the otters and get a moment of one-on-one otter time. Every day they open a tiny window in the enclosure, just big enough for a little otter hand to reach through, and let people put the snacks directly into their paws. Just look at that otter reaching out its fingers for a tasty treat—how could we resist?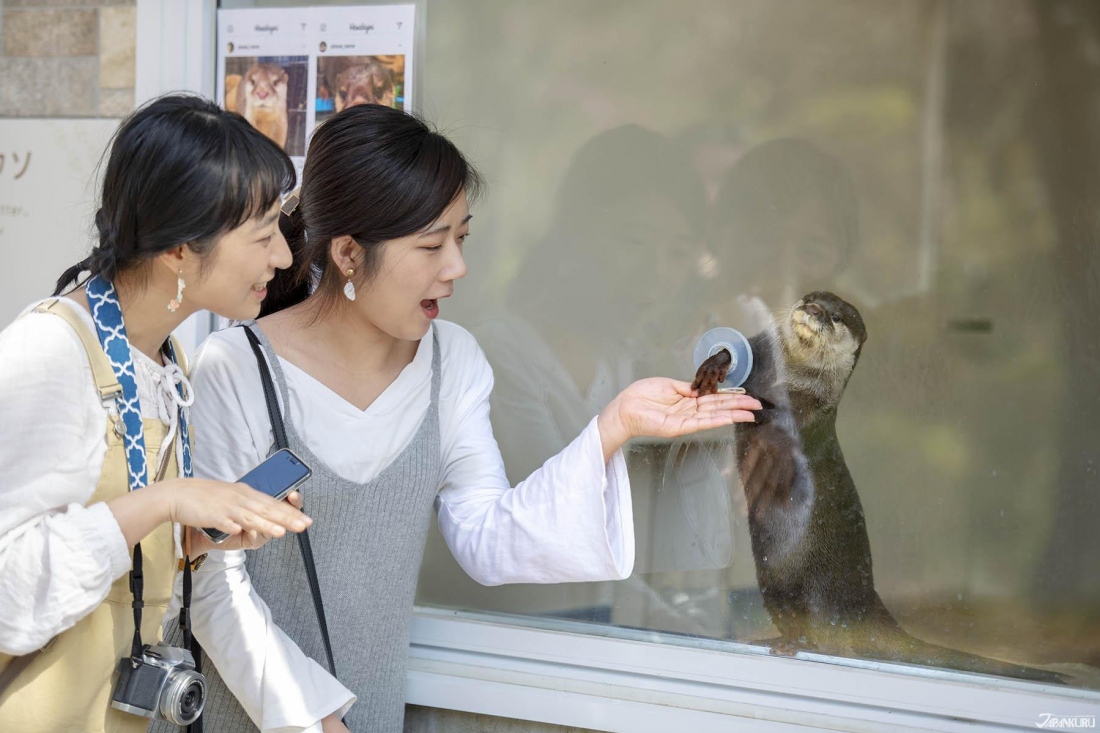 Otter Feeding Experience
Schedule: 11:30, 13:30, 15:30
Location: "Otter Biyori" Otter Enclosure
※ Suspended at time of publication in line with COVID-19 infection prevention policies.
⑤ Gardens Full of Japanese Cultural Properties, Fall Leaves, and Spider Lilies
Hana-Biyori isn't limited to the main building; the grounds contain a variety of areas featuring different themes, including some perfect for the Japanese tradition of "koyo" (紅葉/fall foliage viewing), and some with traditional Japanese architecture. One part is called the Sacred Forest, so named because of the collection of historic buildings within, some of which have been designated official Important Cultural Properties of Japan.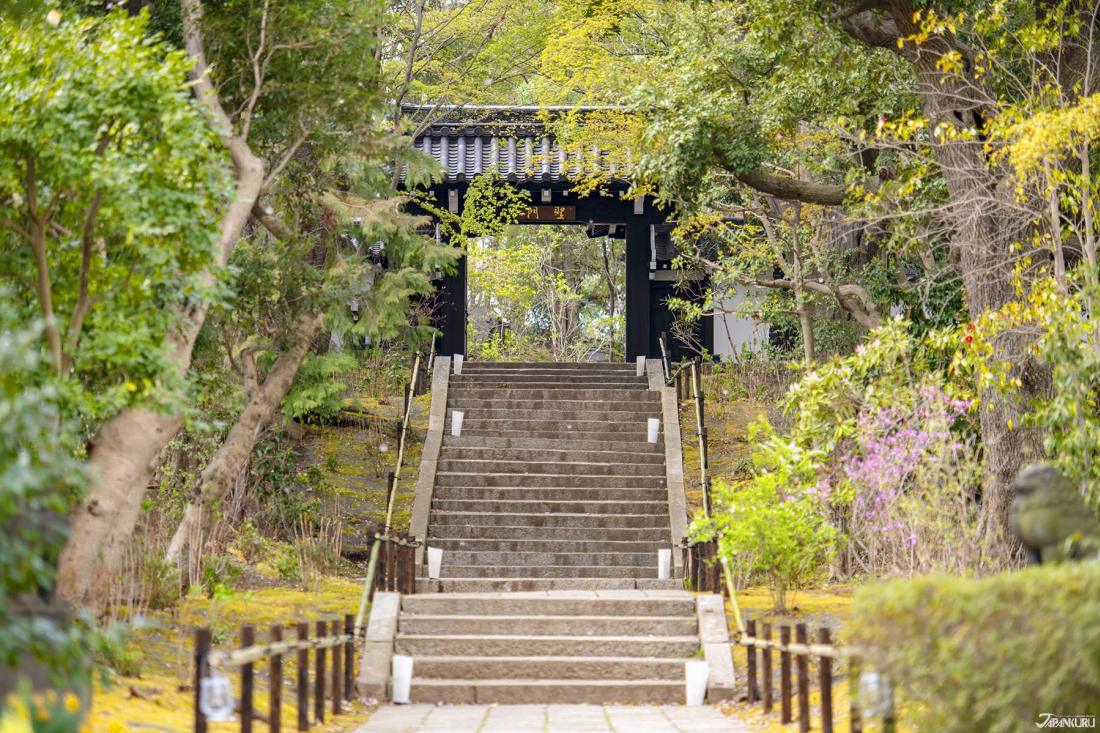 A pagoda holding relics of Buddha and historic statues of Myoken Bodhisattva and Sacred Avalokitesvara are just some of the pieces of Japanese history hidden among the gardens, and springing up around these structures every autumn are more than 2,000 red spider lilies.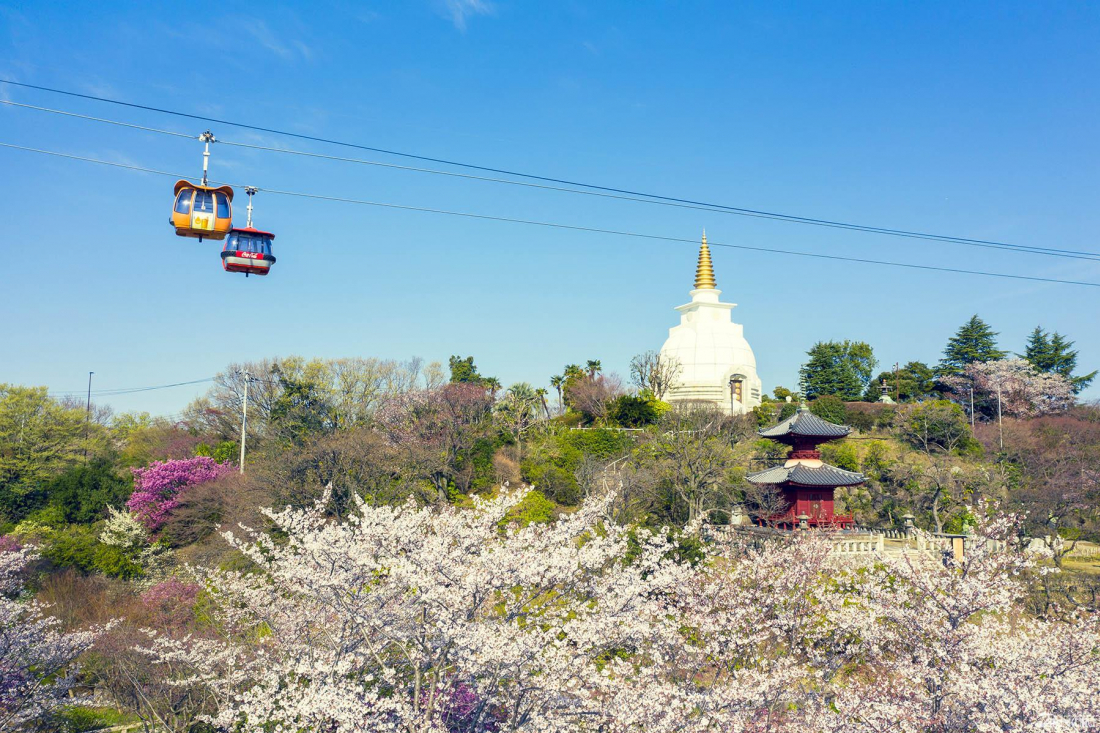 ⑥ Okinawa-Style Tropical Fishtanks
Separating the Starbucks from the rest of Hana-Biyori Hall is a bank of saltwater fishtanks. The colorful tropical fish really compliment the hanging flowers, all uniquely colorful living gems. While we can all enjoy the gorgeous flowers found in every direction at Hana-Biyori, younger visitors are bound to choose a Starbucks table seated up against the aquariums.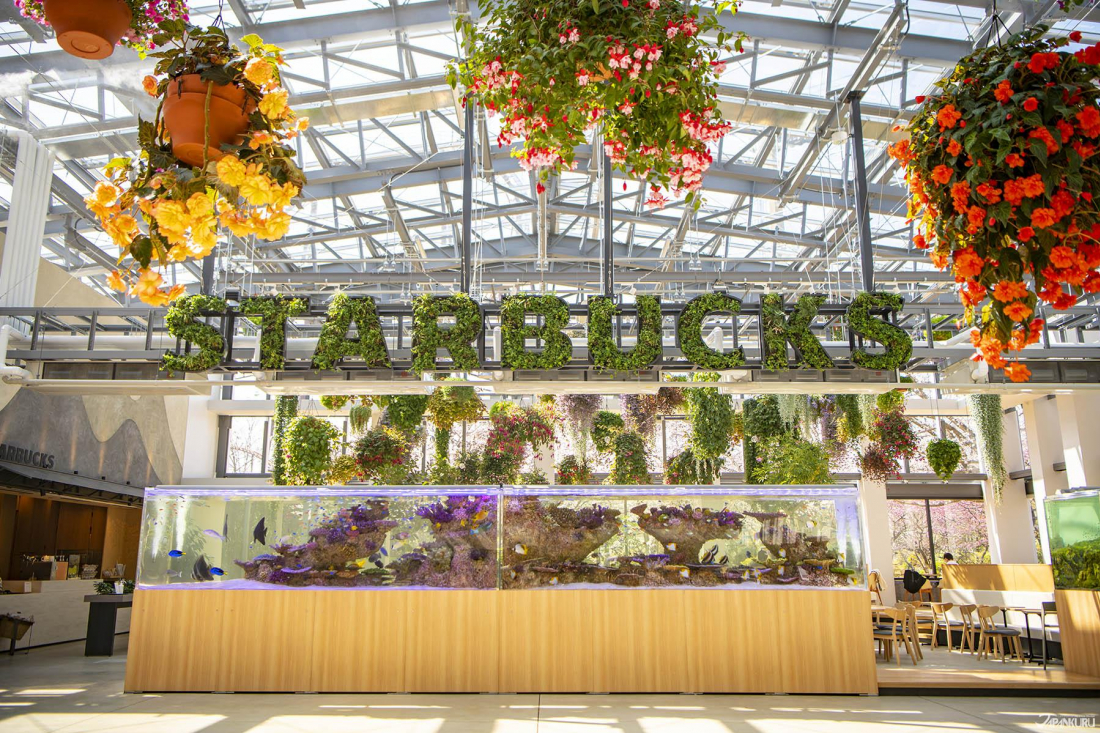 Imported from South Korea, the large main tank is 8m (26ft) long and filled with 1,200 clownfish, blue-green damselfish, sea goldies, and other tropical beauties, about 50 species all swimming around a little coral reef.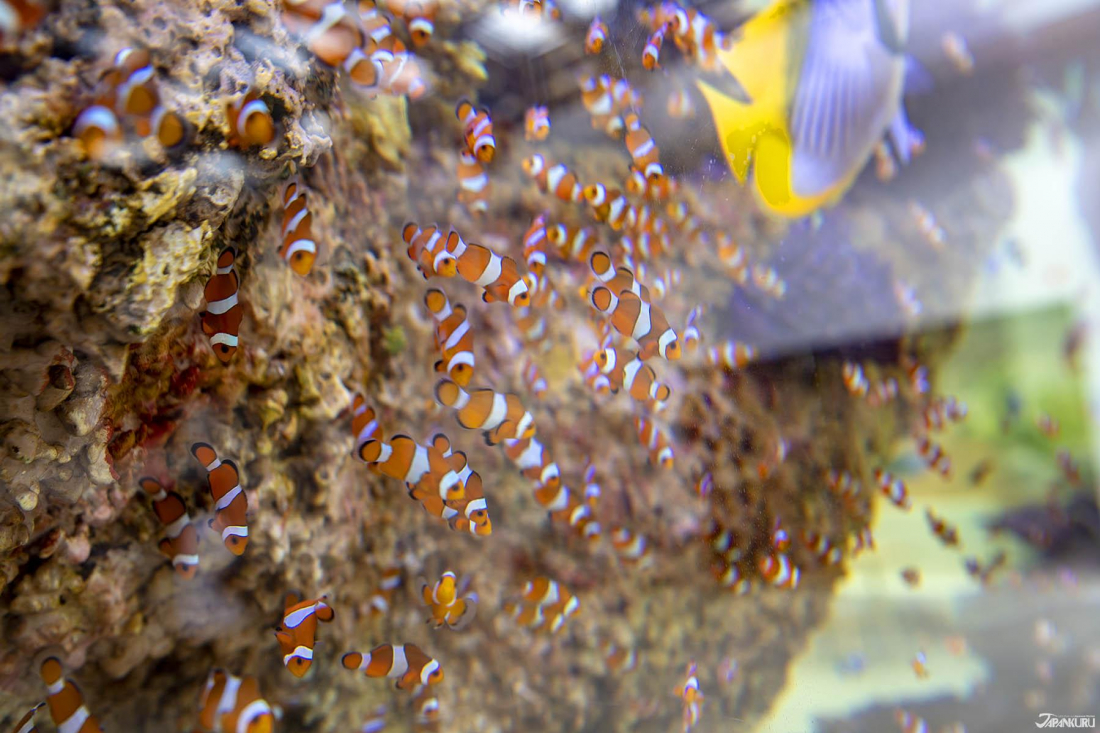 The Hana-Biyori giftshop is a small area filled with an impressive variety of gifts to take home, and while plenty of those are focused on the Hana-Biyori flowers, we don't think anybody's complaining about the prevalence of the otter mascots! Alongside a wide selection of otter toys, there are some surprisingly sophisticated flower/otter items that combine cute characters with elegant illustrations in a way that seemed thoroughly Japanese.
For an even more one-of-a-kind souvenir, Hana-Biyori also sets up flower and plant-related workshops every day, like flower arrangement or moss terrariums. (Details on the official website
here
.)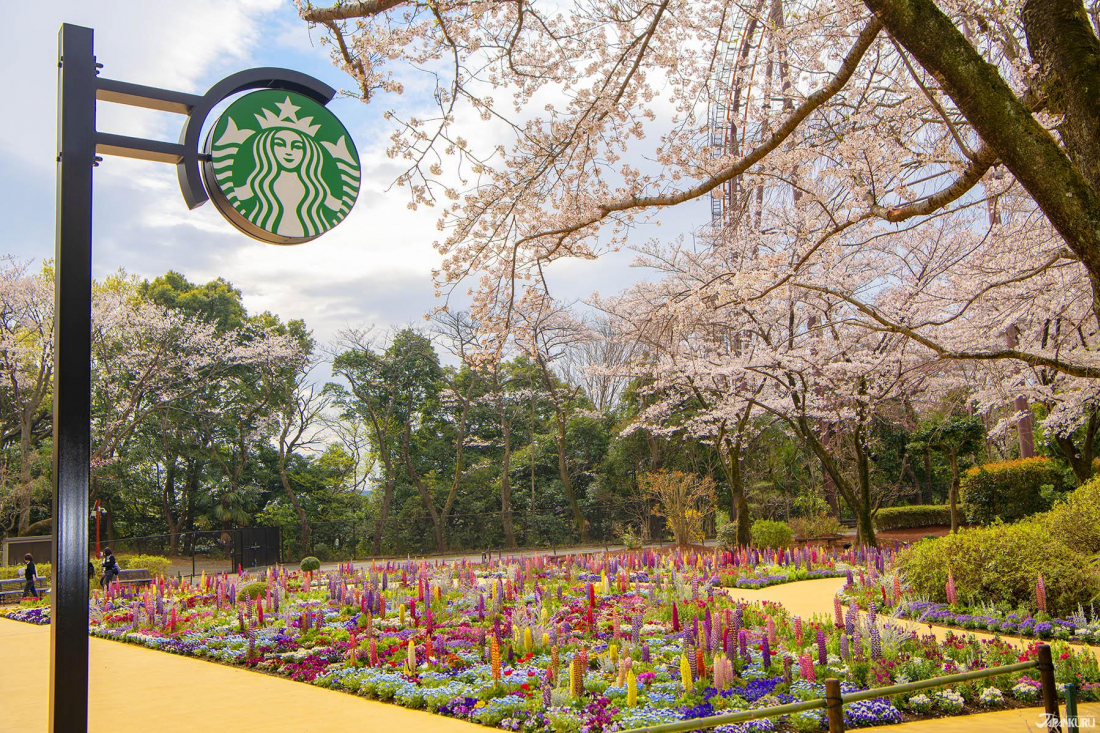 During sakura season, Hana-Biyori also extends its hours for night-time cherry blossom viewing. The brightly lit pink flowers against the dark sky make for a totally different experience. We feel pretty sure that this will become a go-to date activity in coming years.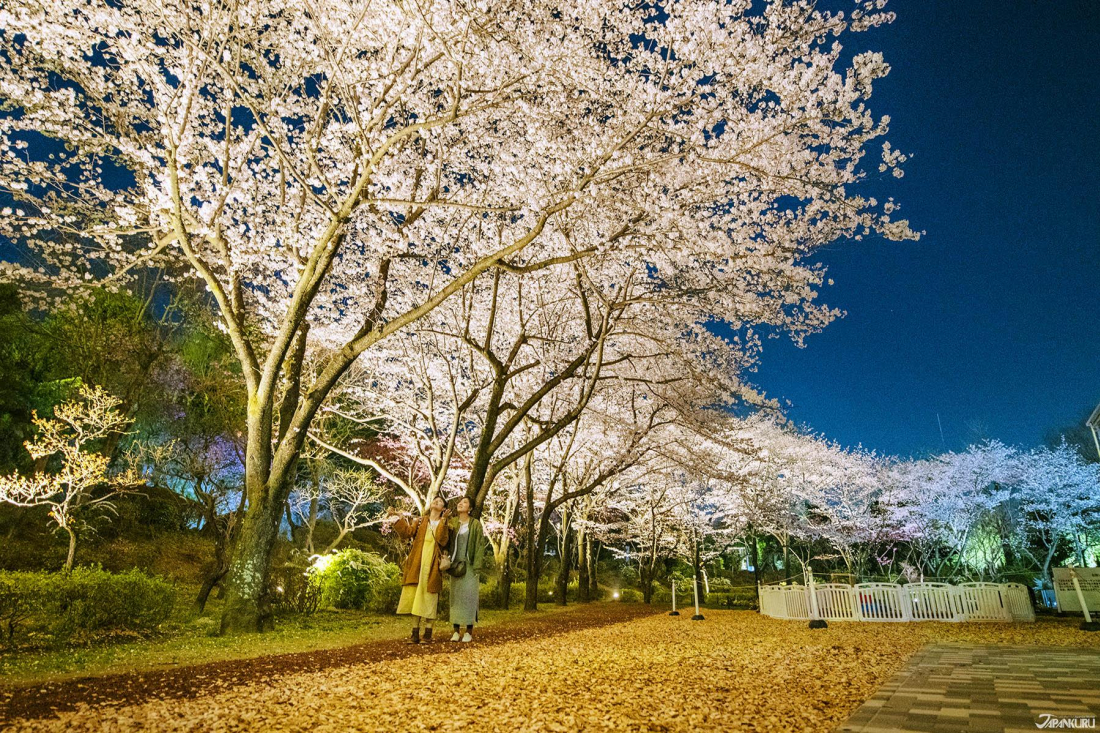 Make It a Full Day Out
Have You Been to Yomiuriland Yet?
Hana-Biyori is a part of Yomiuriland, but they are distinct areas with separate entrances, and tickets can be purchased separately. If you're just interested in grabbing a drink at the Starbucks and taking a walk among the flowers before heading home, the separate tickets make it easier to do just that, but we recommend you make a day of it. Buying both tickets will get you a 200~300 yen discount, and will give you full access to all the flowers of Hana-Biyori, and the popular roller coasters and attractions of Yomiuriland Amusement Park. It's enough to entertain just about any traveler for a day!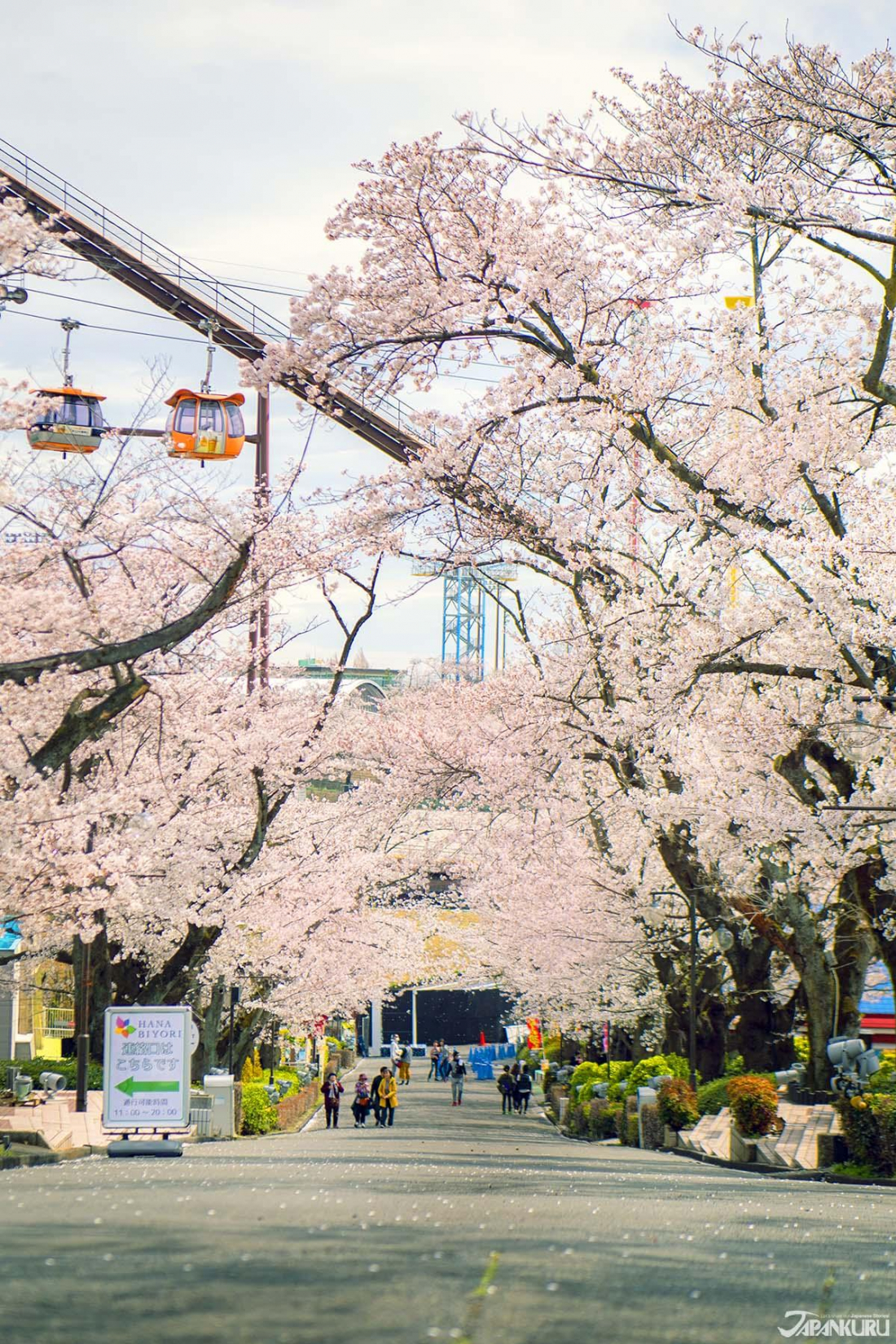 When the Japankuru team visited Hana-Biyori during its very first days open, spring cherry blossoms were in full bloom, so we had a chance to see the flowers all over the two areas. During the morning, we loved looking at the lively scenery of the Yomiuriland gondola gliding over the trees and rollercoasters whipping past pink petals. Once the sun set, the romantic lighting and music of Hana-Biyori made it a dreamy escape. If possible, we recommend you check out both!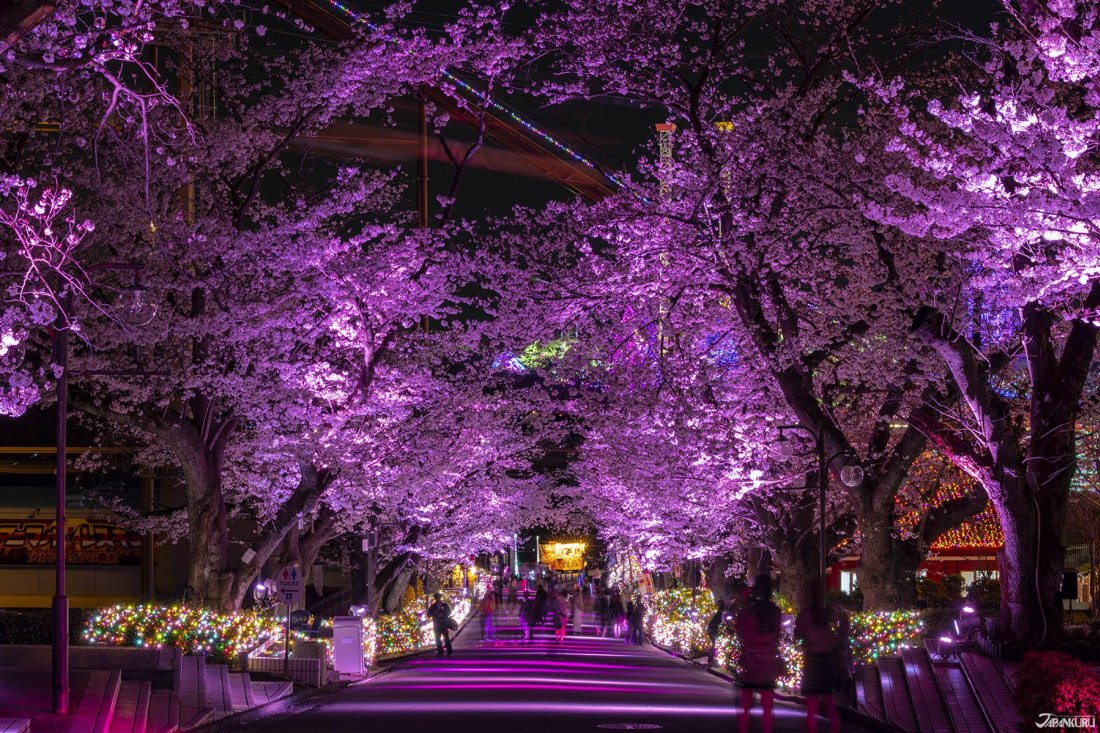 Hana-Biyori Is a New Go-To Excursion Out of Central Tokyo
Looking for a day away from busy downtown Tokyo? Thanks to the flowers, otters, coffee, and more, alongside popular day trip destinations like
Yokohama
and
Kawasaki
, you can add Yomiuriland and Hana-Biyori to the list.