Gods, Yokai, and Sightseeing in Central San'in
Central San'in includes areas in both Tottori Prefecture and Shimane Prefecture, and the region draws travelers thanks to gorgeous natural features, and links to both
Shinto gods
, and "yokai" (妖怪), or traditional Japanese mythological spirits or monsters. Central San'in is where you'll find historical castle ruins and the grand shrine Izumo Taisha, but also where you'll find the popular Adachi Museum of Art, and the yokai of the classic manga Gegege no Kitaro. Visit Central San'in to explore the boundaries between the world of the living and the world of myth and monsters, and get a glimpse into the heavens of Japanese legend.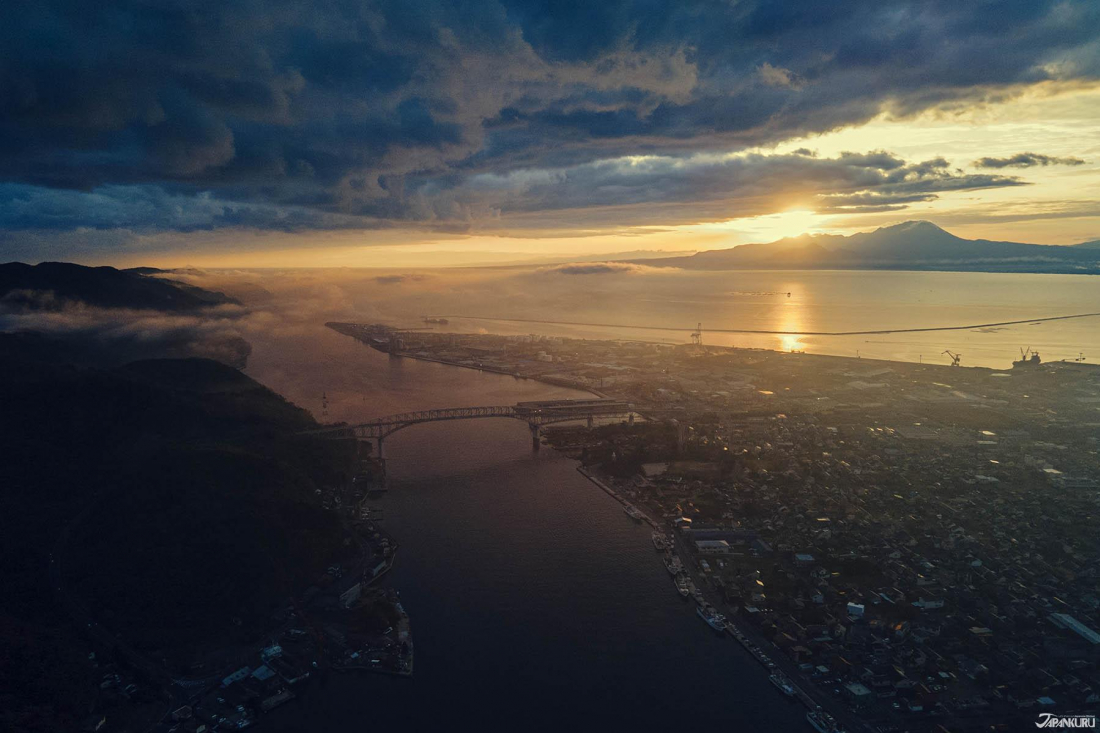 Izumo Taisha Shrine
Izumo Taisha Shrine, also called the Izumo Grand Shrine, was established so long ago, it's mentioned in Japan's oldest historical record, but to this day it's considered home to gods of matchmaking and prosperity. Legend says that once a year, Izumo Taisha is the gathering place for all the eight million gods of Japan, which is why Izumo is sometimes called "Land of the Gods." All year-round, though, visitors come and pray for a little extra luck in the love department, and to enjoy the beautiful atmosphere, including the front shrine building (拝殿, haiden) with its enormous braided
shimenawa rope
(しめ縄).
Michikusa Cafe & Sweets
Izumo Taisha has long been surrounded by shops of all kinds, any many offer tasty treats like zenzai (ぜんざい) and warigo soba (割り子そば). Zenzai is normally a sweet red bean soup, but we also tried a matcha-flavored version, which came with two little toasted mochi dumplings, an Izumo symbol of soul mates and destiny.
Michikusa's heart-shaped monaka (最中) wafers, filled with colorful ice cream and red bean, is almost too cute to eat!
Haneya Kenjo Soba
Haneya is an especially popular spot for warigo soba, a local specialty, because they've been making the soba noodles since the end of Japan's Edo period (1603-1868). They call their noodles "kenjo soba" (献上そば), literally "tribute" soba, because they presented the dish to Japan's Emperor Taisho when he visited Izumo just about a century ago. The emperor praised the flavor as "reflecting the aroma of the countryside."

Warigo (割子) refers to the stacked boxes used to serve the noodles, and you'll find it all over the area. They recommend starting by pouring the dipping sauce (called "tsuyu", つゆ) and other toppings on the top level, then topping the next dish of noodles with whatever remains, like a delicious relay.
Hinomisaki
Hinomisaki (sometimes called Cape Hino) was named an official Japanese Heritage Site in 2017, as an important place to view the setting sun, which is considered sacred in Izumo. It's even been called the "Sacred Place of Sundown" (日が沈む聖地出雲).
Established in 1903, Hinomisaki Lighthouse is Asia's tallest stone lighthouse, at almost 44m (143ft) tall. Holding hands and watching the sun set at this important landmark is said to be good luck for new couples.
Hinomisaki Shrine is another nearby destination, sometimes called the Sundown Shrine ("Hishizuminomiya" Shrine). The shrine is said to guard the setting sun in Japan, opposite the Grand Shrine of Ise in Mie Prefecture, which guards Japan's daylight hours.
People in Central San'in: History, Art, and Creativity
Only 12 historic castles remain standing in their original forms (from the Edo period or earlier) in Japan, and Matsue Castle is one of them. Most Japanese castles have been destroyed and rebuilt many times over, and castle buildings that have been preserved through the centuries are rare, as most of them have been rebuilt in the past 100 years or so.

Matsue Castle's domain includes Izumo, famous for matchmaking, so it's only fitting that you'll find little hearts seemingly hidden around the castle.
One of the hears is hiding among the many stones preserved in the castle's stone walls since Japan's Sengoku period (1467-1615)!
You can check the internet to find exactly where all the hearts are (or grab a pamphlet at the castle), but it's especially fun to discover them for yourself, since they're hidden throughout the castle tower. One is on a wooden column near a statue of Matsudaira Naomasa, the first feudal lord of the Matsudaira clan!
Matsue Castle (松江城)
1-5 Tonomachi, Matsue, Shimane
Access: From Matsue Station, take a bus to Kencho-mae bus stop.
Castle Tower Hours:
  Apr - Sept 8:30 - 18:30 (Entry by 18:00)
  Oct - Mar 8:30 -17:00 (Entry by 16:30)
Castle Grounds Hours:
  Apr - Sept 7:00 - 19:30
  Oct - Mar 8:30 - 17:00
Official Website (jp)
Yuushien Garden
Yuushien Garden is a spacious 40,000m² (430556ft²), with areas inspired by the landscapes of Izumo, all arranged around a garden pond. The springtime floating peonies are especially popular, along with
colorful autumn leaves
that get lit from below at night, and an
illumination
event for cold winter evenings!
The gorgeous illumination is the result of much careful planning, and some trial and error, with both garden staff and designers.
Stop in at the garden cafe for a drink or a bite to eat while you look out on the Japanese-style light display.
There's even a free shuttle bus during the illumination event, going between Matsue Station and Yuushien Garden.
Minami Garden Teahouse
Don't miss a chance to try "tai-meshi" (鯛めし) while in Matsue, it's simple rice with sea bream, but it's a local specialty. Minami Garden Teahouse has its own long history, and it's a great place to try the dish while admiring the little traditional Japanese garden out the window.
Minami serves their tai-meshi like the Japanese dish "
ochazuke
," where "green tea" broth is poured over the rice, sea bream, and toppings like chopped egg white and smoothed yolk, wasabi, grated daikon radish, green onions, and nori seaweed. The broth is the key ingredient for this dish, made with a secret recipe utilizing top-quality bonito flake stock and local Matsue soy sauce.
Tamatsukuri Onsen
This
onsen
has been "a hot spring of the gods" since the Nara period (710 - 794), and became popular with less celestial beings when a feudal lord from the Matsudaira clan came to convalesce during the Edo period, and established more formal management. The name Tamatsukuri (玉造) might sound unusual to Japanese visitors, as it literally means "precious stone making," but it comes from the region's history of crafting with stone agate mined from nearby Mt. Kasenzan. Some say that a part of the Imperial Regalia of Japan was made at Tamatsukuri Onsen.
The "Ryugu no Yu" (龍宮の湯) open-air garden bath is Japan's largest open-air mixed bath, and has become increasingly popular over the last 100 years. (For lodging guests only.) The water at Tamatsukuri Onsen is even said to be beautifying.
Adachi Museum of Art
Ready for even more gardens in Central San'in? This includes an internationally famous traditional rock garden (called 枯山水庭, "The Dry Landscape Garden"), and a backdrop of beautiful mountains. International publications consistently rank the garden at the Adachi Museum of Art as the most beautiful garden in Japan, and 600,000 people visit each year.
The museum was established by early-20th century businessman Zenko Adachi, and the exhibits focus largely on Japanese "Nihonga" paintings, especially by artist Yokoyama Taikan, but the garden is equally important. The balance of natural beauty inside and out of the museum buildings was imporant to Zenko Adachi himself.
Visitors can enjoy views of the garden, throughout the different seasons, as works of art in their own rightーthese windows are given names like "Natural Framed Picture" ("生の額絵").
Yonago Castle Ruins
Yonago Castle started as a watchtower built in 1591, which was transformed into a five-story castle by Nakamura Kazutada, who arrived in 1601 from the old province of Suruga. Only ruins of the impressive structures remain, but we can imagine what the castle would have looked like looking out at the spectacular view.
Climb 20 minutes up the mountain paths and stone steps to reach the top of a 90m (~300ft) rise, with a view of Yonago and the ocean, along with Lake Nakaumi, and an unblemished view of Mt. Daisen in the east.
Tottori Hanakairo Flower Park
Don't miss a chance to see Japan's beautiful flowers when you visit! One of the biggest flower parks in Japan is in Central San'in, and Tottori Hanakairo Flower Park looks beautiful throughout the seasons, with flowers and light displays in front of a backdrop of Mt. Daisen.
Enter the Realm of Japanese Yokai
Mizuki Shigeru Road
Mizuki Shigeru Road stretches between Sakaiminato Station and the Mizuki Shigeru Museum, and the whole area is dedicated to Shigeru Mizuki, a hugely beloved author of some truly classic Japanese manga. Mizuki Shigeru is perhaps best known for his manga Gegege no Kitaro, and the path is lined with 177 bronze statues of yokai characters from the series, plus a yokai shrine, a kappa well, Medama-Oyaji streetlights, and plenty of manga merchandise.
Watch the huge stone eyeball twist and turn while you wash your hands at the yokai shrine (not a real Shinto shrine), and don't forget to snag a special yokai-themed omikuji fortune!
Yoka Medama-Oyaji
make good snacks, or good souvenirs. They might look like a terrifying eyeball-shaped yokai monster, but they're actually traditional manju cakes, made by a famous local wagashi (和菓子, Japanese sweets) specialty shop.
Gegege no Kitaro characters like to revel and sing songs during the nighttime, so Mizuki Shigeru Road is still fun after dark, when the lamp light adds an eerie atmosphere.
Tairyo Fish Market Nakaura
We've got one more must-eat to add to your list, and that's local San'in snow crab. Find a local species known in Japanese as "matsuba" crab (松葉ガニ) at Tairyo Fish Market Nakaura (where Kitaro greets all the visitors), alongside other seafood delicacies caught in the Sea of Japan.
They sell plenty of raw ingredients for local chefs, but we recommend trying the crab right away at the restaurant Yumigahama, where their matsuba crab specialty is the "kanitoro-don" (カニトロ丼) rice bowl, which comes topped with crab, seaweed, wasabi, raw egg, and a dash of soy sauce. The matsuba crab shumai dumplings are worth a try too!
Which World Will You Visit First?
San'in brings together legends of gods, human creativity, and the mischievous fun of Japanese yokai. Where will you fit in best!?
*Business hours and holidays may have changed since the time of publication. Please check these details before heading to your destination.