Arrive in Kyoto, and everywhere you look is a peaceful Zen temple or a quiet Shinto shrine, but with the beautiful sights come hectic crowds. After a day weaving through the many citizens and visitors to Kyoto, it's understandable if you just want a tranquil retreat to return to every evening - and that's why we recommend Oriental Hotel Kyoto Rokujo. The peaceful ambience and natural spaces right inside the lobby create a calming effect as soon as you walk into the lobby, and the theme only continues from there!
Japan has long been proud of its "omotenashi" (おもてなし) hospitality culture, and since Oriental Hotel Kyoto Rokujo opened in November 2019, it's clear they've been committed to maintaining the omotenashi spirit all over the premises. Take advantage of the hotel's efforts to produce ideal Zen meditation spaces right in the rooms, relax in the comfortable lobby/lounge seating, and enjoy the wonderful respite from the hustle and bustle of Kyoto travel!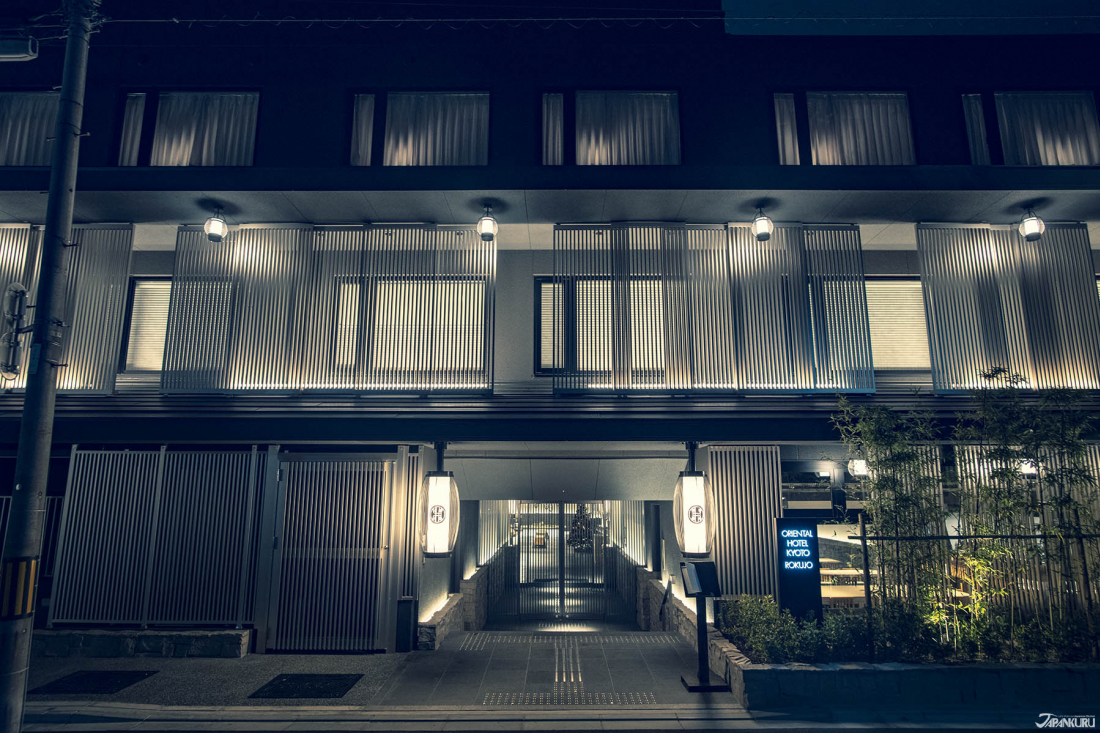 With smooth, earth-like floors and romantic lanterns lighting the tranquilly lit spaces, you immediately feel the Japanese tea house garden atmosphere the hotel is going for. And not only is the tea ceremony connection clear in the hotel decorations, but during peak check-in hours they also offer new guests their very own mini tea ceremony. Drink a deliciously whisked bowl of matcha in the hotel's comfortable lounge area, and it'll feel like a real ceremony, steeped in tradition.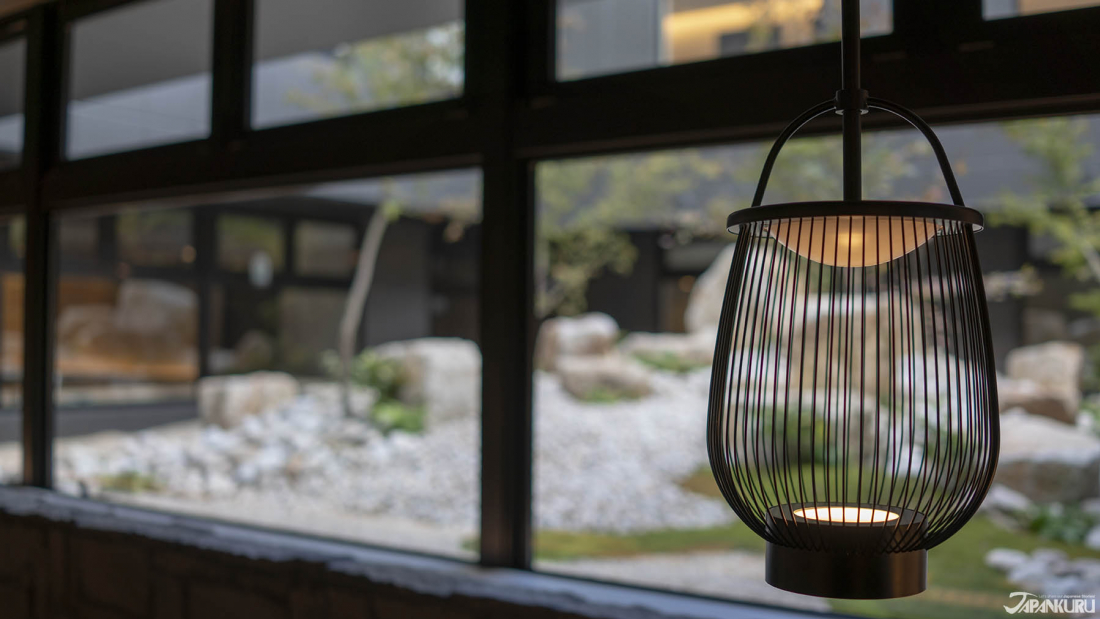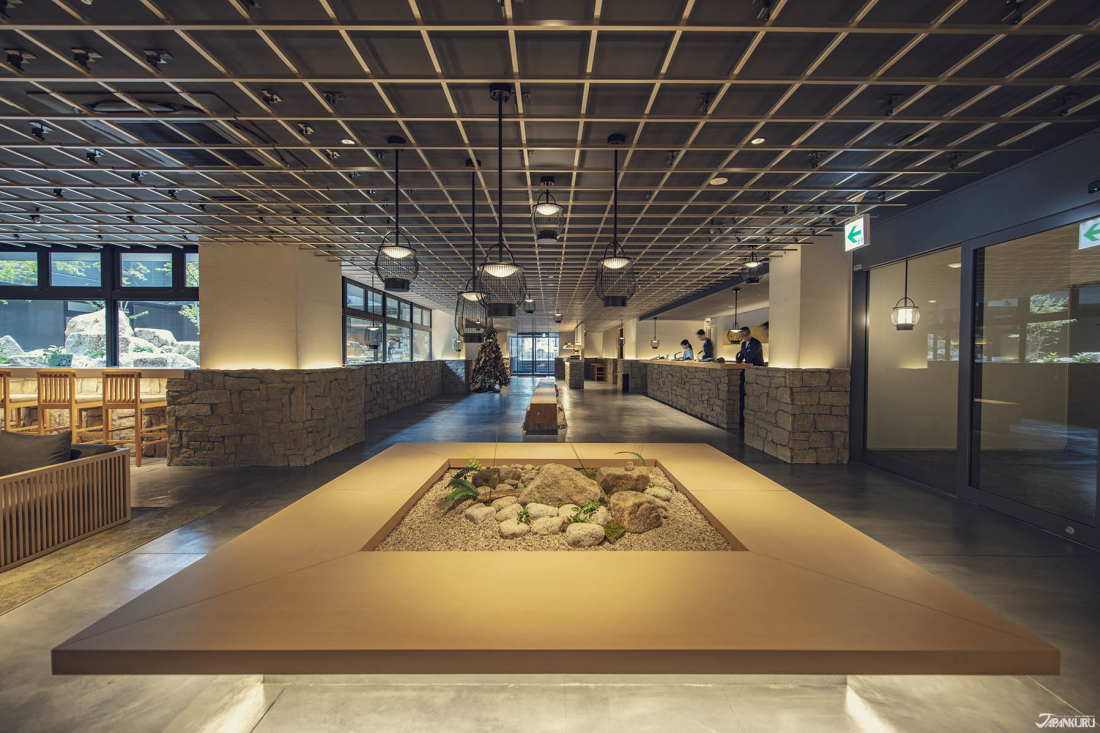 From the many natural spaces to the wooden and stone interiors, every time you enter the hotel, it really does feel a little like you're heading through the garden towards a little teahouse. It's a little otherworldly in the very best way - you feel a world away from the stress of the outside world!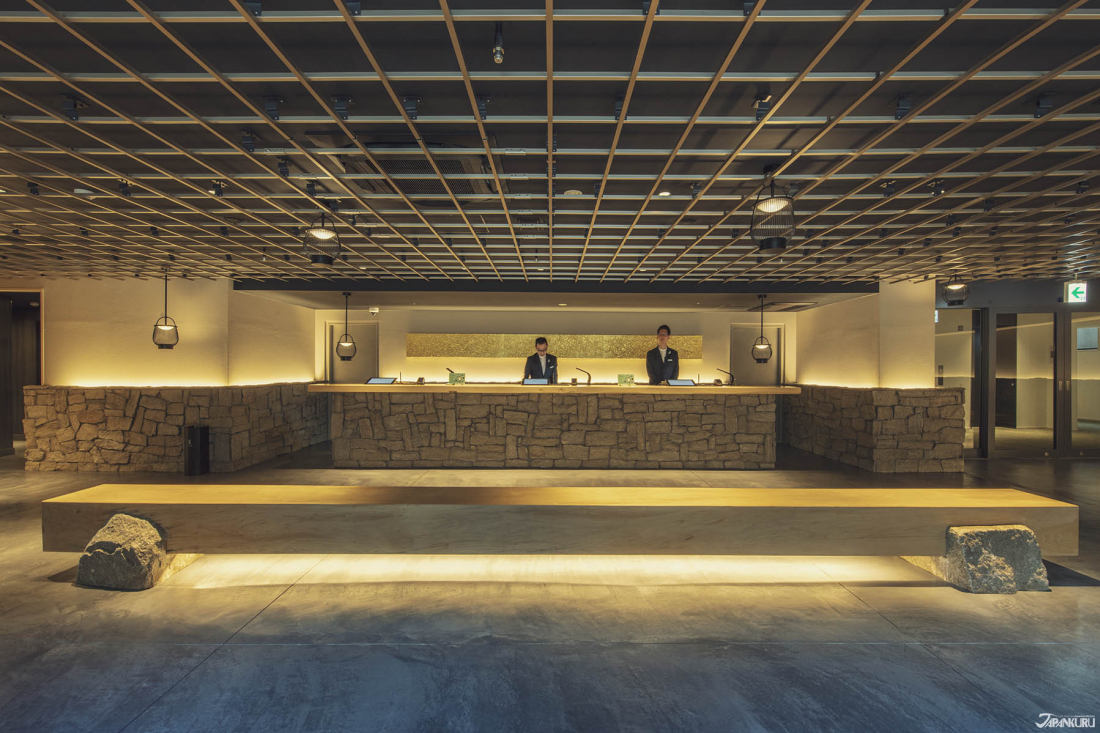 And as an anchoring point in the lobby, the front desk and parallel bench across from it are each made out of solid tree trunks, centering you as you check in.
Oriental Hotel Kyoto Rokujo
181 Bokumikanabutsucho, Aburanokojidori-rokujo-agaru, Shimogyo-ku, Kyoto
Access: 9 min from Gojo Subway Station, 2 min from Nishinotoin-Rokujo bus stop
Check-In 15:00 | Check-Out 11:00
Official Website (en)
Japanese-Style Rooms for a Little Japanese Culture
or Elegant Western-Style Affairs
Which do you prefer?
While all of the rooms in Oriental Hotel Kyoto Rokujo have a bit of Kyoto flair, when it comes to beds sometimes it's fun to experiment with slightly Japanese-style set-ups, and sometimes you just want a standard mattress and box spring. So both options are available!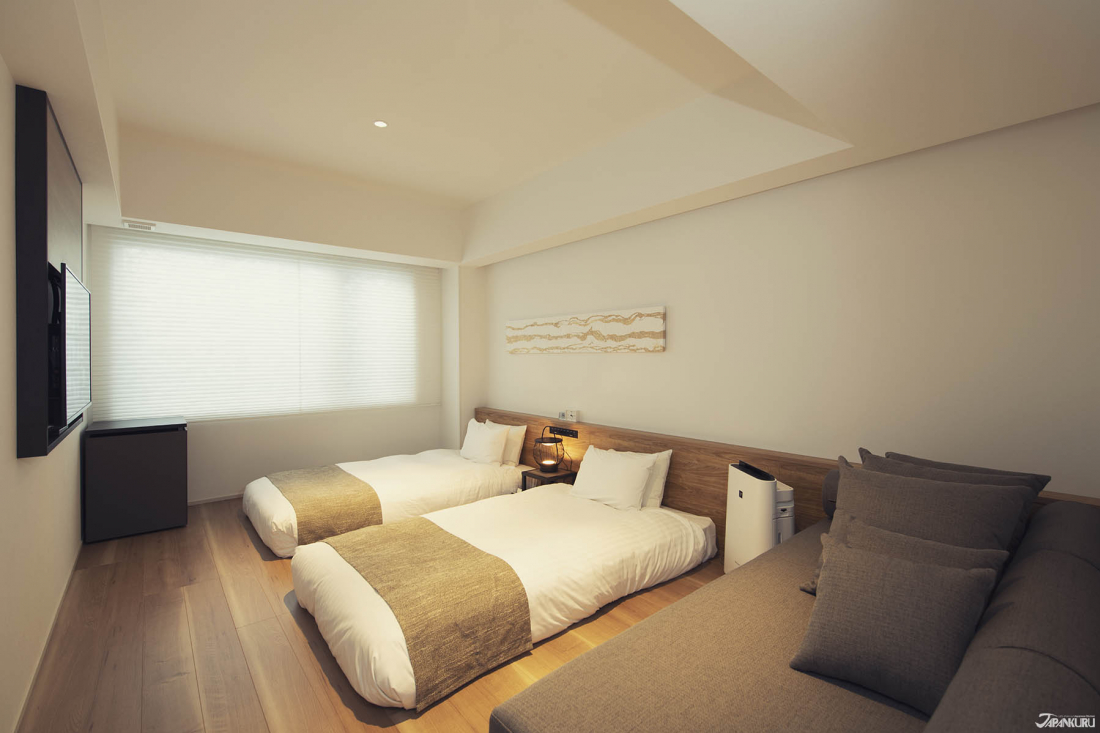 The Japanese-style rooms, like this twin room here, have the mattresses straight on the smooth wooden floor, a little like you'd have traditional Japanese futon mattresses. These beds are still much cushier than your average futon, giving guests a soft, fluffy place to rest at the end of a long day of sightseeing, but the arrangement allows you to experience a little taste of Japanese culture, even as you sleep.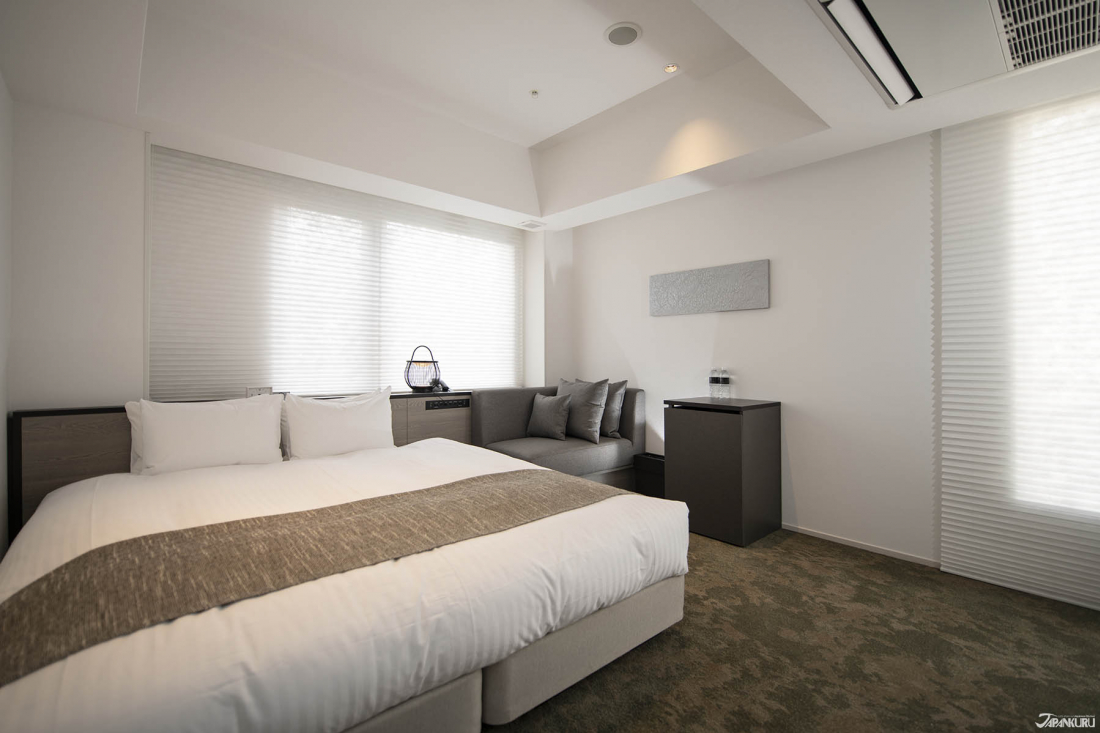 The Western-rooms might just look minimalist and clean upon first glance, but the little details show how much thought was put into the design. Continuing the theme of tea gardens, the room's carpeting is designed after the mossy floors of Japanese landscaping.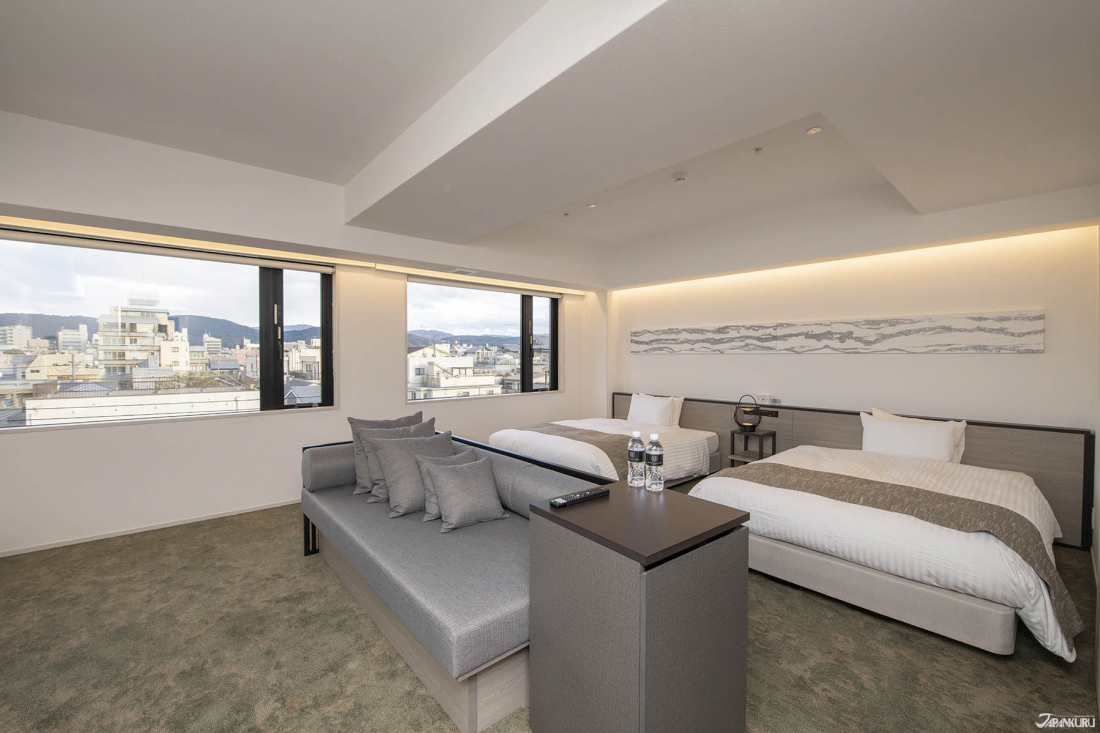 The hotel's suite rooms, like this Corner Suite, utilize the same deceptively simple design to bring the vast space of the city view into the one guest room.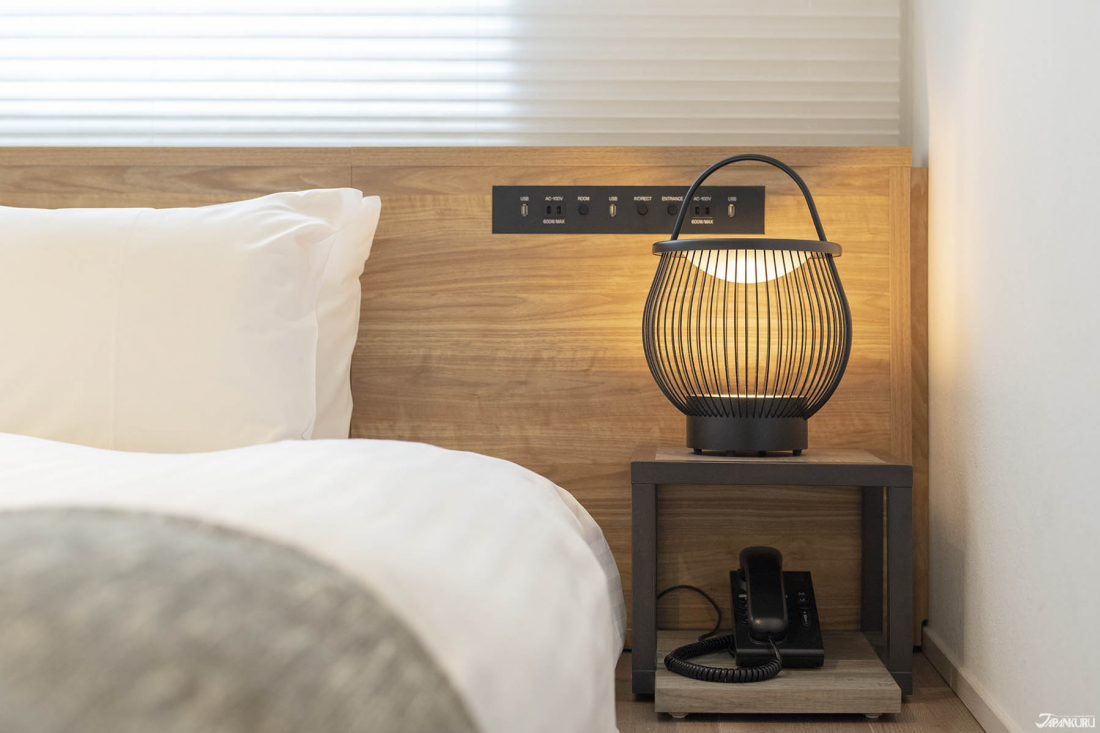 You'll see that all of the rooms have these elegant lamps, guiding you home to your room after a day out and about.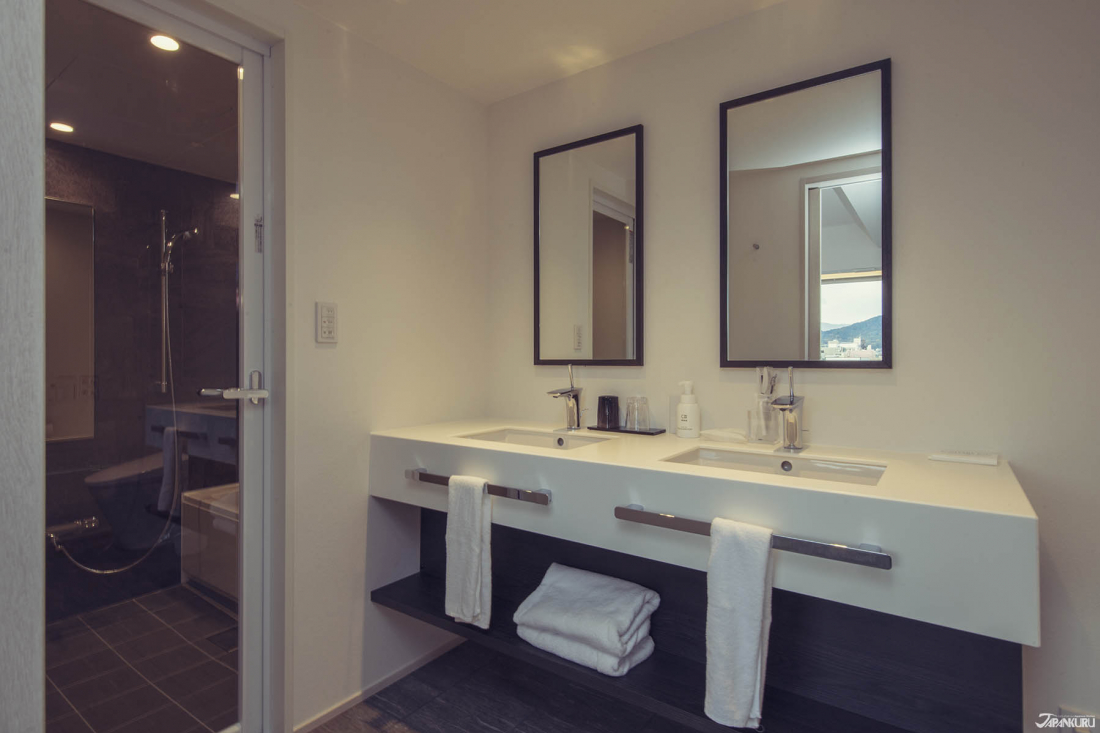 But the Corner Suite's bathroom is especially luxurious, with plenty of sink space for two (or more!) and a separate bathing area, Japanese-style.
Feel the Kyoto Atmosphere
Enjoying the Hotel's Lobby Lounge
& the Kyoto Breakfast
Not only does the hotel feel like a true Kyoto experience, it tastes like one too! Every morning, the breakfast at Oriental Hotel Kyoto Rokujo focuses on Japanese cuisine done right, highlighting the gentle flavors of Kyoto with a variety of dishes.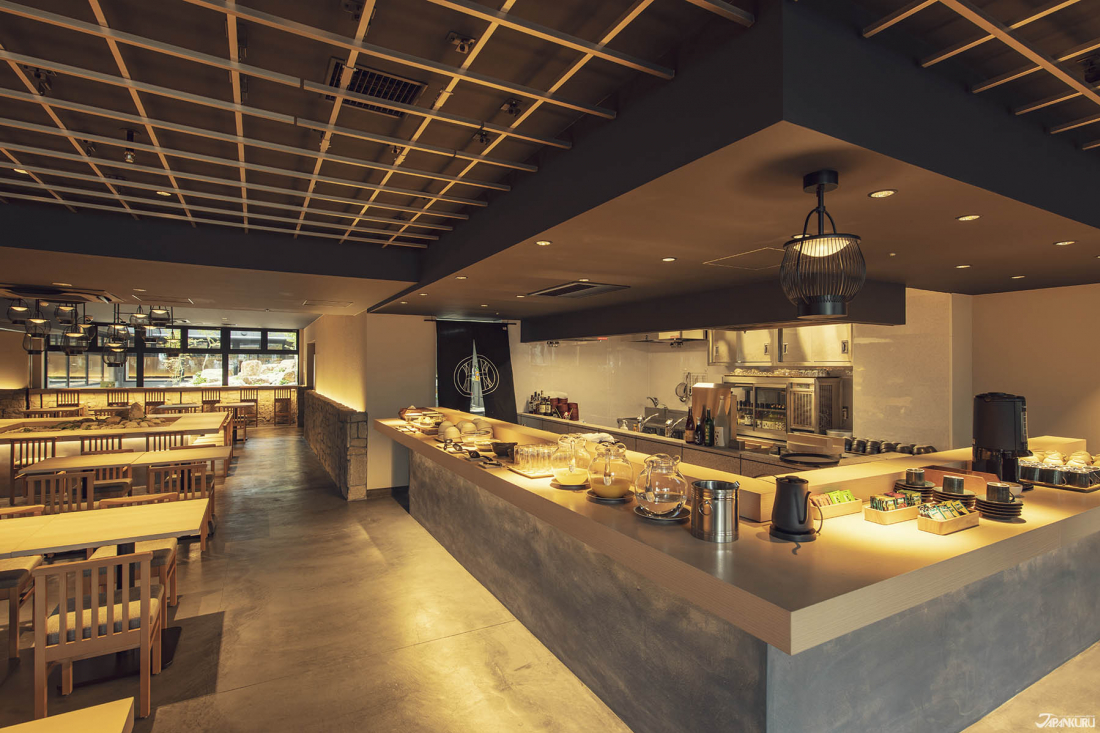 For guests who prefer a simple, familiar breakfast, the hotel's breakfast buffet includes homey basics like scrambled eggs and sausage, but the Kyoto-style offerings are the stars of the show.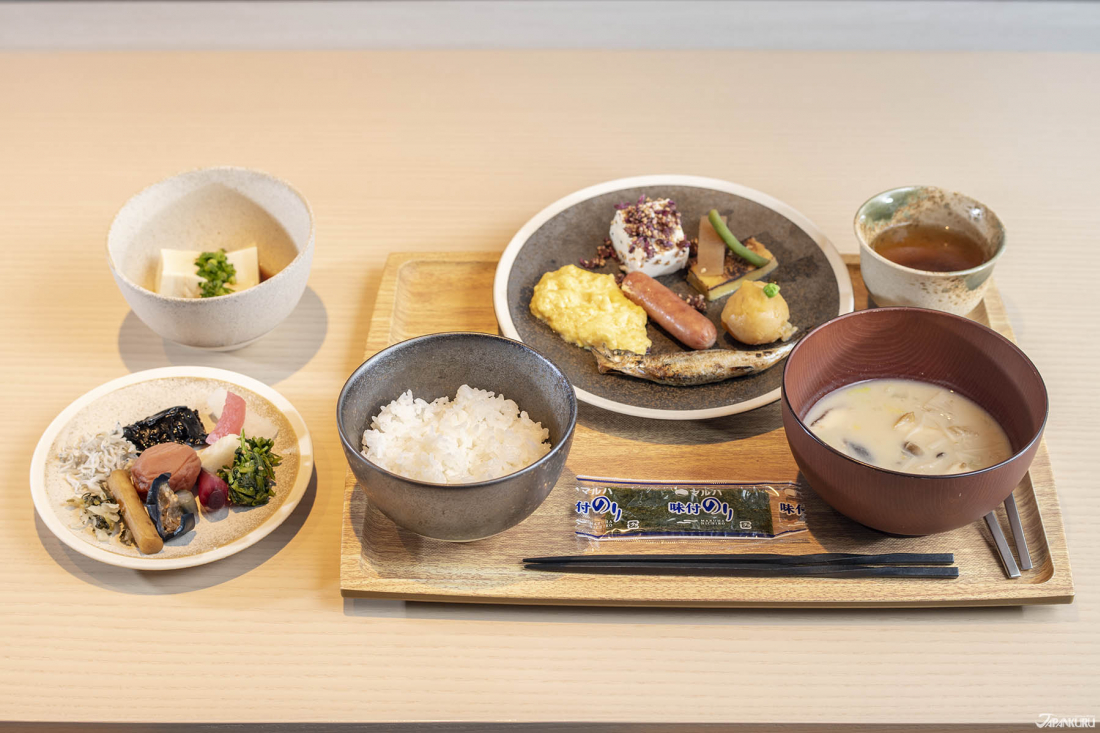 Kyoto's nation-wide famous pickled vegetables, locally produced Nanzenji tofu, Kyoto obanzai dishes of all kinds (featuring seasonal produce), the list goes on.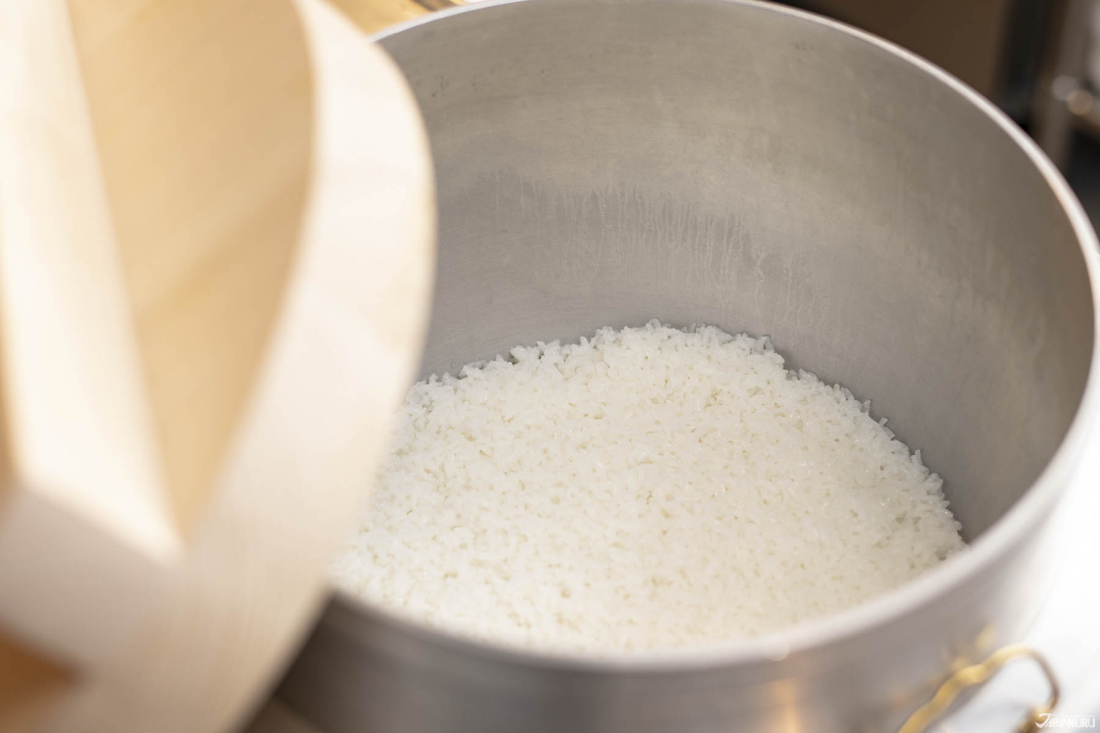 Most impressively, however, they boast huge pots filled with perfectly cooked white rice, and some of the best miso soup you'll ever eat (filled with more delectable local vegetables). Instead of leaving these things out on the counter, they're so picky about keeping the quality of these breakfast basics high, that they have the chefs there to serve it fresh to each guest.
Breakfast
7:00 - 10:00 (L.O. 9:30)
Just for Guests: the Club Lounge
After breakfast is finished, of course, guests are still welcome to use the hotel's comfortable seating spread all around the first floor.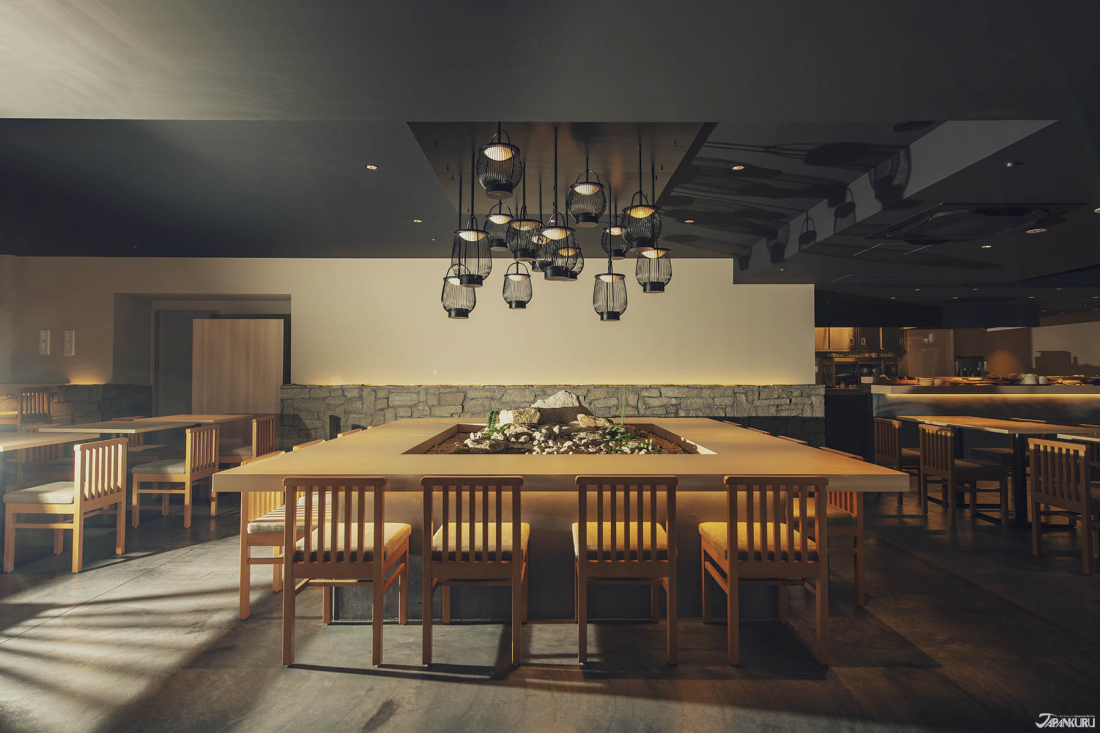 Not only is there lots of space to relax, take a break from sightseeing, and plan the rest of your trip with your companions, but they also provide some refreshments while you're at it. Fruit and yogurt, traditional Japanese-style snacks and sweets, and drinks like coffee, tea, and fruit juices are available throughout the morning and afternoon.
Club Lounge
12:00 - 18:00 (hotel guests only)
Grab a Drink with Friends, without Leaving the Hotel!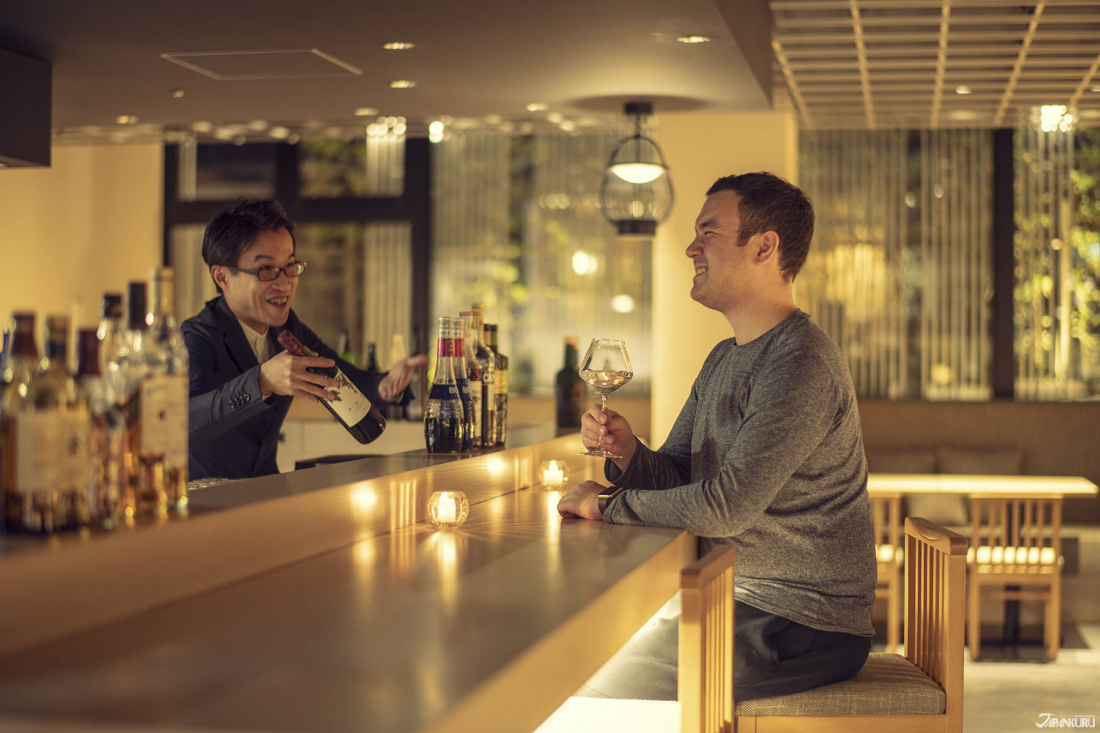 If you're looking for some more indulgent snacks, or a good hard drink, the Kyoto-themed options offered at the hotel's bar counter won't let you down. Although you'll find all sorts of Japanese flavors spread throughout the menu, and even some savory options like delicious tamago-yaki Kyoto-style omelet, we couldn't help but go all out with matcha everything!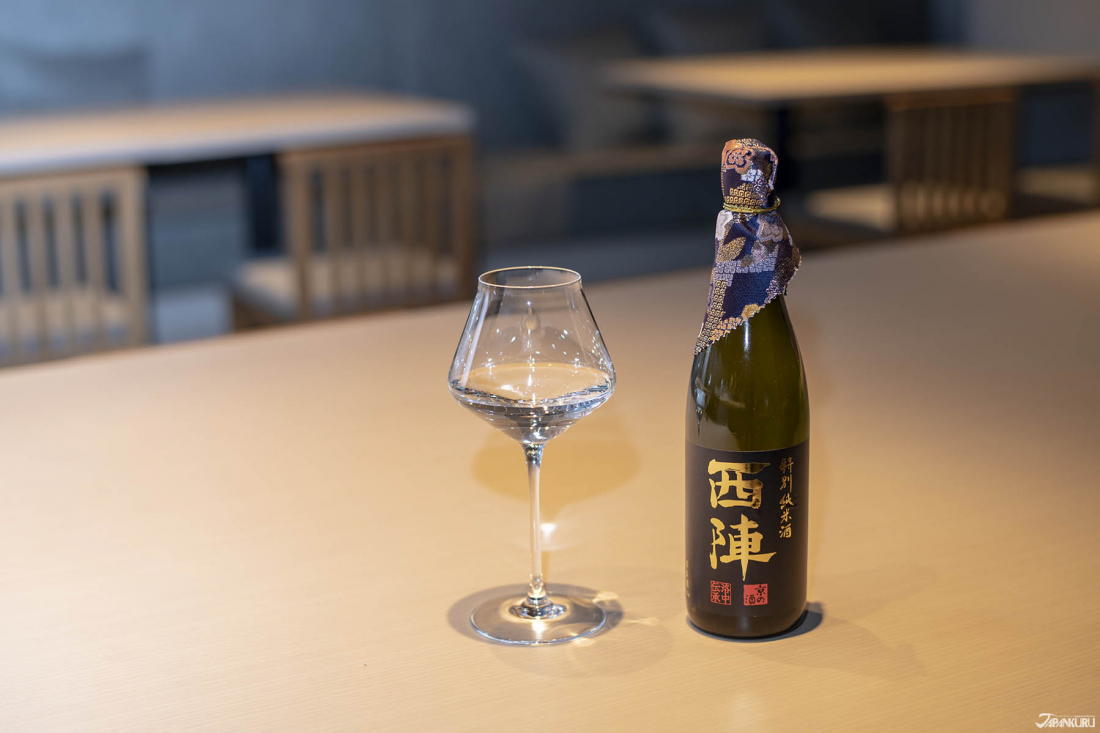 Try a matcha mojito alongside some matcha swiss roll to relax at the end of a full day.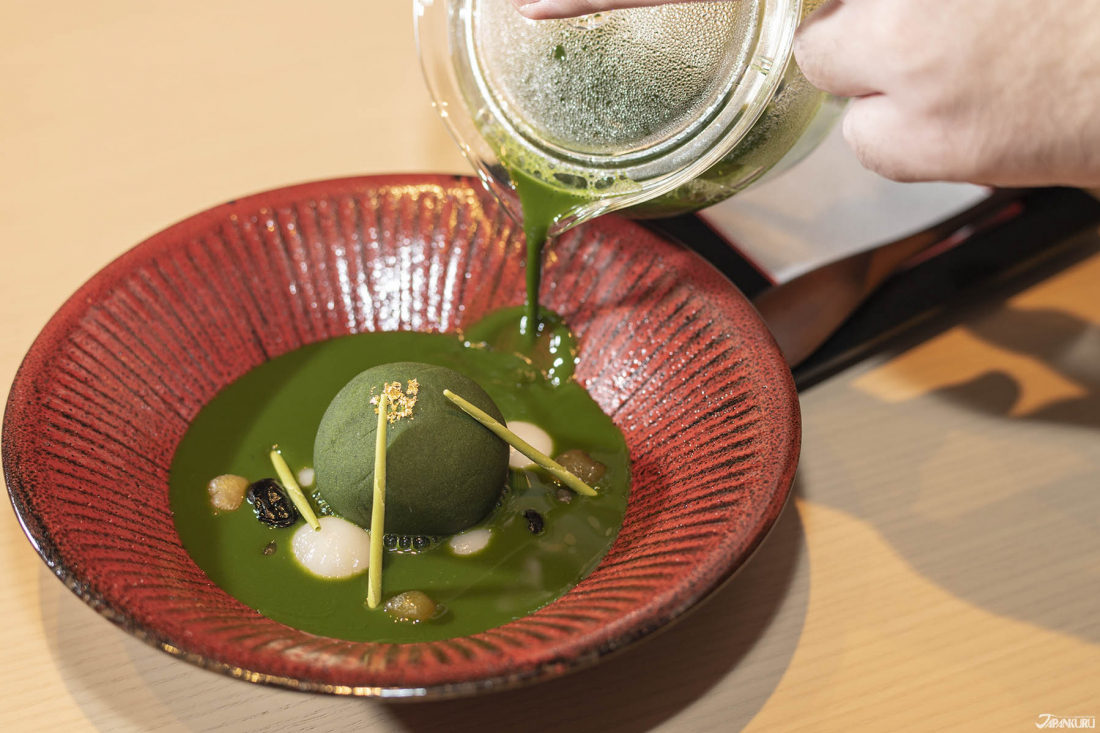 Or go for some Japanese sake with one of their more flamboyantly spectacular desserts, like this special matcha zenzai.
Try Out a Little Local Kyoto Culture
Right Inside Oriental Hotel Kyoto Rokujo
While you can certainly purchase as much matcha as you can drink at the hotel's lounge & bar every evening, we recommend you take advantage of the lovely hospitality available, and try rich tea on your first afternoon at the hotel. Each guest can watch the hotel's expert matcha makers whisk up frothy bowls of the green tea, before drinking it with a small bowl of accompanying konpeitou (colorful little Japanese candies).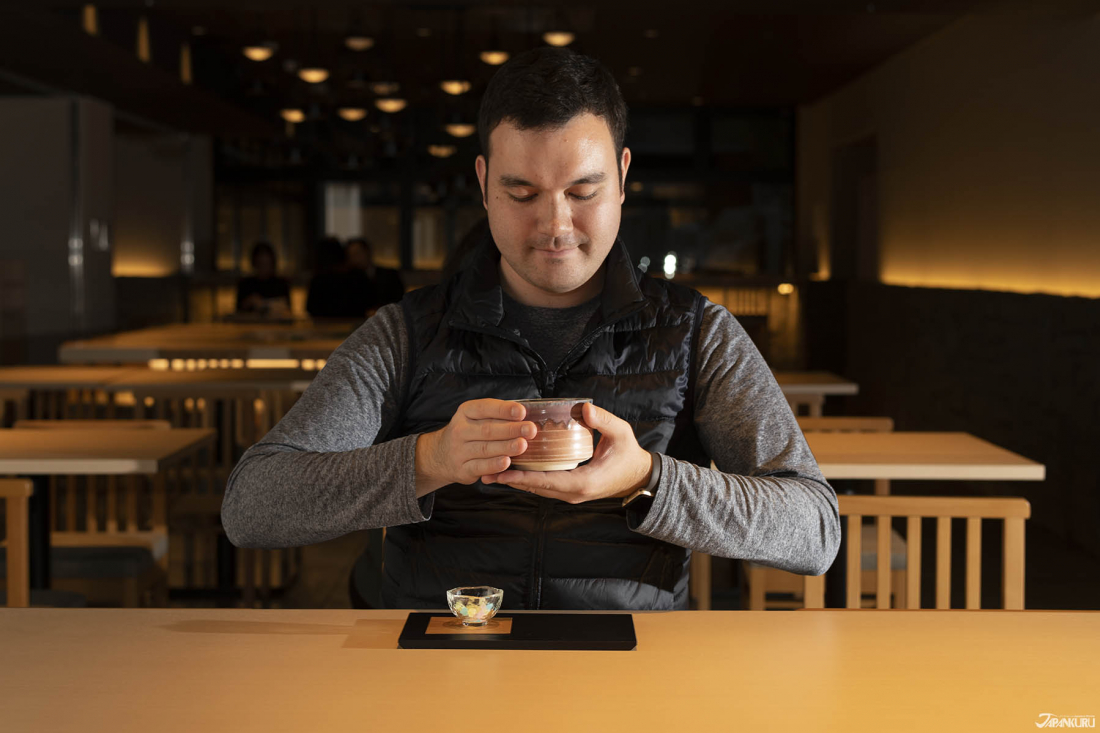 With the hotel's tea garden theme, you have to experience your own little tea ceremony while you're there! And even better, the matcha is made with local natural spring water, giving you a very literal taste of the neighborhood.
Matcha Service
15:00 - 17:00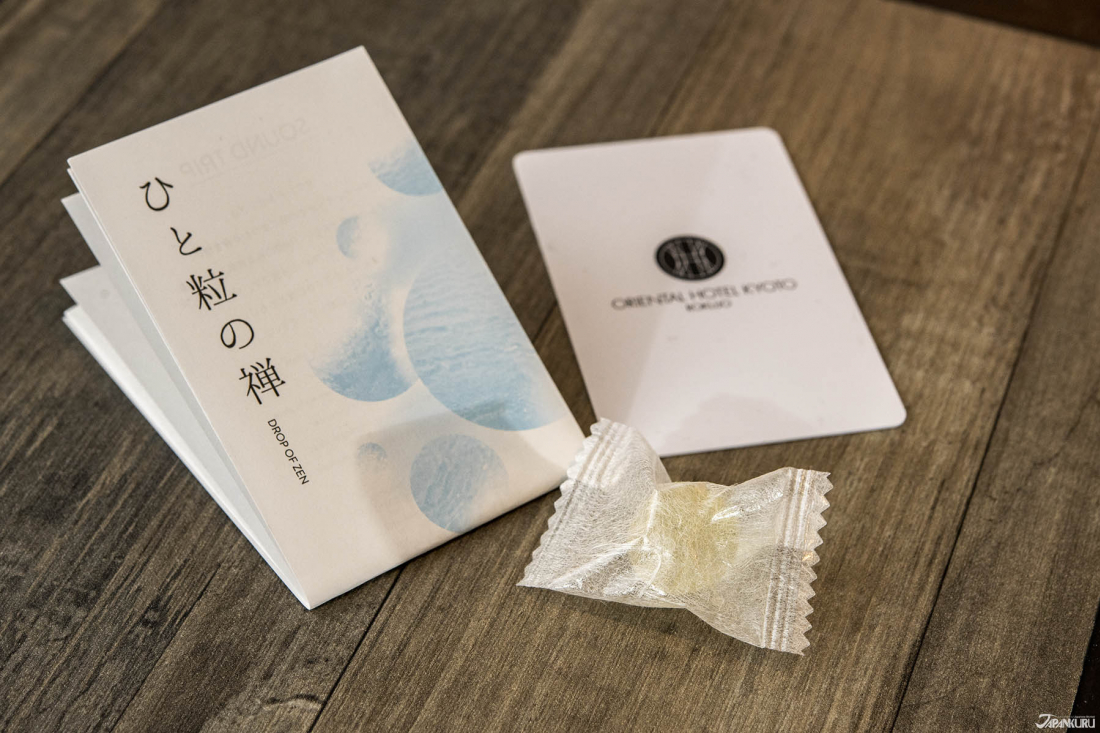 While it may seem like a small thing, the little envelope containing "meditation candy" that each guest receives upon check-in is really an impressive project taken on by the facility. You see, in an attempt to encourage relaxation and meditation while visiting Oriental Hotel Kyoto Rokujo, not only does the hotel have its own special candy made specifically to help you concentrate on meditation (and made with the same local spring water), they also have their own app! Download the app while you're there, and you can listen to an original soundscape created just for meditation purposes, using the sounds of the local Rokujo spring water. Find a comfortable spot in your guest room, turn on the tranquil sounds of the app, pop the candy in your mouth, and you're ready for a special Rokujo meditative experience.
Take a Little of Kyoto Home with You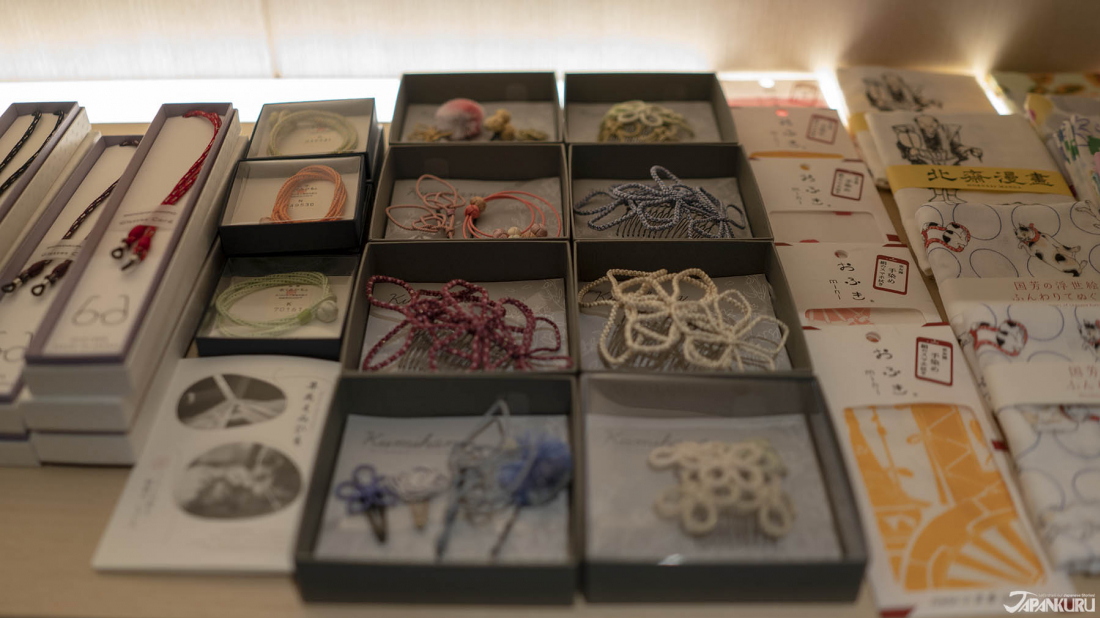 If you've concentrated on seeing the beautiful sights while out and about in Kyoto, and haven't quite found the perfect souvenirs for everyone back home, the hotel has your back. Just browse around the little display area of the lobby, and you'll find some lovely artisan crafts and souvenir items of all kinds. You might just want to buy a few items to bring home for yourself!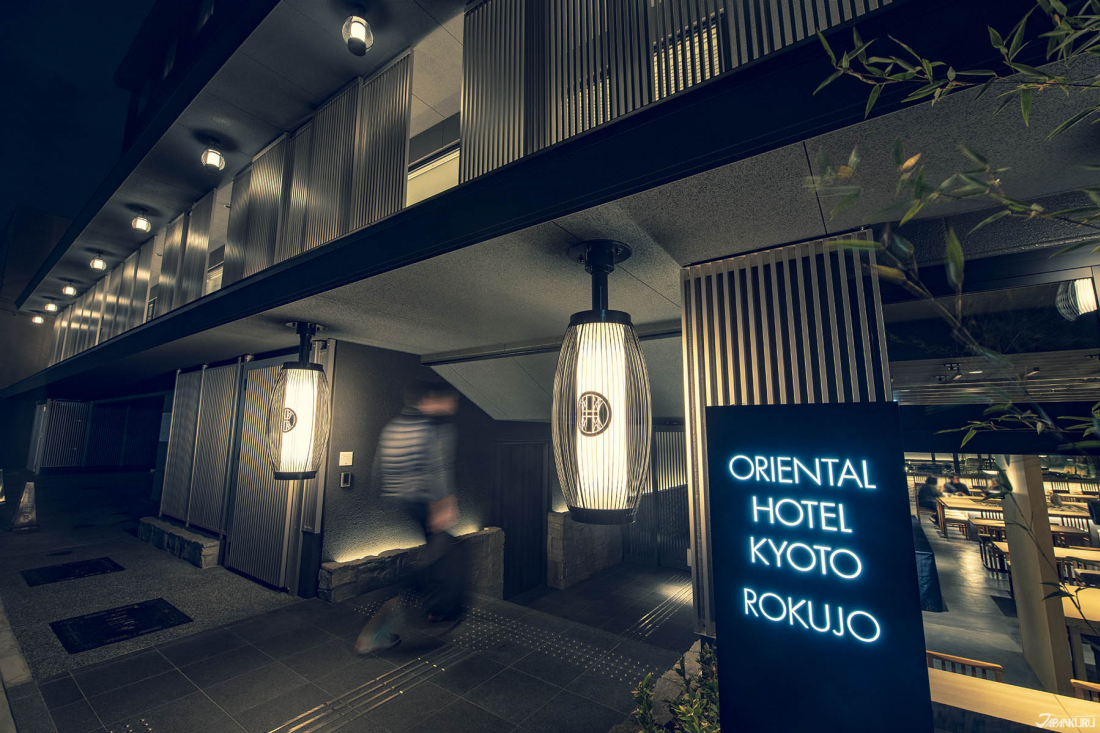 The best way to have an enjoyable and memorable trip, wherever you're visiting, is always to experience as much of your surroundings as possible. That's why Oriental Hotel Kyoto Rokujo, with its Kyoto-style tea house garden path aesthetics and meditation experiences, is worth a visit. Don't waste a second of your trip on the mundane!
Oriental Hotel Kyoto Rokujo
181 Bokumikanabutsucho, Aburanokojidori-rokujo-agaru, Shimogyo-ku, Kyoto
Access: 9 min from Gojo Subway Station, 2 min from Nishinotoin-Rokujo bus stop
Check-In 15:00 | Check-Out 11:00
Official Website (en)
While You're in the Area
Everywhere you look in Kyoto, there are hundreds of years of tradition, and beautiful examples of cultural history - so take advantage of the hotel's proximity, and check out the neighborhood! For bigger sights, Kyoto's Nishi Honganji and Higashi Honganji Temples are within easy walking distance, and their huge traditional buildings will wow traditional Japanese architecture lovers. Take a little walk, and you'll find yourself at the Kyoto Aquarium, and the Kyoto Railway Museum. For more small scale adventures, however, we recommend...
A Local Hot Spring Bath at Hakusanyu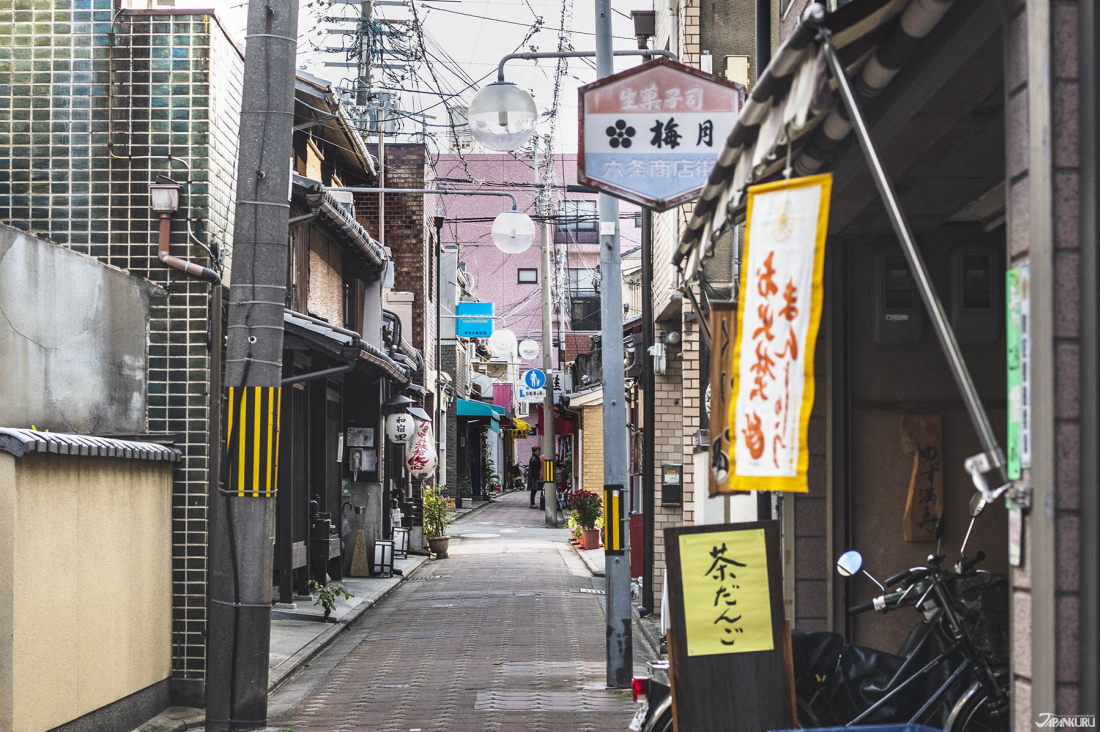 Follow Rokujo Street, an unbelievably quaint little Kyoto alley, and you'll eventually find yourself at the Hakusanyu bathhouse.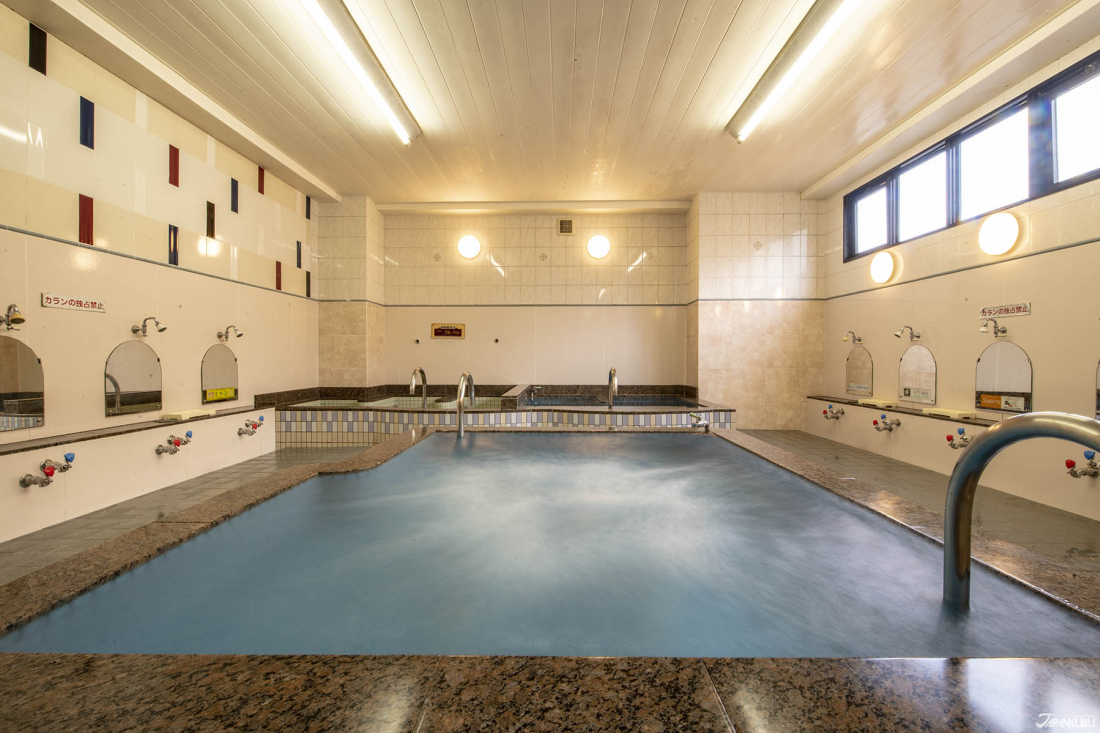 Huge baths full of the local natural hot spring water, smaller baths with added medicinal herbs and aromatics, Hakusanyu is both an excellent introduction to the Japanese bathhouse experience, and a great trip for old hands. While Japanese traditions keep bathwater much cleaner than in other parts of the world, the water here is also changed daily, meaning it's sparkling clean.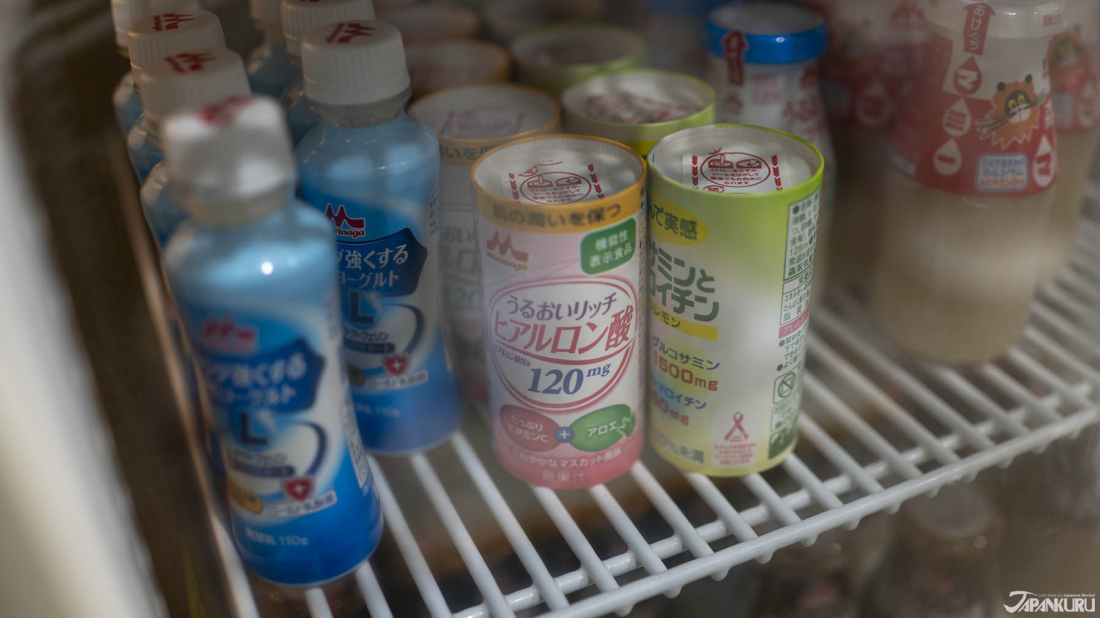 Grab a drink after your bath! In Japan, milk is the drink of choice.
Hakusanyu Bathhouse Rokujo
893 Ushitoracho, Shimogyo Ward, Kyoto
Weekday Hours: 15:00 - 24:00
Weekend Hours: 7:00 - 24:00
Closed Wednesdays
Official Website (en)
A Taste of Sweet Nostalgia at Tachibanaya Traditional Sweet Shop
Look for the lantern just across the street from the hotel, and you'll find a shop that looks like it's probably been there since time immemorial. This kind of wagashi (和菓子, Japanese sweets) shop really does still exist! Walking up to the counter, it feels like it could be a setting in a retro Japanese drama. They've even got some cool traditional wagashi tools on display.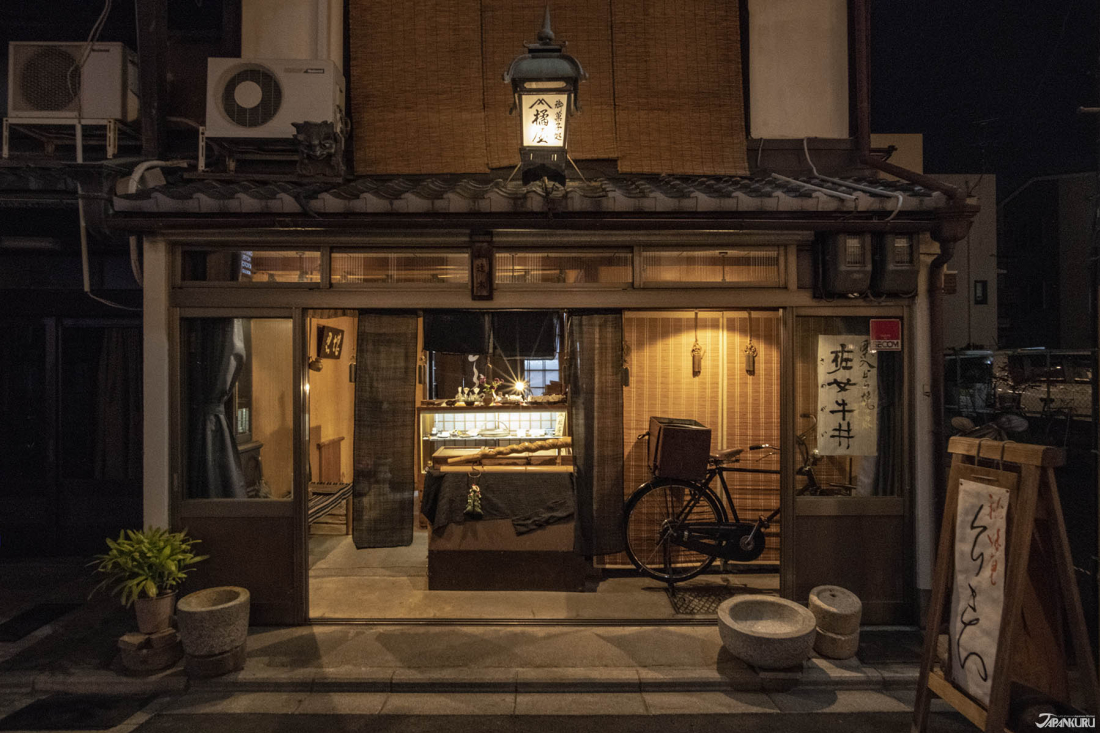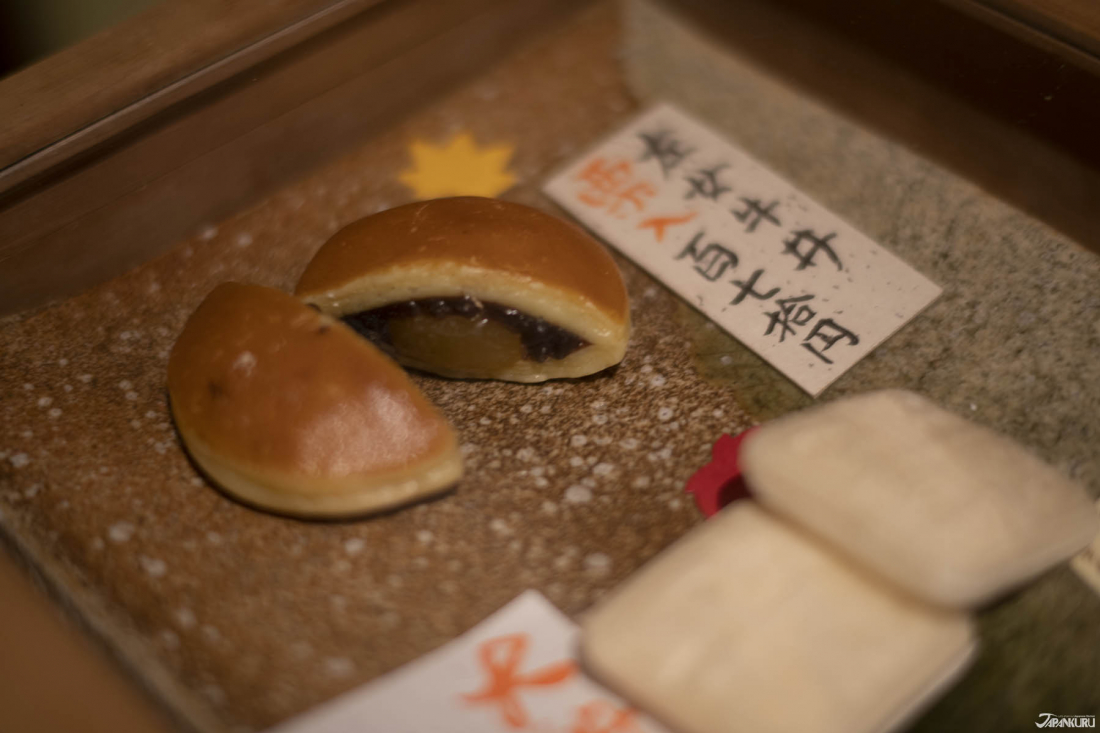 But this place is still in business! And like most Japanese cuisine, the very best stuff there is always seasonal. Since we dropped in during the fall, the dorayaki stuffed with nutty roasted chestnut was the perfect compliment to the cooling weather. We recommend you pick up a variety of wagashi sweets to bring back and nibble while relaxing in the hotel's lobby seating.
Tachibanaya
185 Bokumikanabutsucho, Aburanokojidori-rokujo-agaru, Shimogyo-ku, Kyoto
Hours: 9:00 - 19:00
Closed Sundays, holidays
~~~~~

The best time to dive deep into Kyoto culture? While you're visiting Kyoto, of course! And there's nothing better than truly immersing yourself in a new place during travel. Which is why we were totally charmed by the tea garden atmosphere, the hand-whisked matcha, and even the Zen-style meditation we found at Oriental Hotel Kyoto Rokujo. The hotel is both a restful oasis from busy days of sightseeing, and a fun place to spend an evening - what more could you ask for?