The convenient loop between Tokyo and Kansai is beloved by visitors to Japan, sometimes to the point that travelers miss out on some of the country's most precious gems, locations a little off the beaten path. One destination that is attracting more and more travelers in the know, however, is Fukuoka. Found far south on Japan's island of Kyushu, it has its own distinct atmosphere, and it's also a pretty great destination for Hakata ramen-loving foodies and shopaholics. Get ready for cool spring breezes and stock up for next winter - head to the Arc'teryx in the MARK IS Momochi shopping mall, and plan yourself the perfect winter shopping trip in Fukuoka!
Heading to Fukuoka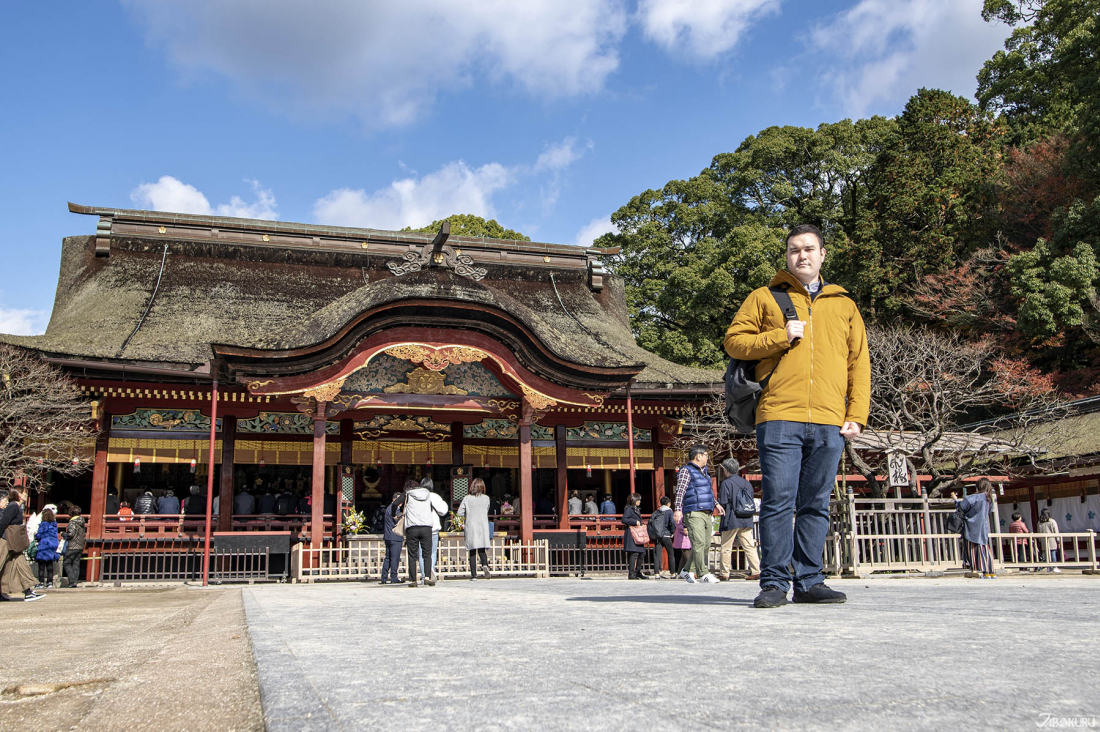 While Fukuoka isn't a particularly famous Japanese destination in the West (yet!), it is a popular city for visitors from countries a little closer-by, and has been for a long time. Thanks to Fukuoka's airport just 15 minutes away from the center of the city, travelers stop into the city for the weekend or a week, eating the delectable local food (Hakata ramen, "mentaiko" spicy cod roe, and motsu hot pot), visit some lovely shrines and cultural spots, and do quite a bit of shopping.
Arc'teryx in Fukuoka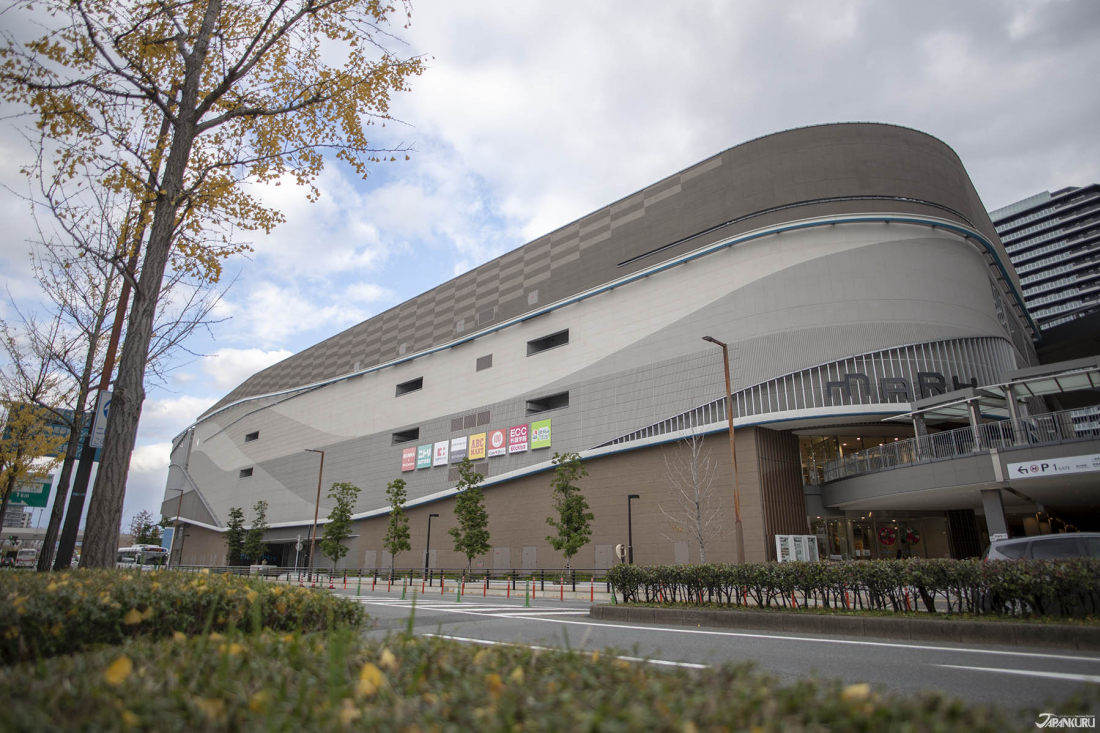 In fact, Fukuoka is actually far enough south to be a pretty lovely beach destination throughout the year's warmer months, and local beach bums tend to head to Momochi Beach. Nearby is where you'll find MARK IS shopping mall, a large complex of eateries and shopping of all kinds.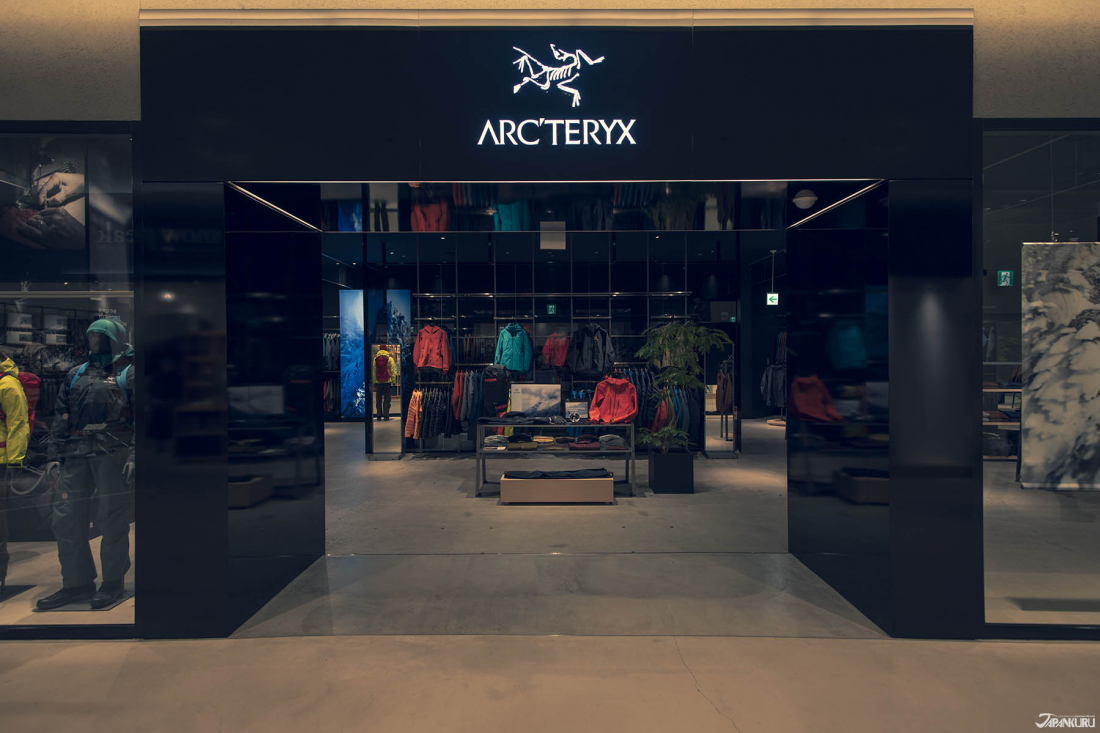 If the weather's starting to cool and you find yourself chilly on the beach, or you're just in the market for outerwear and outdoor gear, the MARK IS branch of Arc'teryx is the place to go. A Canadian outdoor brand that's been in business since 1989, you know Arc'teryx has to be on the forefront of cold-weather clothing tech to deal with the harsh Canadian weather. They utilize GORE-TEX wind- and waterproof fabrics, down insulation, and much more, to create outerwear that keeps you warm all-year-round.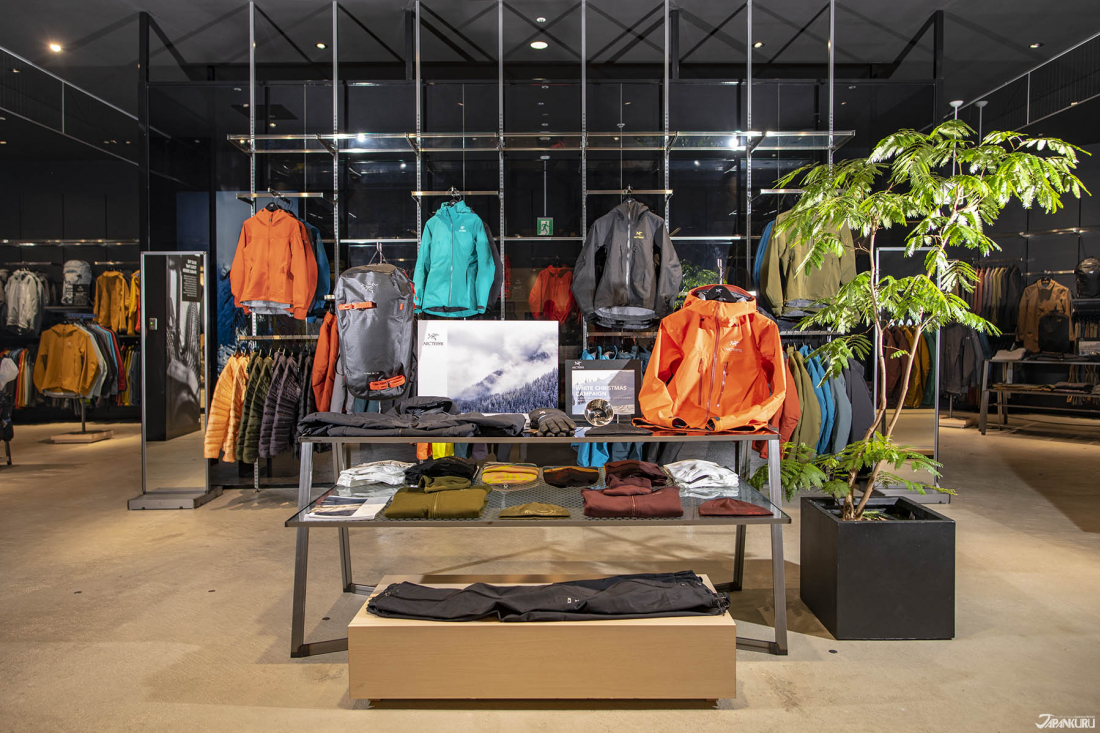 When you're on the hunt for the perfect new jacket, backpack, or pair of extra-warm pants, this spacious Arc'teryx seems like a dream come true. Men's and women's styles, outerwear for chilly mornings and freezing nights, there's a lot to choose from!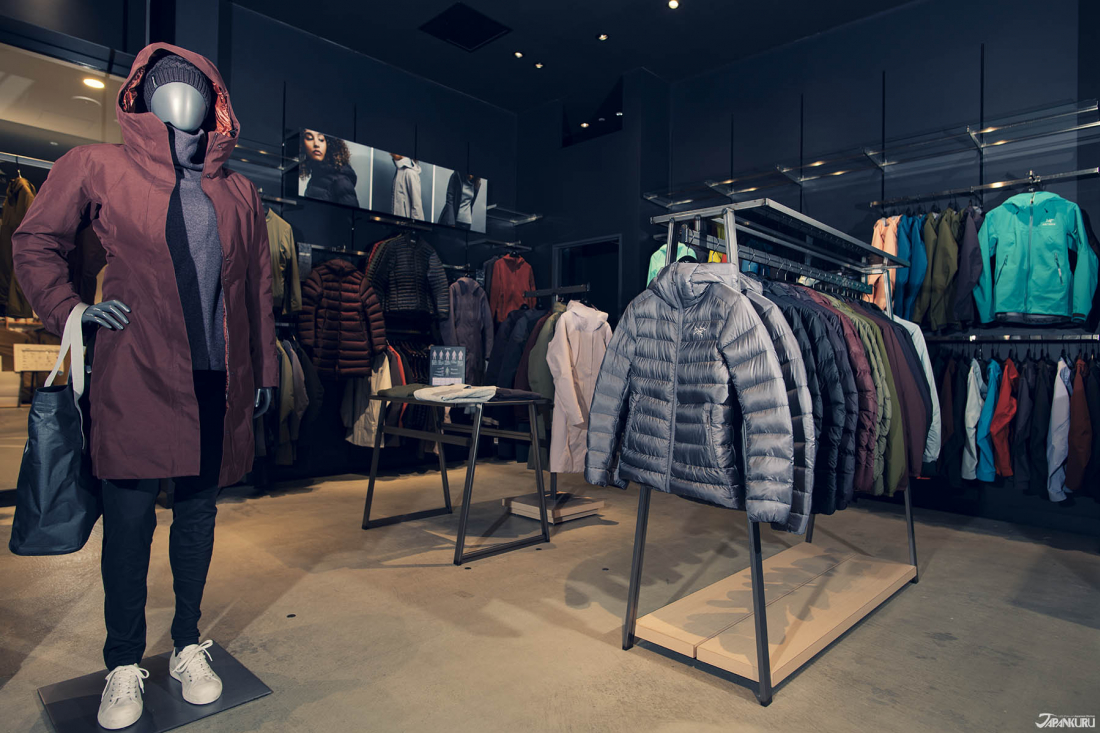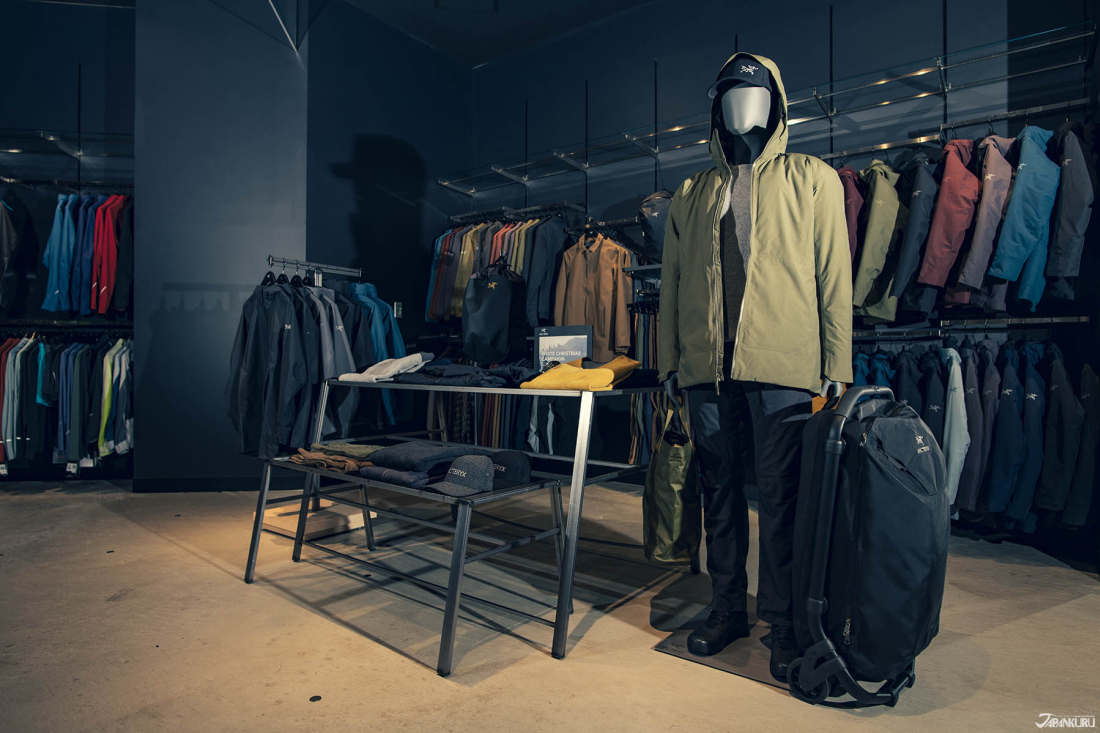 Arc'teryx may have found success by keeping wearers unceasingly warm and comfortable, but the sleek style of the items keep shoppers coming back, whether they need a casual hoodie to head to classes, or a warm coat for commuting to work.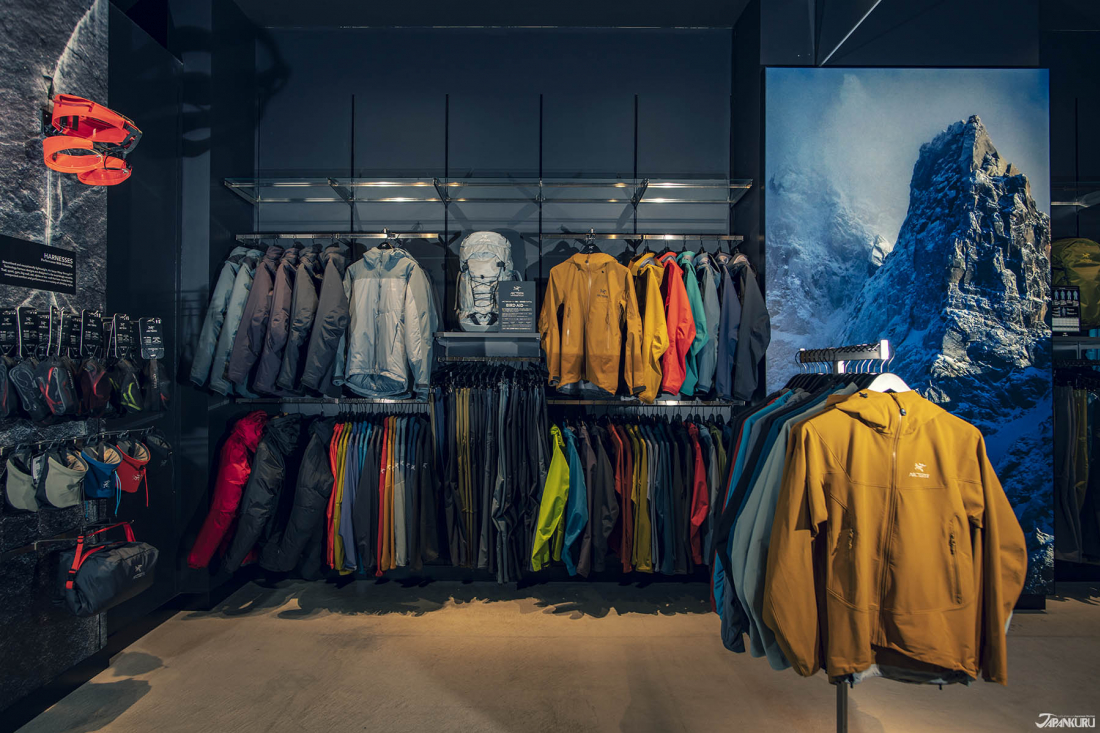 While the focus at Arc'teryx is on functional items made for people who love to spend time outdoors, that doesn't mean we can't appreciate the color choices and great cuts as well.
Some of Our Favorite Products
Waterproof, Windproof, and Warm with Goose Down: The Therme Parka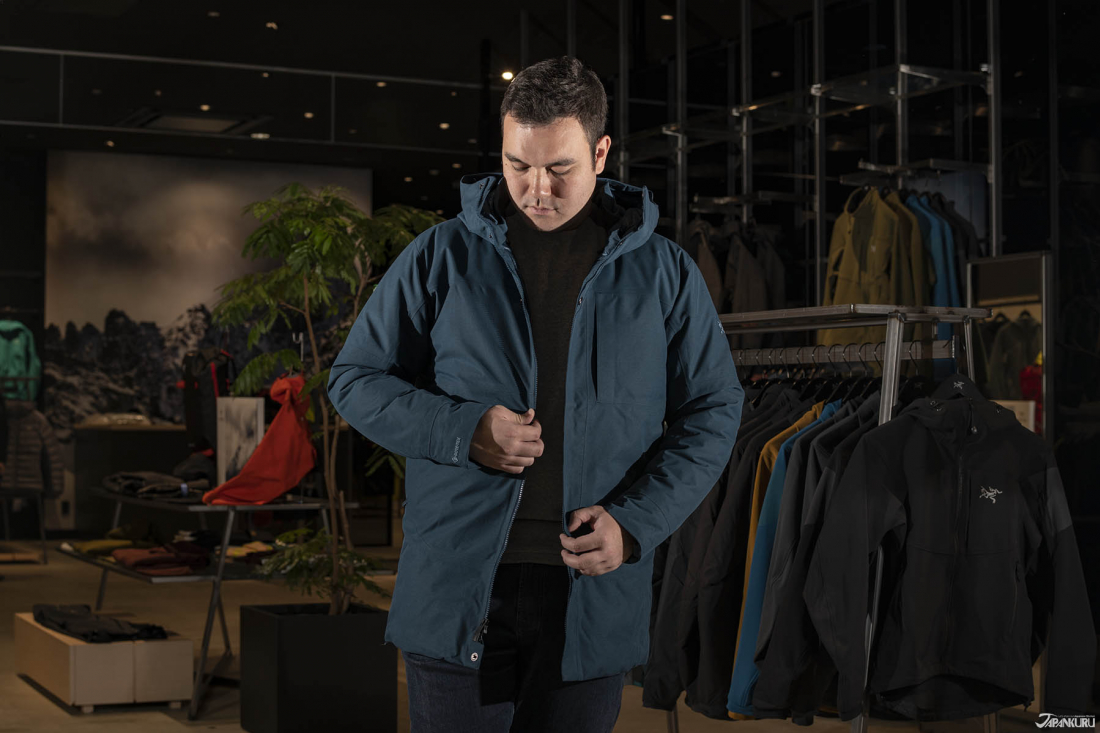 Between the outer layer of GORE-TEX fabric that makes the jacket miraculously both windproof and breathable, and the combined goose down + Coreloft™ synthetic insulation, all carefully arranged with Down Composite Mapping™ to keep you warm all over, this jacket is made warm enough to face a windy mountaintop. But it still looks great on the streets of Fukuoka!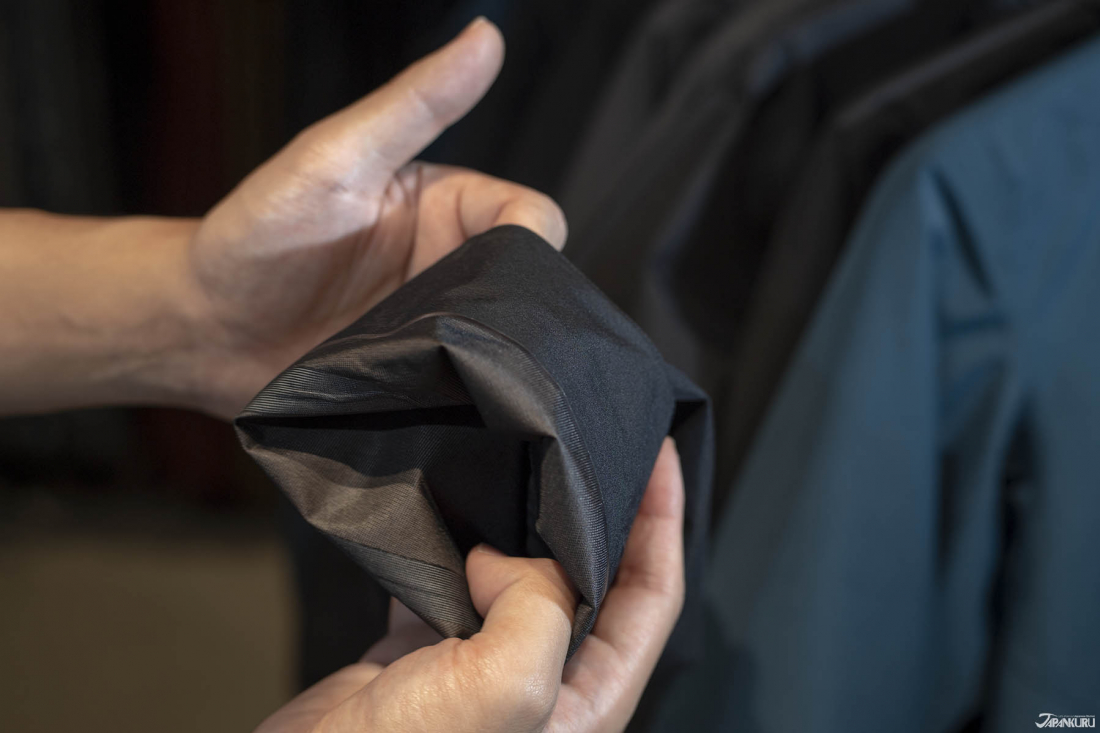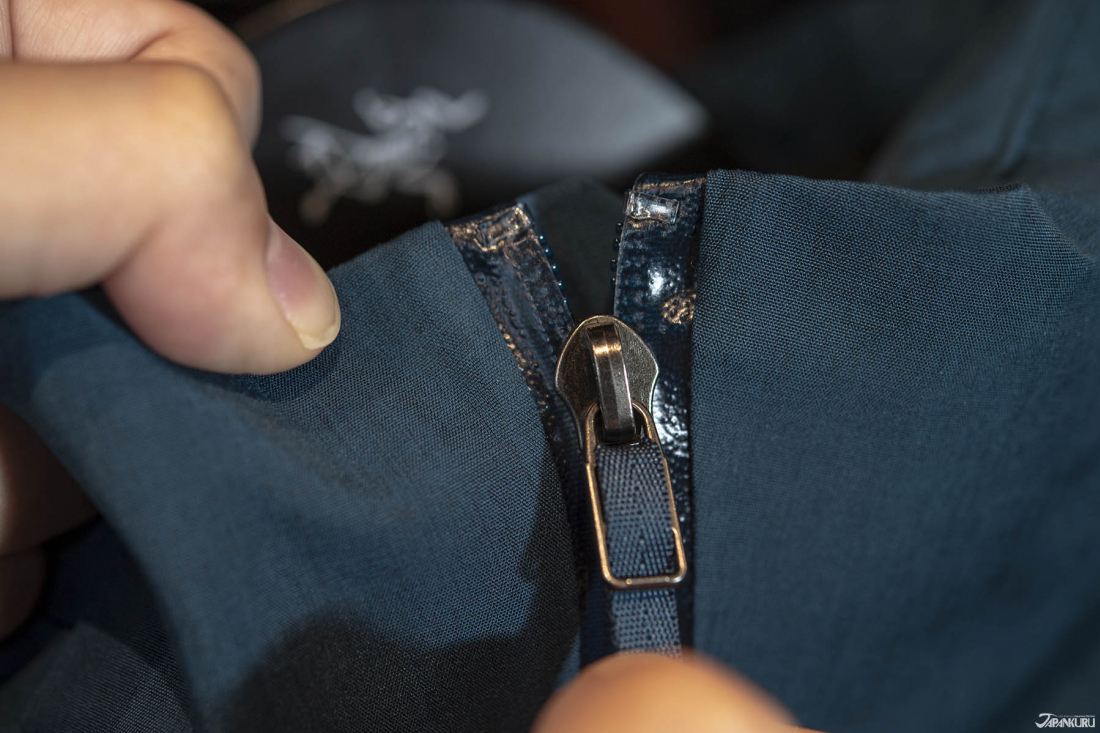 Not only does the main fabric of the jacket keep you dry in the strong winds and heavy rain of a storm, the sleaves and zippers are meticulously crafted to prevent any water from leaking inside.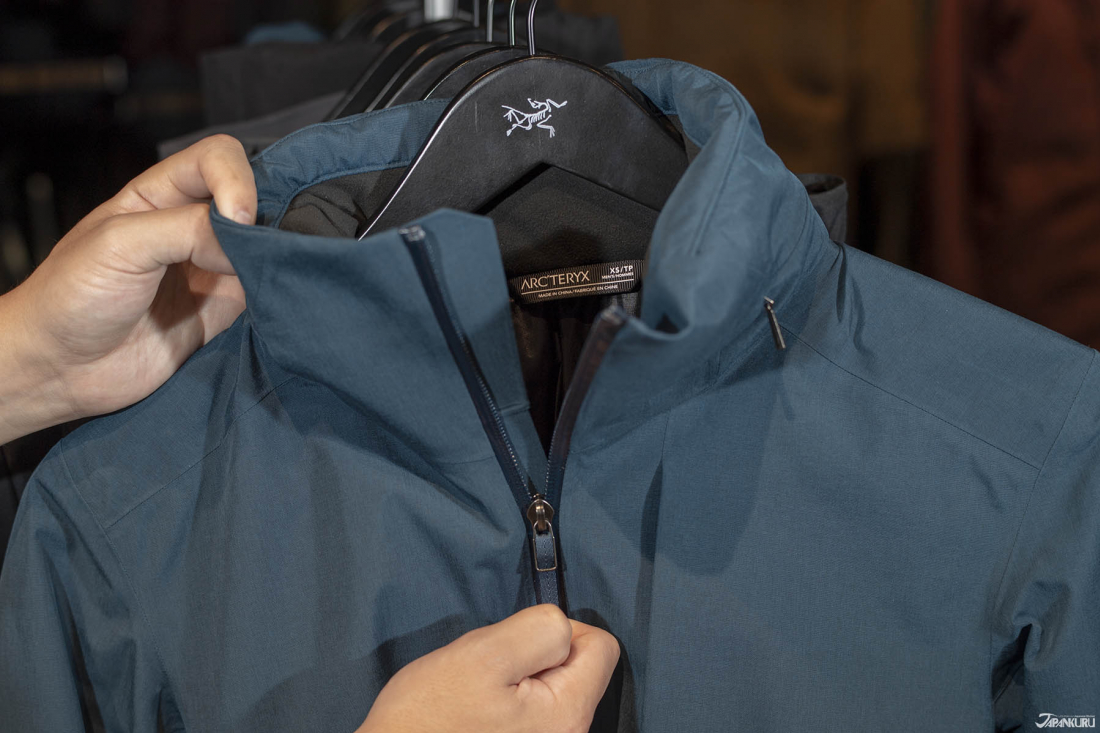 On drier days, though (or calmer times when you'd rather use an umbrella), you can tuck the hood neatly away in the collar for a cleaner look.
Modern in Silhouette, with Classic Arc'teryx Warmth: the Seyla Coat
The large "Down Contour™ baffles" on the Seyla Coat are what make the coat's distinctive look, but they're also the reason for this outerwear's serious warmth. Warm European grey goose down fills the outer layer, while the inside is finished cleanly. Super warm and super comfortable, this makes for a pretty great everyday coat.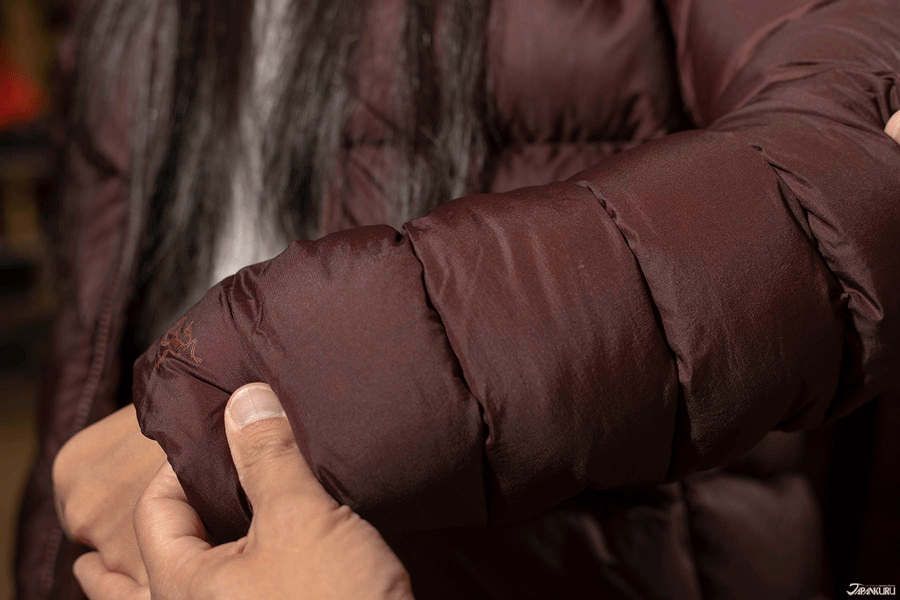 You can see the small details and ingenuity of the Arc'teryx jackets just by looking at these tiny stitches. When you think about it, the holes made by the thread are just that, tiny holes that could let the cold air in! Not so with this outerwear, though, where special stitching keeps the air out. If you do end up too warm, though, you can always use the 2-way zipper to adjust airflow to your liking.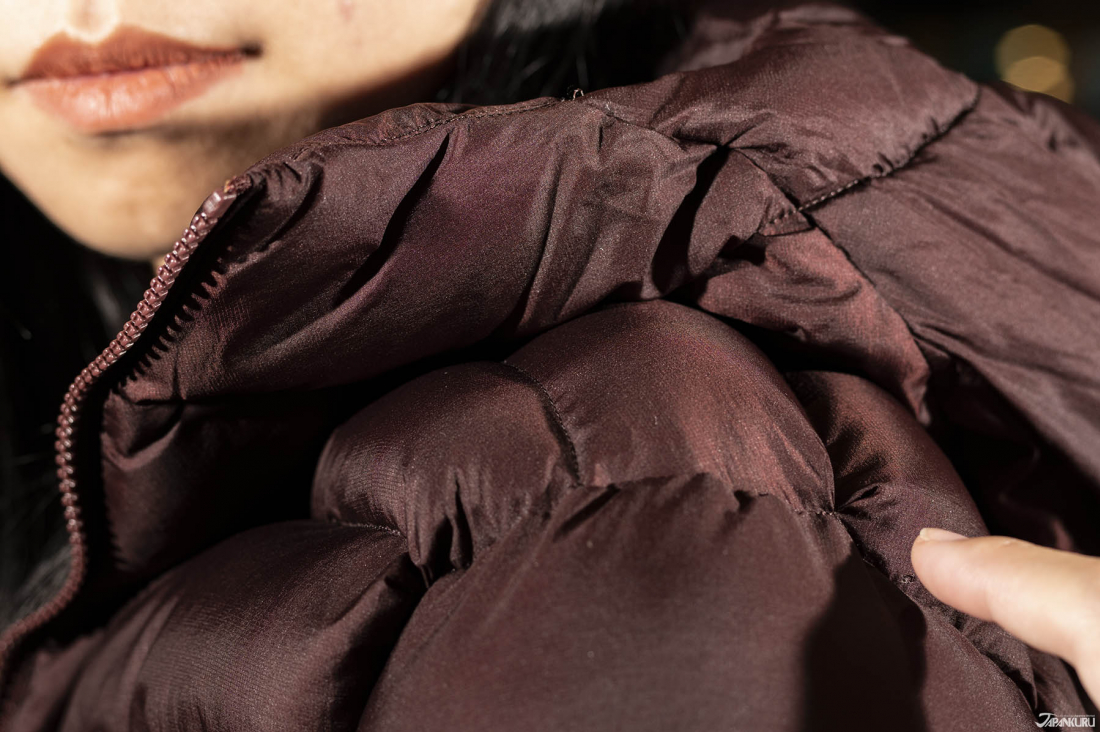 Even the hood is filled with cozy down. No more cold ears!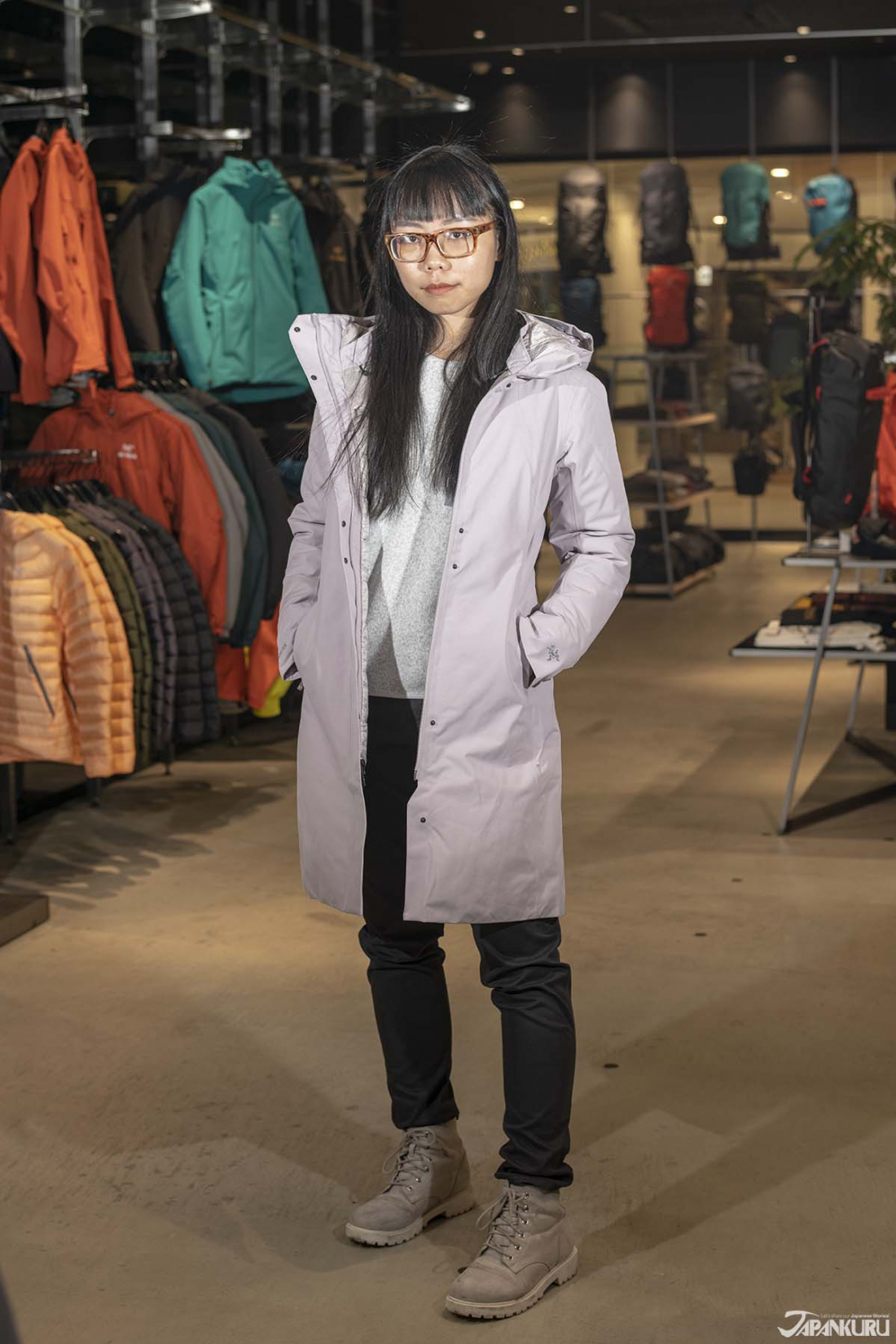 Designed for Winters in the City: the Patera Parka
From the outside, the clean lines of the Patera Parka make it look something like a chic trench coat, or perhaps a businesswear shell. But the reality is that it might just be the ultimate winter coat for city-dwellers (especially those who aren't big fans of the Seyla Coat's puffiness). Down Contour Construction™ and Down Composite Mapping™ tech make it so that this parka keeps you warm without adding much bulk, creating a surprisingly slim silhouette.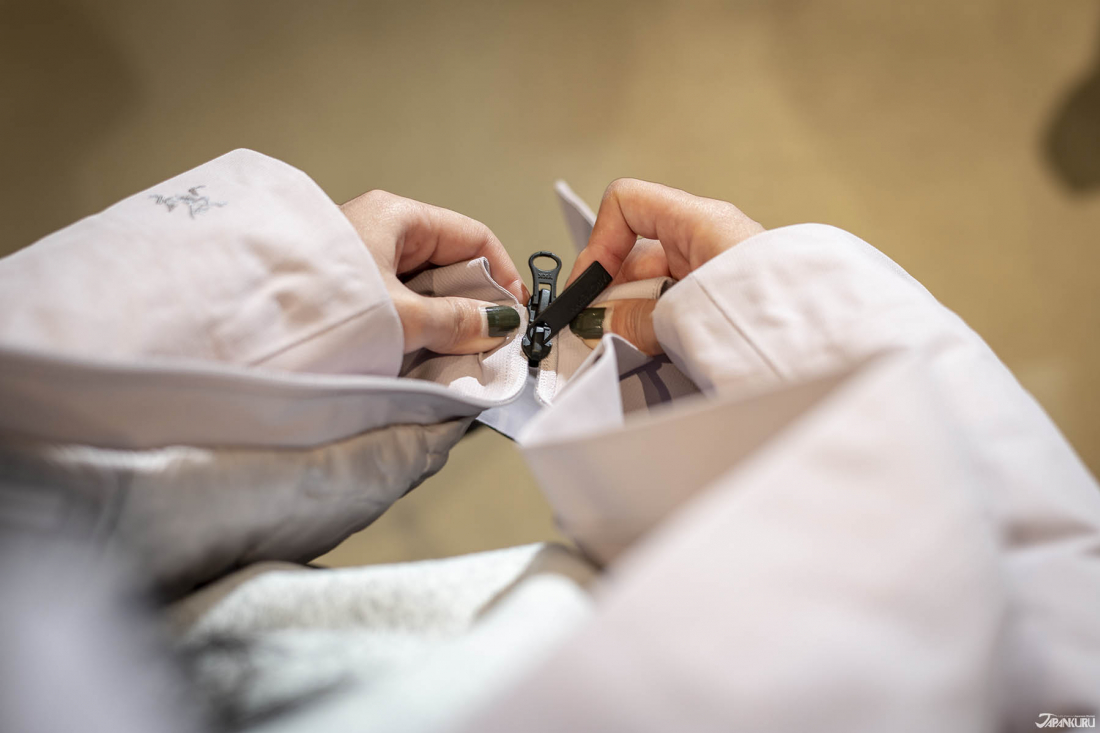 Plus, it comes in a variety of fun colors, and with a handy 2-way zipper.
Streamlined Sweaters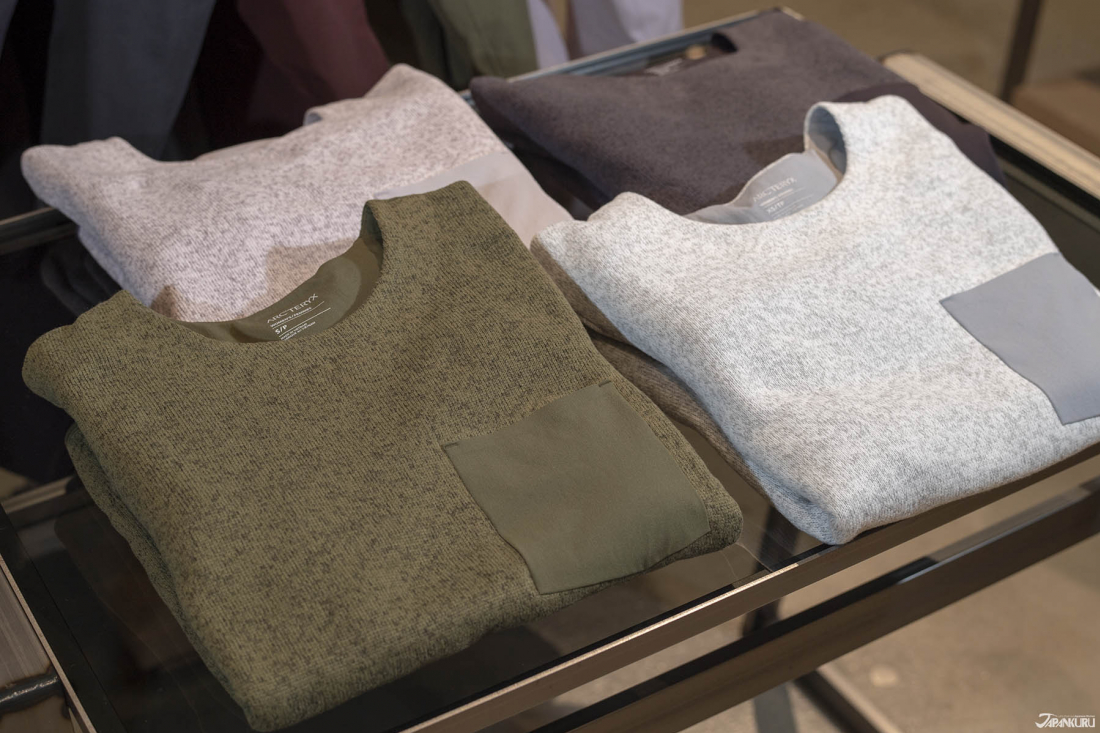 In line with the simple, attractive designs of the Arc'teryx outerwear, their sweaters are equally stylish and almost as warm.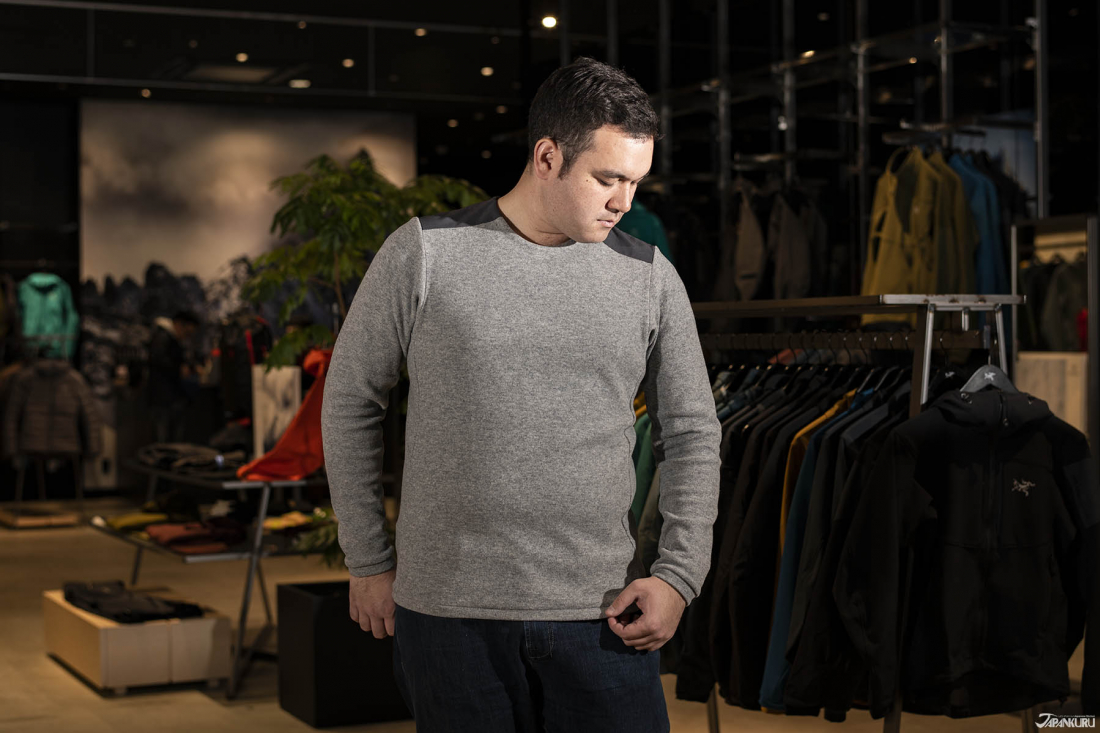 We thought the Donavan Crew Neck Sweater, made with a wool-blend in a double knit, was a clear winter staple - easy to dress up or down.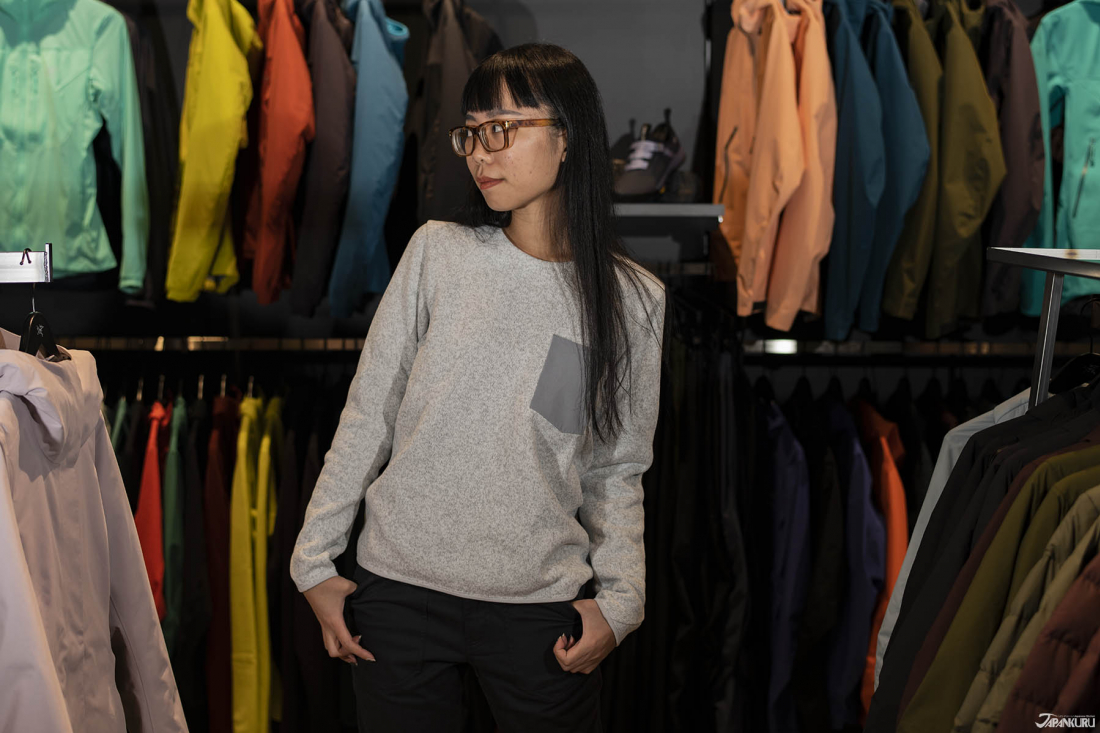 The added patch pocket on the Covert Sweater, on the other hand, made it more of a fashion piece that could easily stand on its own.
Practical Backpacks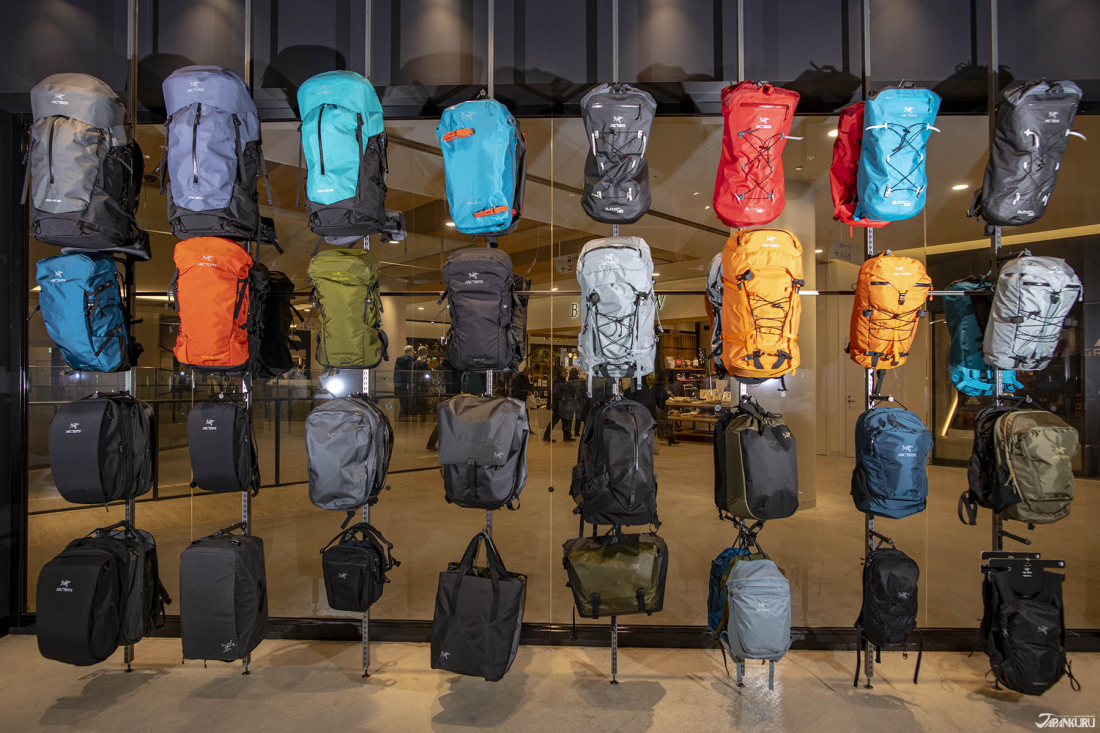 Arc'teryx makes some accessories as well, and their backpacks are just as sturdy and reliable as you'd expect. While many of them are made for outdoor use, the ample space and the styling makes them pretty popular with traveling business people and students as well.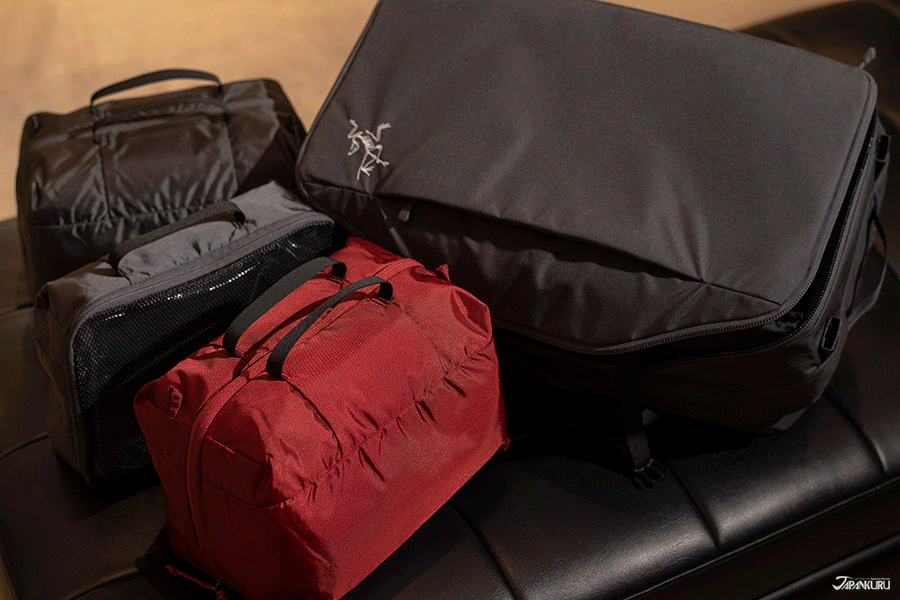 Here at JAPANKURU, we often go on short trips around Japan to explore and tour the country, but whether your trip is overnight or a few weeks, we thought this particular bag looked totally convenient. The Covert Case C/O is a backpack that can be opened up all the way, and stuffed with an impressive amount of stuff. To really maximize this storage, you can use their packing systems to keep things organized and compact. Plus, the whole backpack is padded, so you don't have to worry too much about laptops and other fragile items. (Yeah, sounds pretty perfect for our work trips!)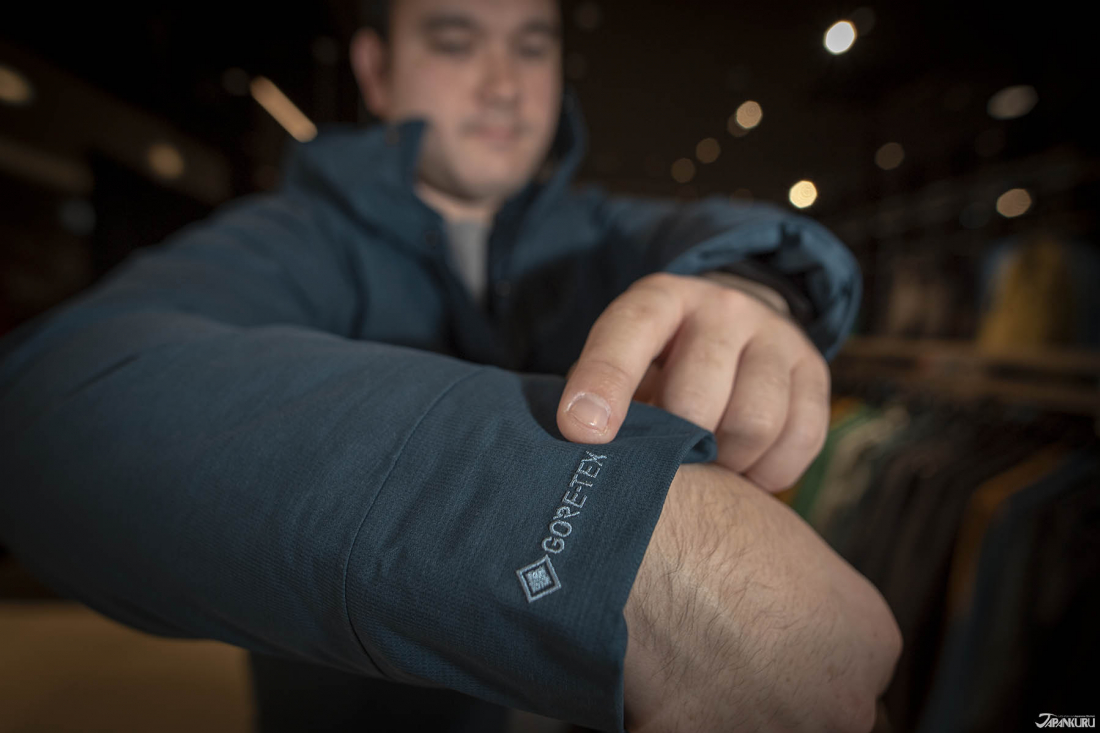 While winter in Japan has been fairly warm this year, there have been some days where a normal winter jacket just doesn't cut it in Fukuoka! If you've been thinking about investing in high-quality winter wear that will last you for years, and perhaps a backpack to match, head to Fukuoka, and straight to Arc'teryx.
Arc'teryx MARK IS Fukuoka Momochi
While You're in Fukuoka - What to Do Nearby
① MARK IS Fukuoka Momochi & the Momochi Beach Area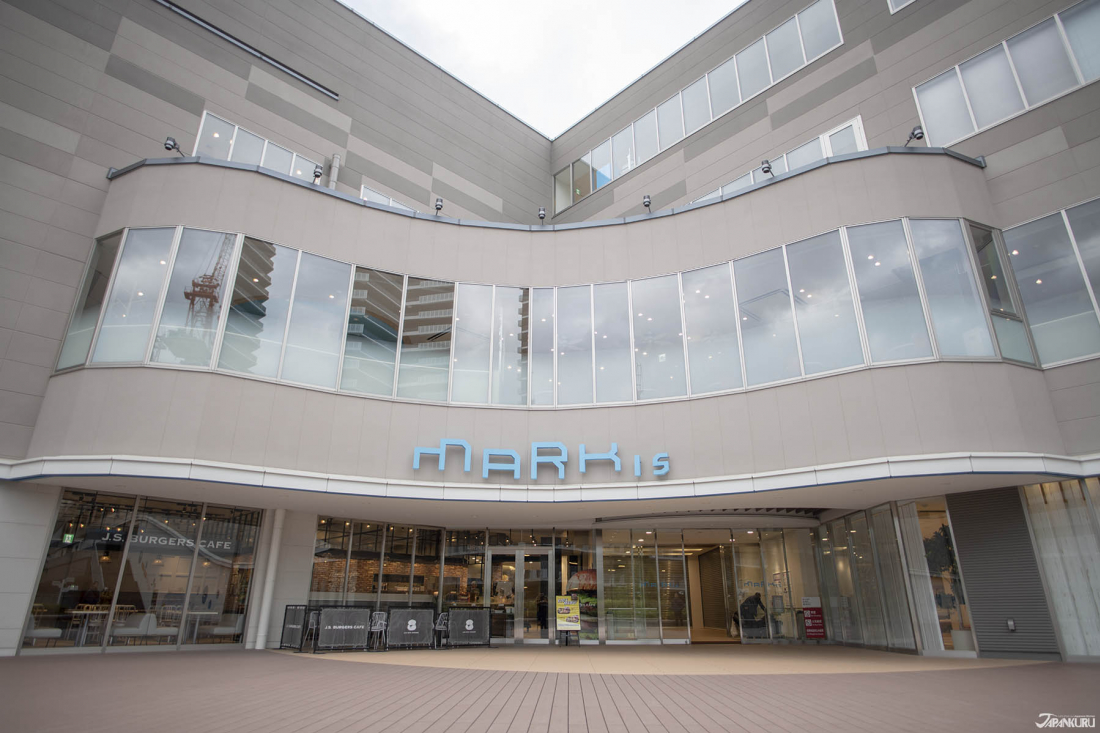 While we beelined for the Arc'teryx store in MARK IS Fukuoka Momochi, the truth is that the mall has plenty to offer, from fast fashion to tasty eats.
MARK IS Fukuoka Momochi
2-2-1 Jigyohama, Chuo Ward, Fukuoka
Shopping: 10:00 - 21:00 / Dining: 11:00 - 22:00
Official Website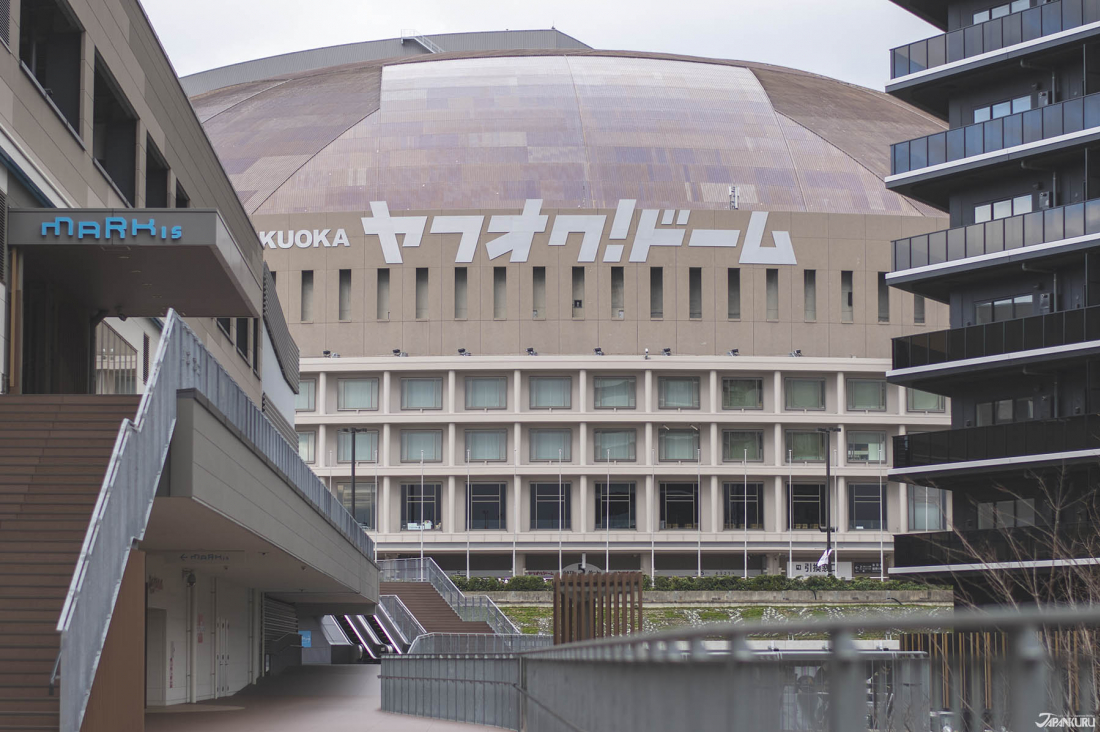 Right next door is the Fukuoka Yahuoku! Dome, home stadium to the Softbank Hawks, one of Japan's most popular professional baseball teams. (The name of the stadium was once the "Fukuoka Dome", and is due to change again to the PayPay Dome at the end of February 2020, so don't worry if you're going to see a Hawks game and confused about where to go.)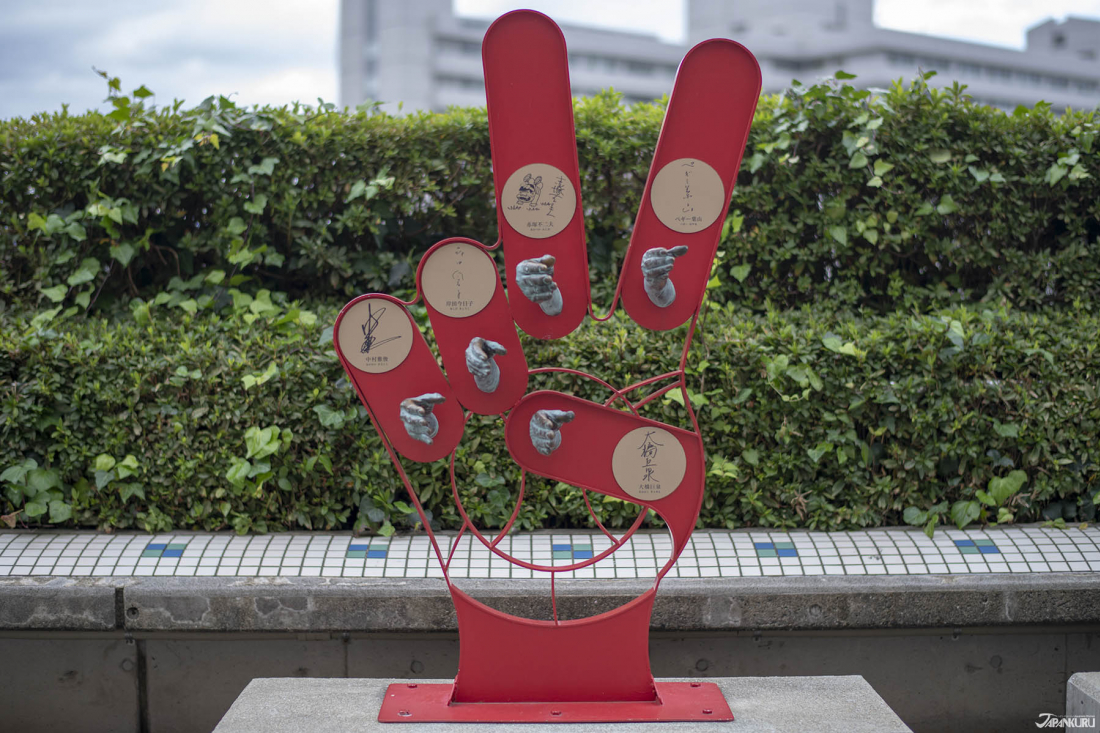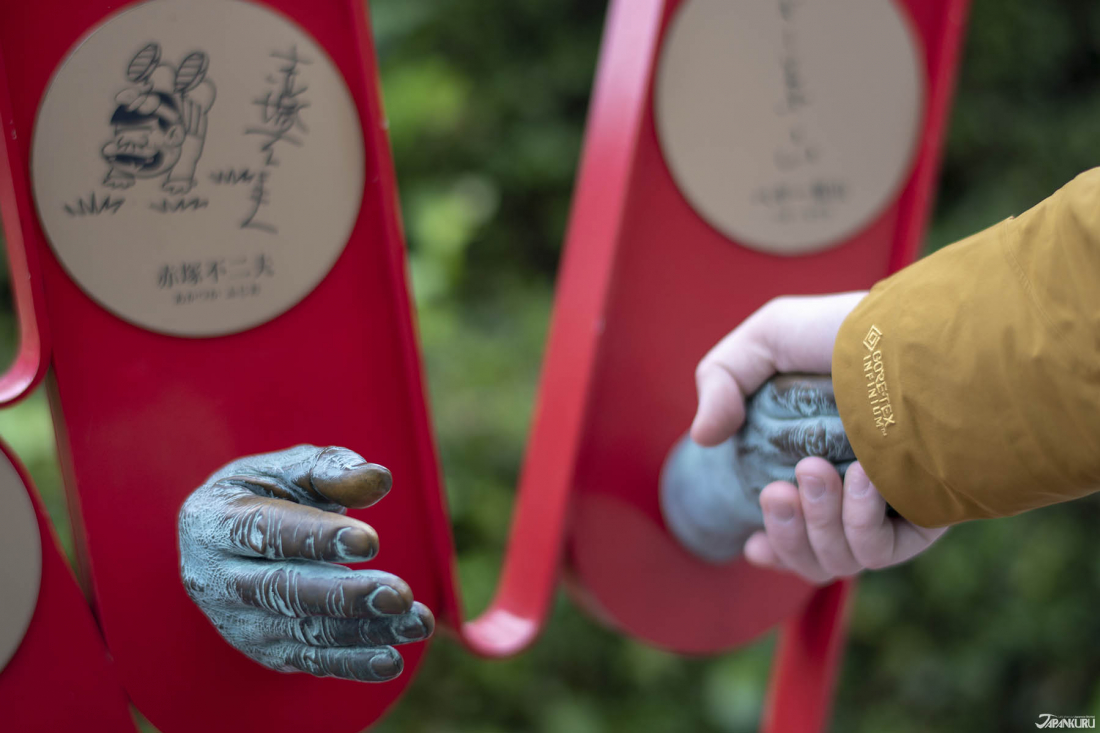 You might not expect it, but the area's actually a good place to check out some interesting art and sculptures. We noticed this interesting sculpture that features the hands of Japanese celebrities, giving you the chance to shake hands with the likes of the late Fujio Akatsuka, a manga illustrator famous for his classic comedic series.
Fukuoka Dome
2-2-2 Jigyohama, Chuo Ward, Fukuoka
Official Website
② Dazaifu Tenmangu Shrine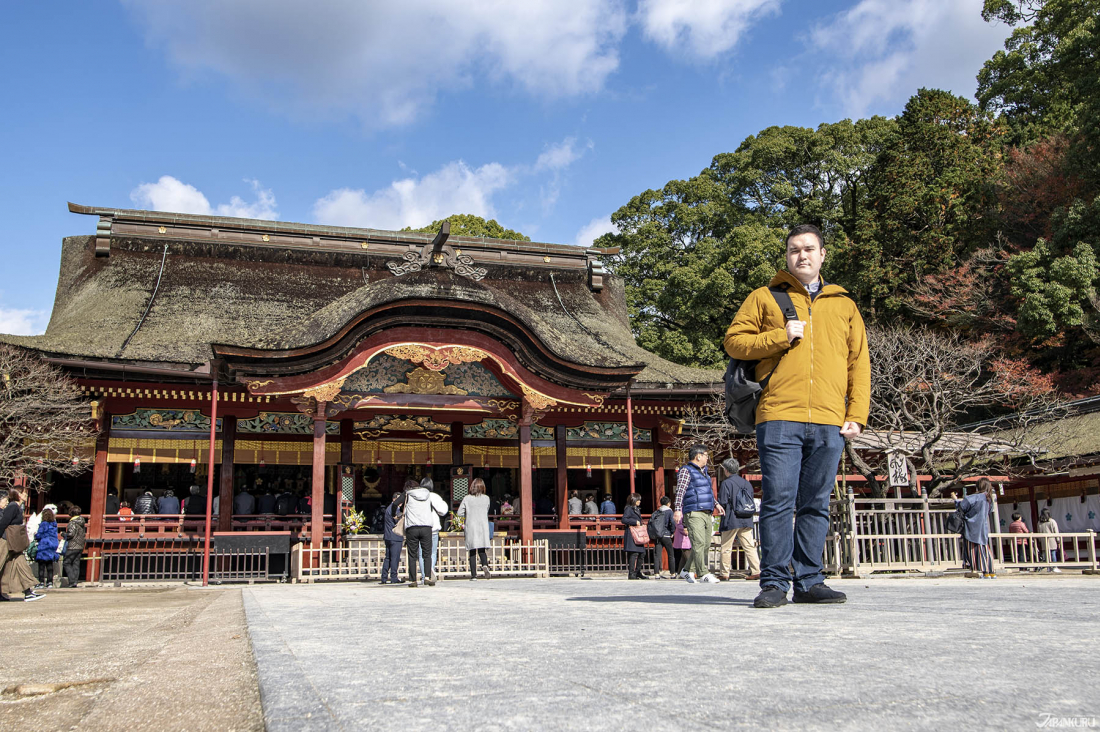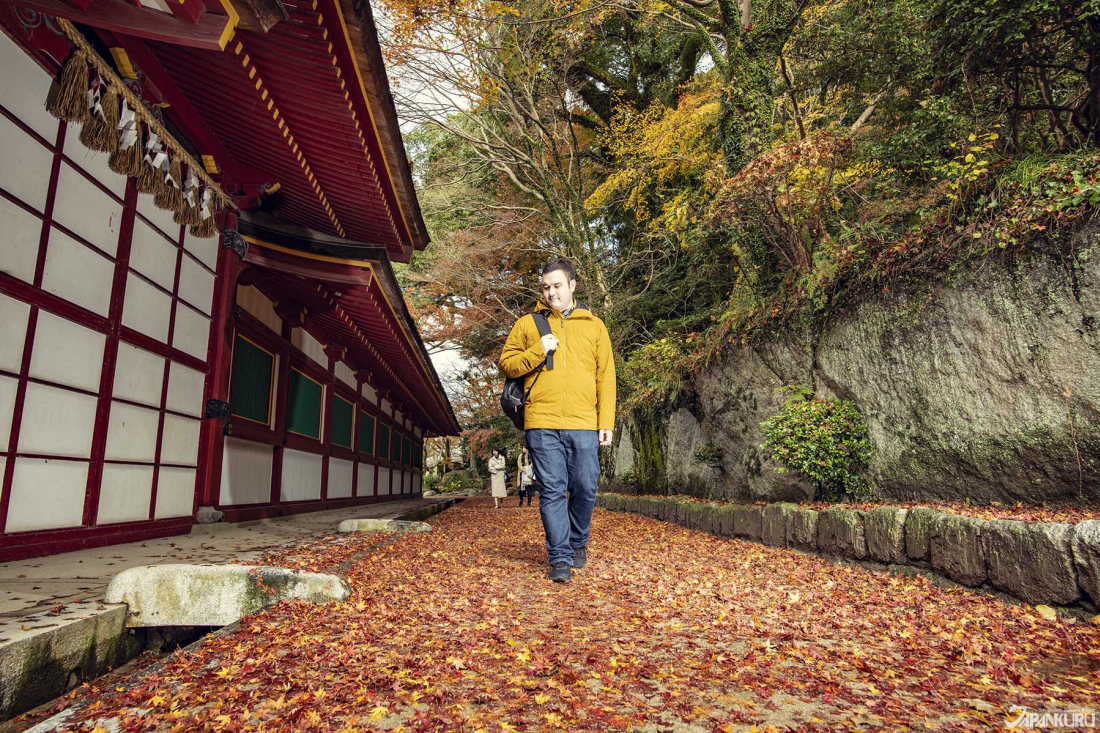 Whether you arrive Dazaifu Tenmangu Shrine together with the crowds of student visitors, there to pray to scholar-turned-deity Sugawara no Michizane for good grades and passing test scores, or you get there in time for a relaxed autumn day with colorful leaves, the shrine is a beautiful spot and a fun visit.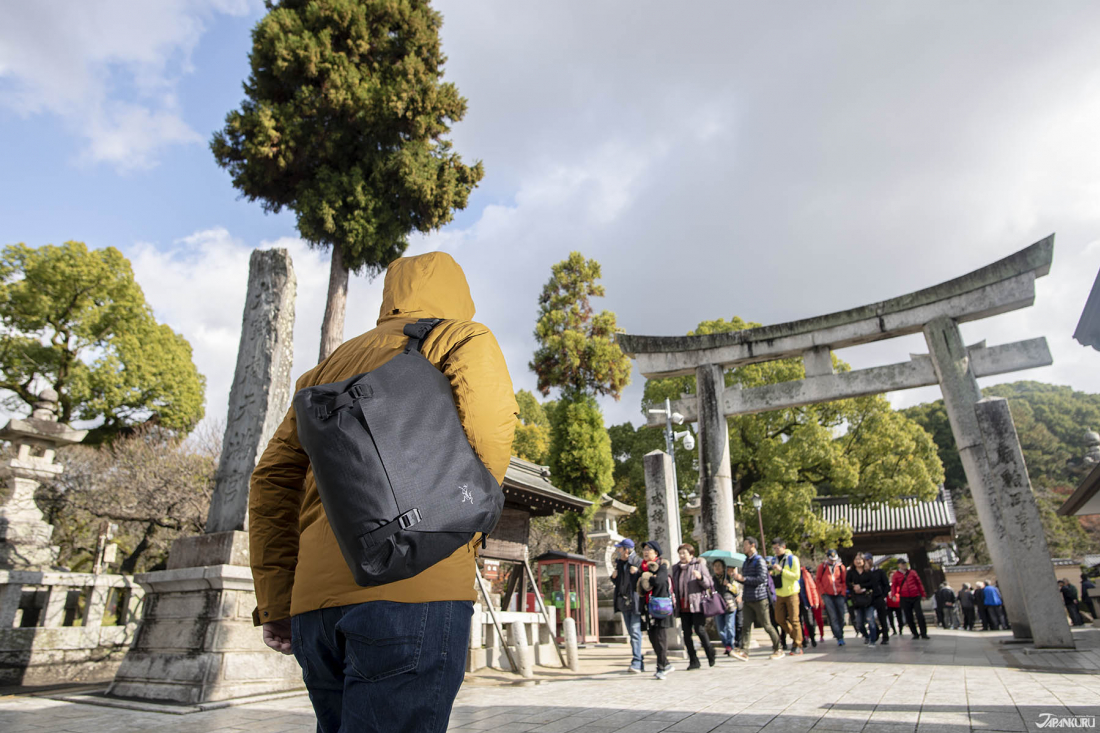 Built over Sugawara no Michizane's grave, this shrine is said to be the best destination in Japan for those who want a little bit of help with their studies. Its beauty also makes it a popular wedding spot, though, and it draws visitors of all ages.
The quaint shopping street leading up to the shrine entrance is also worth a stroll, and the nearby Starbucks features some striking architecture from
Kengo Kuma
.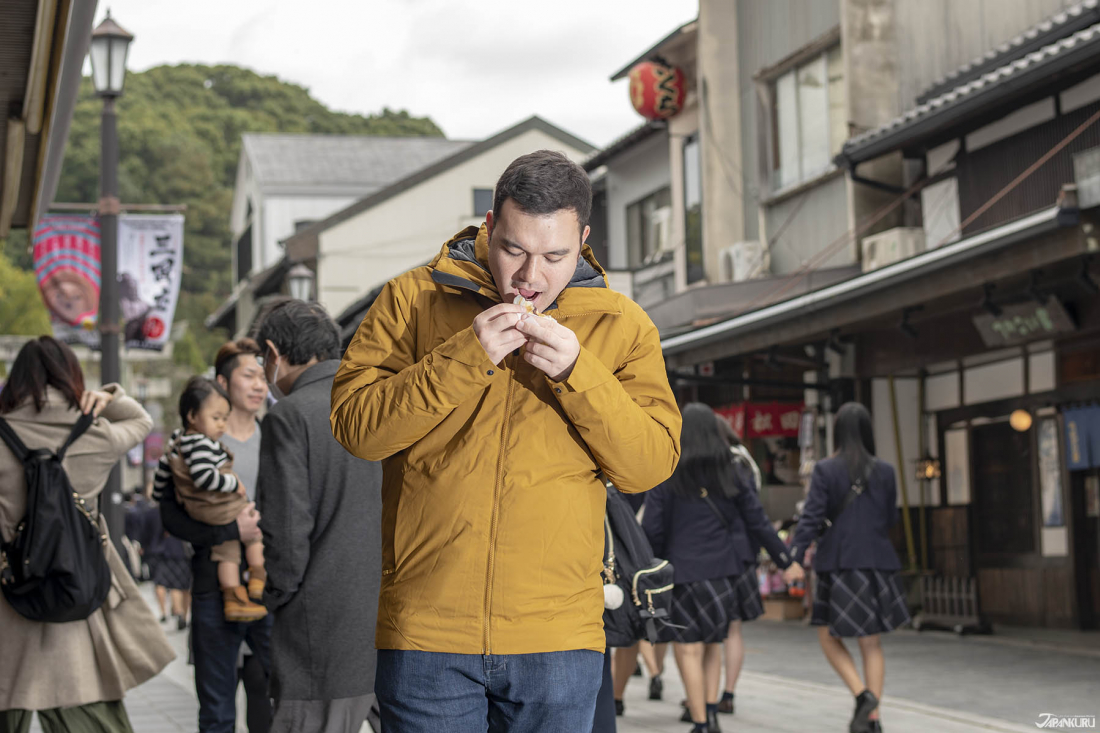 While you're there, don't forget to try umegaemochi! These toasted rice cakes filled with red bean paste have legendary beginnings, said to have been given to Sugawara no Michizane by an elderly local woman when the scholar was starving. Each cake is stamped with a plum blossom crest, the symbol of the Dazaifu Tenmangu Shrine.
Dazaifu Tenmangu Shrine (太宰府天満宮)
4-7-1 Saifu, Dazaifu, Fukuoka 818-0117
Official Website
③ Nakasu Food Stalls and the Naka River Terrace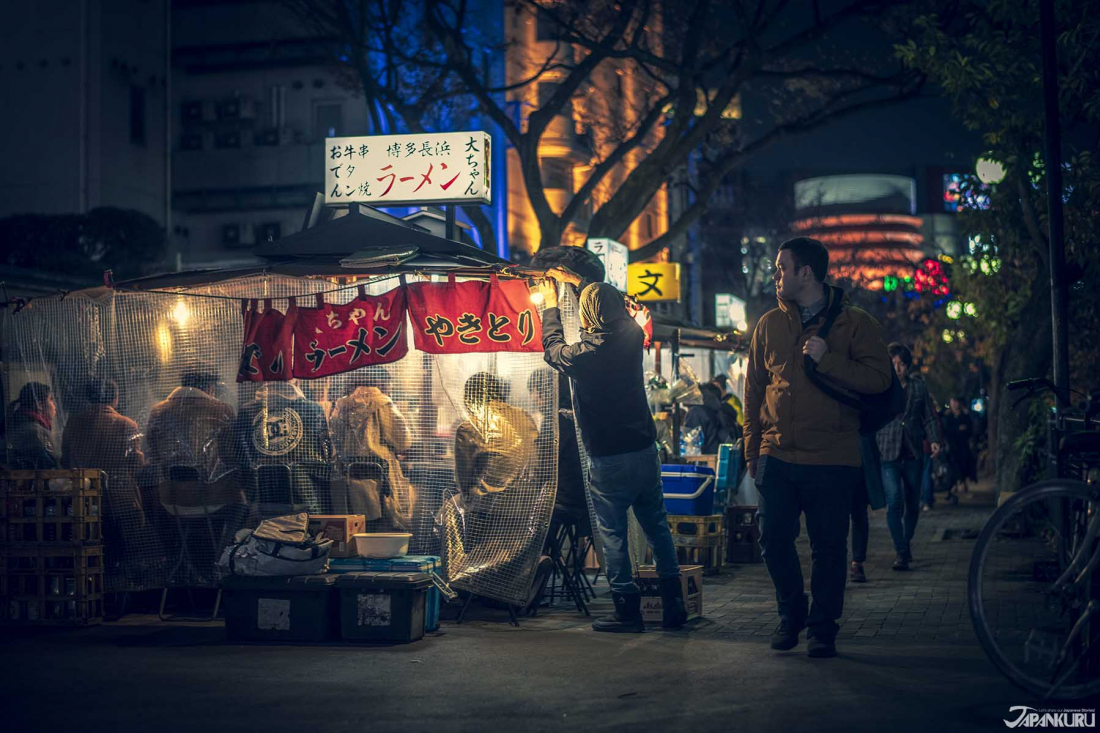 For a totally authentic taste of the local Hakata ramen, or some other tasty late-night Japanese food (oden stew, grilled chicken, and other skewered treats) head to the riverside of Fukuoka's Naka River. You'll find a line of food stalls, crowded each night with clusters of locals and foreign visitors alike, all looking for a bite to eat and a cold drink. Even on chillier nights, a good Arc'teryx jacket and a steaming bowl of ramen should keep you plenty warm! The perfect end to a day in Fukuoka.
Naka Riverside Stalls